Comin' atcha for a weekend recap, on a Tuesday.
So, this morning I ended up putting on a pair of jeans, socks, a long sleeved top, and then my new Superdry hoody overtop. My husband looks over at me and says "all those layers?!". Clearly I've become accustomed to the weather here in California and I hate that! I cant get over the fact that I am putting on two layers of long sleeves at 18°C (64°F – I had to google that one, because I'm forever thinking in Celcius and probably always will). So yes, I am wearing a lot of layers and can you believe I have downfilled slippers on and my fingers are cold?
Here's the sight of me right now, as  you read this, what I am wearing right now. Ridiculous! This weather is like St. John's summertime. Am I right?
Getting back to the weekend recap, I wanted to tell you another funny story about babysitting. You guys probably already know that my neighbour and I, with our two small dogs, and her little-big baby, walk around our housing complex almost every night, and sometimes multiple times per day when she was on maternity leave. I filmed a YouTube video telling you about that time I was changing his diaper when he was just weeks old. The little feller was – not even kidding you – laughing at ME, changing HIS diaper. Because I could tell he had no idea what I was doing.
Well folks, I looked after (the now 7 month old) baby once again. This time, it was for a couple of hours and the little guy was at my house. Baby and I chilled out for the entire day as my neighbours … guess what?…. MOVED OUT of their apartment. Shame on them for not being my neighbour any more, haha. I gotta give them credit, they picked a house 3 miles from ours, so at least we can still visit one another without technically driving to a completely different city. I'm still sad about it though.
The little guy is more interactive and fun to be around now, because he can sit up, clap, laugh… and boy oh boy even though he can't crawl yet he can still move around the room! Guess that's why you can never leave babies unattended. I'm happy my neighbour although my husband and I not being parents yet, still trust us to leave their baby with us. A humble brag, but I think it's because I have a lot of patience, plus I've been around the lil' fart since my neighbour announced her pregnancy to me.
When she dropped off her baby, she told me he already had a dirty diaper cleaned once already. Awesome — no dirty diapers while he's over at my house.
BARMP.
WRONG.
During that same hour she dropped him off, he had a stinky surprise. In my head I ask myself: How long do I let him toot for? How do I know he's "done"? Oh, trust me you guys— you will know. And forewarning, open the windows before changing the diaper. And because he is a boy, you need to be careful while changing him: pee can launch far. I had to text my neighbour after everything was done, apologizing for the amount of wet wipes I used.
I think the baby does this on purpose, because he knows I don't know what I'm at. He knows he'll get a kick out of me. He laughed the entire time too, silly fella. Preparing me for motherhood, I swear. Luckily the hours flew by, as I fed him three times, with a nap (for him) in between the gigs and the reels.
By the time my neighbours had finished moving their everything's into their new spot, it was only mid-afternoon and like I stated the time flew, but it crawled at the same time. I was ready to crack out the wine and cheese as soon as he left haha!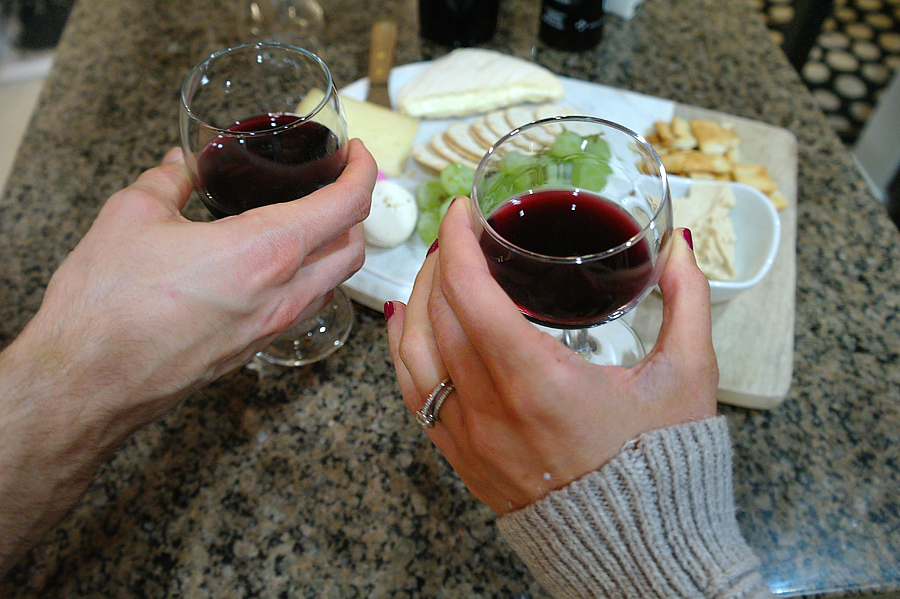 I've been waiting to use my fancy new cheeseboard (it's the Lyna Marble and Wood Cheese Dome from O.co), and Sunday night was it. It was a wine and cheese for two — so the multiple wine bottles in the background were just for props to make the cheeseboard look nice. Hey, bloggers gotta blog.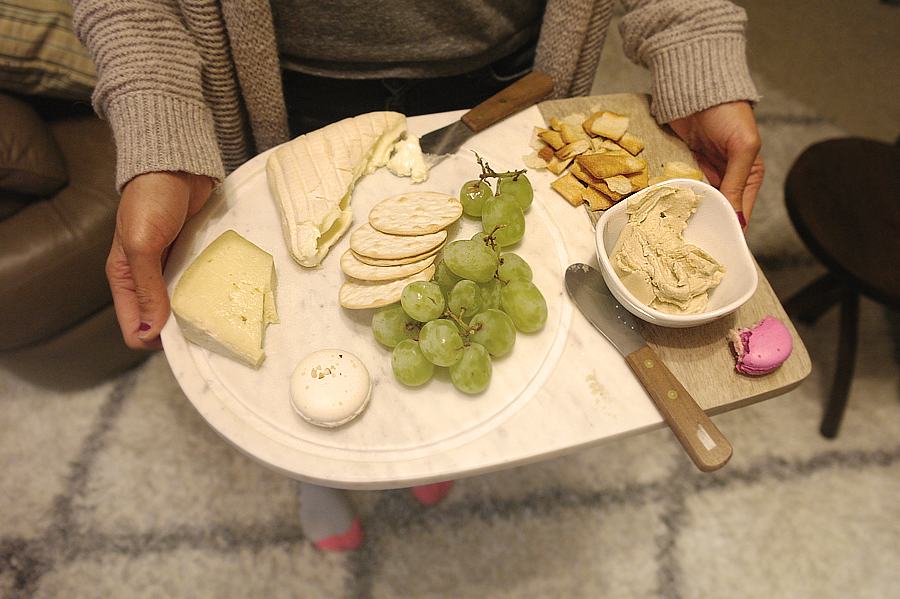 I had saved two macaron's from an event I went to earlier last week and the cheese was from The Cheese Shop in Carmel-by-the-Sea, when we went the weekend prior, on a spontaneous trip to Monterey + Carmel + Big Sur. Blog post for that coming soon too by the way.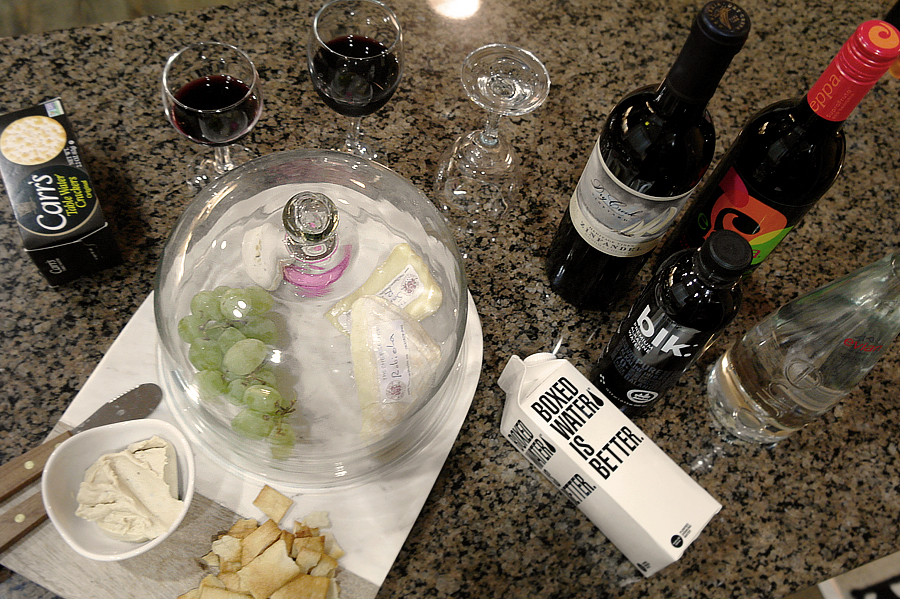 Isn't it the fanciest cheeseboard you laid your eyes on lately? I kinda want to put apples or lemons in it for the time being when I'm not using it for its purpose. I keep it out on the kitchen island at all times. I also think it'd be fantastic for doing flat-lays for beauty product shots with some sprigs of pine surrounding it. Right?!
What did you guys get up to this past weekend?