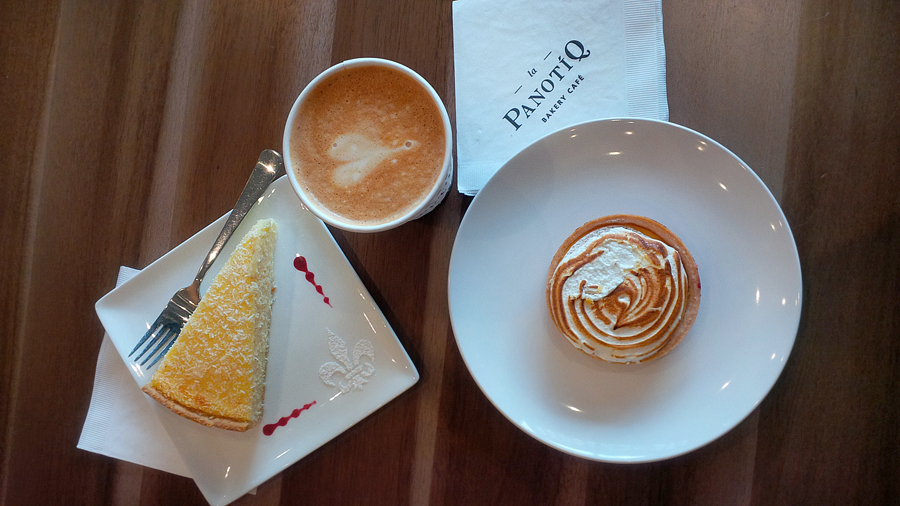 Campbell is a small town of 40,000 people locally situated not too far from our house, and is a great spot to go out for a bite to eat, or walk along the main strip. I've adopted La PanotiQ as my go-to coffee shop for the last few months. The Campbell location is beautiful, and has this French vibe to it. Huge lounge benches for catching up with friends, impeccably clean bathrooms, and delicious vanilla lattes. I mean, check out the presentation of their goodies. Just as delicious as they looked and the perfect size for pairing with a cup of coffee.
La PanotiQ Bakery and Cafe has 6 locations in the San Francisco Bay Area. Their website describes it as French culinary tradition meets modern chic European style. I totally get the feeling that I'm walking into a European cafe when I step inside. You can order anything from pastries and sweet mini desserts, to savoury lunchtime dishes or lighter options such as a fruit bowl, or parfaits.
I'd skip on getting a full meal there, the sandwiches aren't the best and don't have any sort of sauce on them. Especially the ham and cheese. It's straight up ham and brie cheese on a baguette, so it's quite dry. The desserts are not to be forgotten, so yummy and quite a nice treat along side of your hot drink.
I love that they sprinkle on a cocoa stencil on your dessert plate, it's a nice added touch.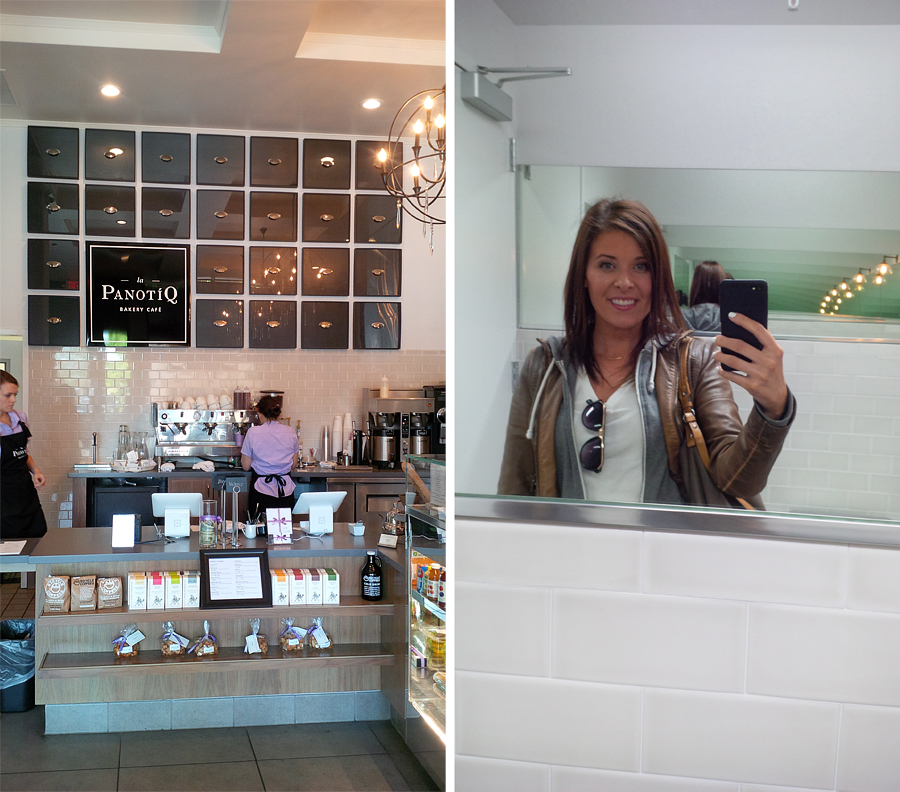 This is the front of the store in Campbell, where you obviously place your order. The second pic is a bathroom selfie. Haha! I couldn't help it. Their bathrooms are huge, and really clean. Had to be somewhat documented.
There's always fresh flowers on the table. I love this huge vase right in the centre of the long dining table. The first few times I came in here, all I did was bring a note book and pen, then sat down and people watched and tried to come up with some blog post ideas.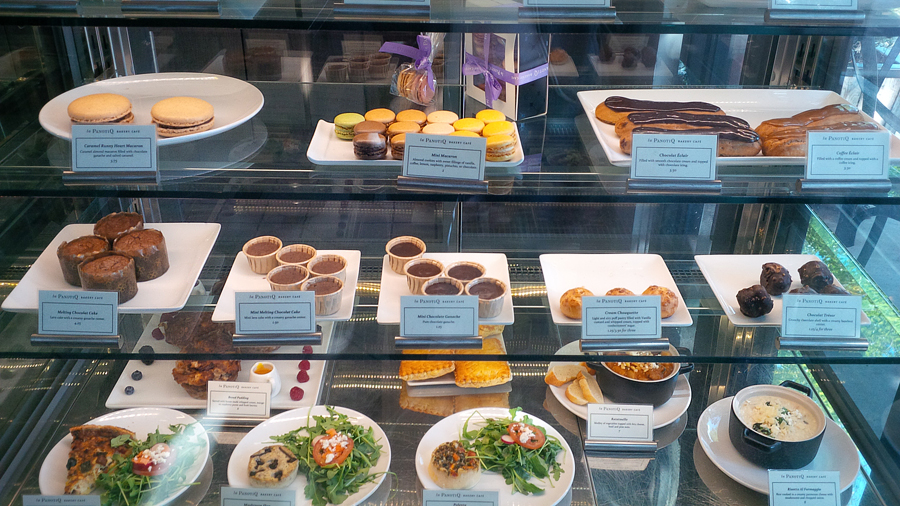 Yummy desserts, and some lunch options. I'd suggest the mini chocolate ganche's or the chocolate macarons, they're both amazing.
Above: La PanotiQ, Campbell location.
Okay, on to a completely different feel at the San Francisco location, unfortunately…
I'm not entirely sure if La PanotiQ is a chain coffee shop or if the Campbell and San Francisco locations are owned by the same people. But I definitely do not recommend the SF location. When I ventured off to San Francisco with my friend, visiting from Canada, it was a completely different experience (and not in a good way) all in itself. I'm going to keep it short and not-so-sweet. 
Since I mentioned to my friend that I loved La PanotiQ's Campbell location, I thought this one would bring us the same service. Here's what went down.
First walking into the cafe, I was looking for directions to the Jane & Fillmore (a very popular intersection in San Francisco) and the two people working there both didn't know, and replied to me saying "Sorry, I don't shop here." I assume they thought it was a store which didn't quite make sense to me, since I only asked for a street location, not a store to shop at. They're not to blame, perhaps they were new to working there, or the city itself. I let that one slide, considering they're not meant to bark out directions to any part of the city one asks for. My GPS was giving me some issues.
My friend asked the barista: Do you do cafe au laits here? 
Barista replied quietly: Uhh, I think so. 
Perfect. She goes ahead and orders a decaf cafe au lait (for those that aren't aware, it's decafe coffee and hot milk. Whereas a latte is espresso and milk), along with some bread pudding.
The bread pudding looked great because it came with what was highlighted in the top left photo. Since it was a hot day in The City, I ordered an iced vanilla latte and a chocolate macaron. We sat down at a table waiting for my friends order. When it came to the table, her drink ended up being a hot caffeinated latte. Not a decaf cafe au lait. Hmm. I'm not even sure they knew what a cafe au lait was, there were two people making her hot drink.
The bread pudding was plopped onto a plate, without any additions. My friend corrected the barista and asked for what was on the menu sticker in the front of the store. She pointed that it came with whipped cream, a fruit puree and fresh berries. What happens next, totally grossed us both out. He certainly added berries and whipped cream. But without washing his hands straight out of an unopened blueberry container and didn't wash the berries! He added the berries and whip cream to the plate and didn't heat up the bread pudding and forgot the mango puree. At this point we figured it wasn't worth an argument and just left it at that.
I honestly felt that the San Francisco location had such a crowded kitchen and no one truly knew what they were doing. So let's just say don't visit the San Francisco location, it's quite different from the vibe at Campbell, where everyone is chatty, friendly, washes their hands and adds the cutest additions to your plate.
195 East Campbell Avenue, Campbell, CA 95008
(408) 429-8044
Hours: Seven days a week 7am-10pm
twitter / facebook / instagram