A few weeks ago I received an e-mail inviting me to a small exclusive Scion media launch, and of course being the person to say YES to an opportunity that sounds cool, I obviously agreed. The itinerary was a little backwards for me, but considering I had nothing on the go that day I decided to giv'er and go all out for the experience. It went a little something like this:
Drive myself up to San Francisco during morning rush hour.
We test drive the Scion iM and Scion iA's down to Santa Cruz.
We eat lunch in Santa Cruz and mingle with the other media attendees.
Drive back in one of the iA or iM vehicles to San Francisco.
I take my own vehicle back and drive it home to San Jose.
So, a lot of back and fourths for me. I'm not one to complain much but by the time I got home it definitely took the good out of me and I was ready for a big ol' nap, or a good nights sleep.
I filmed a short few clips while I was the passenger for half the trip, so check it out! Some spindly windy roads down to Santa Cruz, it was definitely picturesque, and I can betcha a buck this is most likely where a few car commercials are shot! The roads were breathtakingly beautiful with all those gigantic redwood trees and Cali-views.
After whipping out my vlogging camera to capture some footage for my YouTube channel, I realized I didn't film or take any photographs of the iA sedan I was in, only the sportier hatchback model: Scion iM. I suppose if you were really into reviewing vehicles, you wouldn't be on my blog because it's not a car-review blog. So I'm sure you will be able to find photos of that elsewhere on the internet.
Although I'm not even remotely a professional car reviewer I can still give my two cents on what I thought of both the vehicles. Preferably, I am more of a mid-sized hatchback type of gal, and I prefer to feel surrounded by a whole lot of car when I'm driving. As soon as I sat inside the Scion iA sedan, it felt too small for something I would purchase. If you've ever sat inside a Toyota Yaris, you would understand the size of the car.
However, I enjoyed taking the Scion iM out for a spin since it feels more versatile and sportier. Does the front end look familiar to you? It was built in partnership with Mazda at the same manufacturer as the Mazda 2's were, so it has the Mazda 2 chassis and transmission. Something I'm a little familiar with due to me owning a Mazda 3 hatch.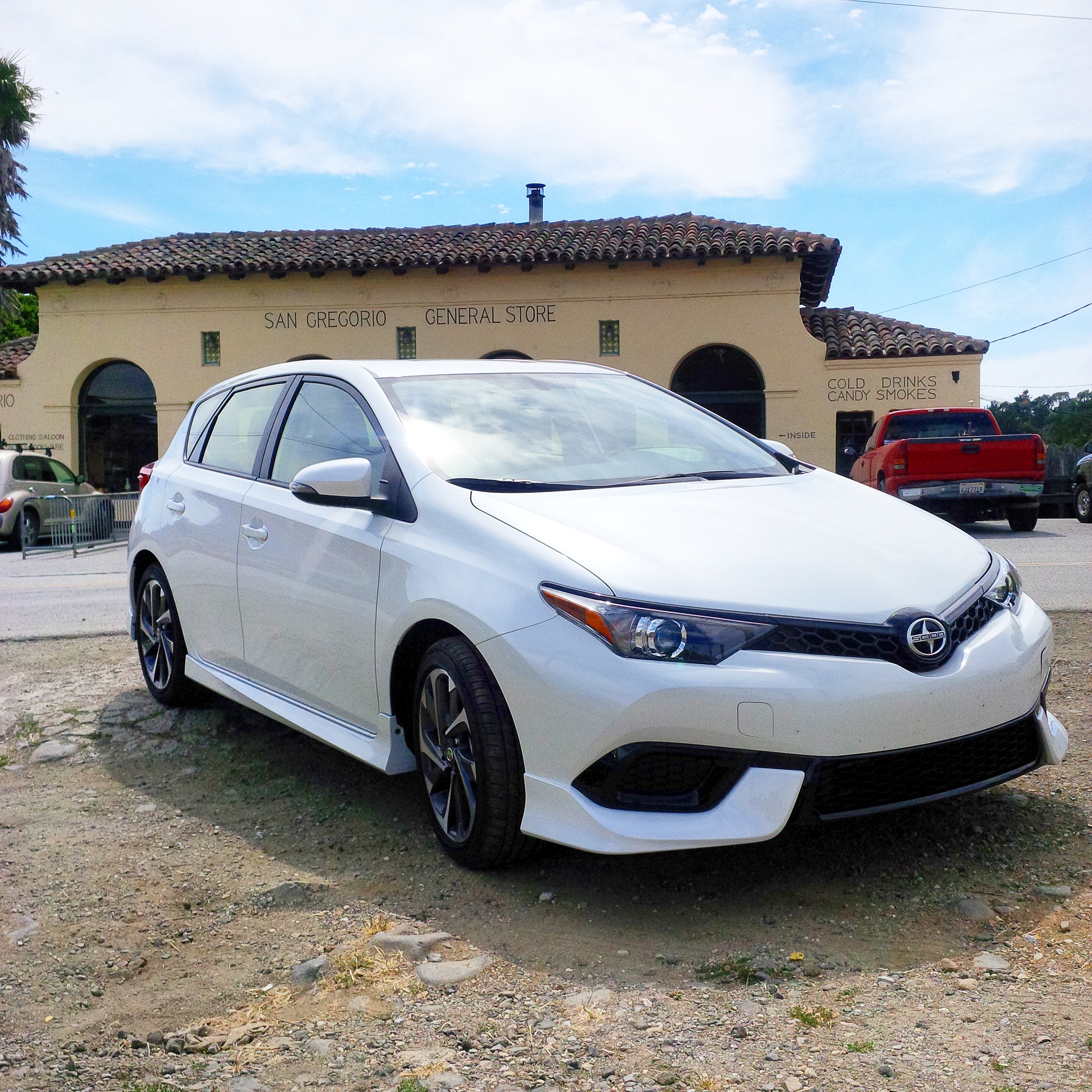 2016 Scion iM shown above in the colour Blizzard Pearl, releasing on September 1, 2015 for $18,460 (manual) + $19,255 (automatic). It gets 28mpg city, 37 highway and 32 combined.
The two cars are aimed towards a younger crowd of consumers, newly graduated professionals, buying their first car. The hatchback is a great idea since it's so diverse, especially if you're into biking and don't want a bike rack on the outside of your car (especially considering my husbands bikes cost more than our cars). Fold down the two back seats and you have yourself a safe haven for your pride and joy: the bicycle.
Visit Scion for more vehicle information. Photos below provided by Scion. 
2016 Scion iA + iM
2016 Scion iM
2016 Scion iM interior
2016 Scion iA
2016 Scion iA interior