I don't know why I put myself through the pain of buying my climbing shoes three sizes too small. The recommended amount is that you go down 1½—2 sizes. Yet I chose 3. I can't go back now, because my feet are used to it!
Have you ever tried indoor rock climbing? This is a really old photo of me climbing lead back home in Newfoundland. I won't tell you how old exactly because I feel old even thinking about how long ago it was.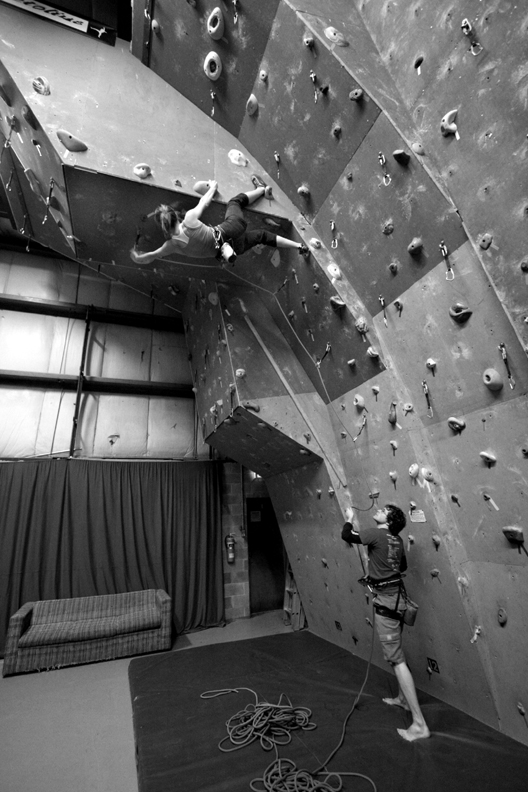 It's such a great workout and doesn't even feel like you're working out until you're done. Because it's SO FUN to climb!
Back home my friends are all climbers. It's how I've met all of my friends in Newfoundland. I miss them all and can't wait to go back in June to see them.
My first pair of climbing shoes I picked out on the recommendation of a friend, back in 1995 when I first started climbing. They were they 5.10 5.10 moccasym's.
Me and my friends climbing shoes back in 2003:
I made them work, but they were really a basic shoe and not the best fit. Every time I came down off a climb there was air between the arch of my foot and the shoe that it made a farting noise. Talk about embarrassing, especially being a young teenager at the time. That farting noise? No man it wasn't me.
I had them resoled a few times to get a sharper edge, and of course because the rubber was wearing thin. A few years later I knew I wanted something more aggressive for heel hooking. A shoe that would stay on my foot, and fit my feet better. I did a lot of researching and ended up purchasing the La Sportiva Miura's back in 2004. Which ended up being a unisex shoe at the time. Now, the green one's are the men's version and the women have their own Miuras (in white). I loved using the miuras because it form fitted to my small heel. The edges were incredible and the way I performed on the bouldering and climbing walls were a world of difference compared to the 5.10 moccasym.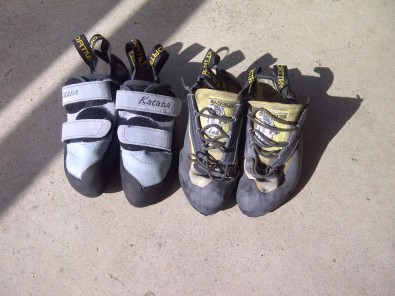 I had been eying the katana climbing shoes by La Sportiva a few years after I purchased the miura's. But it didn't make sense to buy new climbing shoes because at that time I was living in Ontario, an hours drive from a climbing gym and not climbing as much as I would've liked.
Fast forward to late summer 2011 when the new climbing gym opened up in my city. I took up climbing again after a few years break. December 2011 I entered a boulder comp, this is one of the photos my Boyf took of me on the wall :)
In 2012 I took a "break" and didn't really climb too much. This year I've amped it up and I'm climbing 2-3 times a week. Definitely not as frequent as I used to go (5-6 days a week) because I have two loves. Climbing and CrossFit. So something's gotta give.
My mirua's are now 9 years old, have never been resoled and it was due time to purchase another pair. Finally, the katana's! My boyf ended up buying the Katana's for me for my birthday.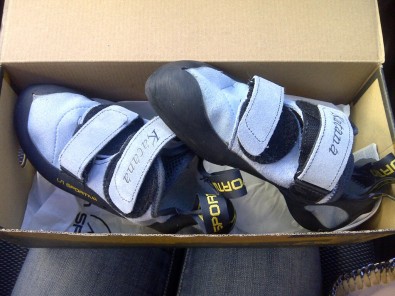 Super pretty right? I think blue is my favorite color lately. I've been buying a lot of it.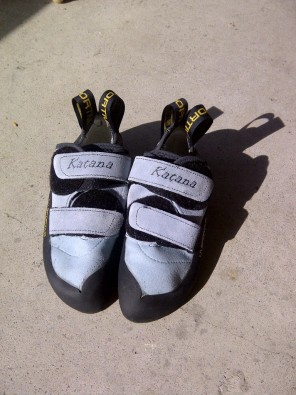 I went into MEC and tried them on for the first time. I knew they weren't going to be an aggressive shoe like the mirua, but I was okay with that. What about the heel hook and the fit of the shoe overall? It's definitely a different shoe than I'm used to. I bought the same size of Katana's as I had in the Miura.
I was biased about the Katana's and wanted to buy them regardless. I had my eyes on them for years. I've used the Katana's twice already and while it'll take a while to break in, I'm overall pleased with it. The heel hook is not the same as the Mirua, the shape of the heel cup is different at the backside. But that is something I"ll have to get used to.
Have you ever tried climbing?
If you do climb, what shoes do you own?