I hope everyone had a good week. I ended up seeing my co-worker Aimster (Amy) twice this week — which was SO fun. She usually works in a different city at our other office, so it's semi-rare that I get to see her. We took a few photos together but we didn't like them so I'm not going to post them!
She did take this one of me dancing in my office like a Christmas Elf the other day!
We got to talking about IT at work, somehow. Which usually goes right over my head. But I asked her if people still do that disk defragmentation to their computers. I used to do it all the time to my own computer when I lived in Newfoundland, thinking I was genius. But for some reason my computer always broke… maybe I wasn't a genius after all. Since I got out of "fixing" my own computer, my computer has been totally fine. HAHA. How does that work?
I'm feeling mighty chatty this morning hey? I should get on with things.
First, the OOTWW. Like my geek pants I wore yesterday? So do not know how to style those… help? lol
Triple F Friday Fit, Fun and/or Fashionable people this week:

Anyone have any pointers to help Leanne have fun shopping her closet?
How fun is KDot? I love all of her OOTD's and little snippits of her life. Some are hilarious, like yesterday's mini marshmallow shortage.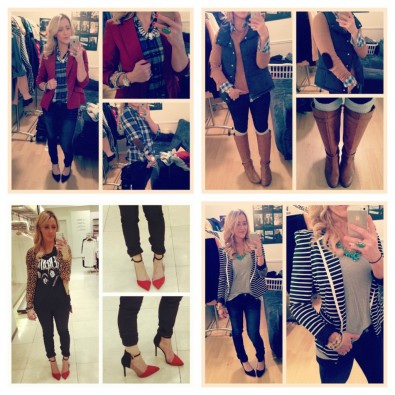 Love the way Shannon shared her "Work clothes roundup" on her blog this week. Much nicer as she gives closeups of certain parts of her outfit.
Meg, I hope you bought that Lululemon tank! It looks amazing on you.
Julie from PBFingers is one of my all time favorite blogs to read. Yesterday she posted a ginormous gift guide. Check it out if you still have some shopping left to do and need more ideas!
Submit yourself to my weekly Fun, Fit, Fashionable posts. You can certainly submit your own, next week. Just shoot me an e-mail to spiffykerms@gmail.com. Just include any of the following:
Your name

Your URL, if you have a blog

Description of you being Fun, Fit or Fashionable

A photo, which is optional of course