I'll try my best to update you guys on how I'm liking my monthly boxes, if I used the products and what I think of it. Sometimes I'm lazy and just flick the samples that I receive, in a pile and let them accumulate until I get sick of seeing them and either try them out, or give them away. I know… isn't that completely pointless?
Perhaps doing these recaps will help me actually try out more products, instead of just subscribing and hoarding all these samples.
Each month when I get either my TopBox, GlossyBox, or (my favorite) Glymm box, I do an unveiling video. You get to see my true reaction to the products. I've been subscribed to these boxes for over a year now. July marks the 1 year mark for me subscribing to Glymm!
So first up to the plate is my July Topbox.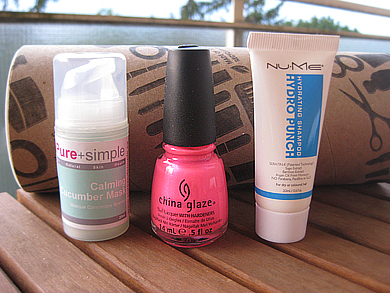 Here is July's TopBox shown above.
(click to enlarge)
China Glaze nail polish: I'm not one to go for bright colors, especially for my finger nails. I usually reserve the bold brights for my toes in the summer. I couldn't resist trying this neon pink polish on my fingers for the summer. Neon polish tends to dry to a matte finish, but that is easily fixable with a high gloss top coat. The only issue I have with China Glaze nail polish is that it seems to chip much quicker than any other nail polish I've tried. But they have the most beautiful array of colors to choose from. Right now on my toes I have a peachy neon color that is just so darling, especially with a tan.
Nu·Me Hydrating Shampoo: I'm never one to turn away from shampoos, especially hydrating one's. I love to rotate shampoos in the shower, so my hair doesn't get used to one particular kind. This one is great, since my hair is quite dry at the ends, and always have been. Love giving it an extra little oomf with some products like this. I will not be purchasing the full sized version of this, because I do have a lot of samples to go through.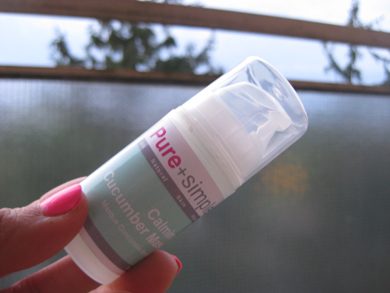 Pure + Simple Calming Cucumber Mask: I'm still not sure whether or not I am supposed to apply this mask and wash it off, or leave it on as if it were like a serum on my face. This clean, sleek packaging is great — plus it's a nice sized sample and will definitely have 2 or 3 uses when I do use this product. It has a light green look to it, and feels like silk when rubbed on my skin. The scent of cucumber is so strong, but it's such a fresh scent that I don't mind it at all. It's great!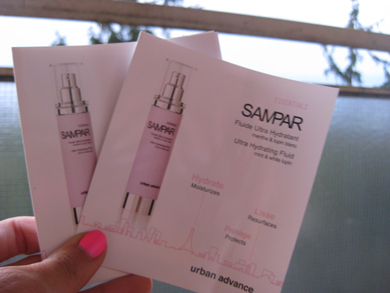 Sampar Hydrating Moisturizer: This is a pretty high end moisturizer which I've yet to use. I'm planning on going to Ottawa within the next few weeks so I'm saving these samples until then. I know for sure that Glymm has Sampar in their shop. I'm excited to try this out.
Here is a video I did about the July's TopBox:
 
See my comparison of the four Canadian subscription boxes; TopBox, Luxe Box, GlossyBox & Glymm Girl, and which box do I think is the best.
Sign up for Glymm ($10/month for re-occurring members, $12/month for new members)
Sign up for Luxe Box ($12/month)
Sign up for TopBox ($10/month)
Sign up for GlossyBox ($15/month)