What a weekend! There are now just a few more days until Christmas and a few more days until our holiday break from work. Of course, the malls and everywhere in between are jam-packed with shoppers finishing up the majority of their Christmas shopping. But it wasn't as bad as you may think. Yesterday, Scott and I ended up heading out to shop and, at first, the mall was pretty busy.  That is, until the traditional mall closing time of 6pm when the crowds suddenly began to thin out. I'm not sure everyone realizes how late the stores stay open for Christmas shoppers!
We hit up a bunch of places including Walmart to pick up a few groceries for the rest of the week. We didn't need too much; just a few essentials.
As we were finishing up our shopping, supper time had come and passed and our tummies were growling a bit. I think my tummy was growling at the impatient shoppers. But that's a topic for another day. I thought this was a perfect time to treat Scott and I to a feed of McDonalds, thanks to #EqualCanada and #Cbias. I'm always a fan of stopping at McDonalds since they offer free wi-fi and I can use my iPad.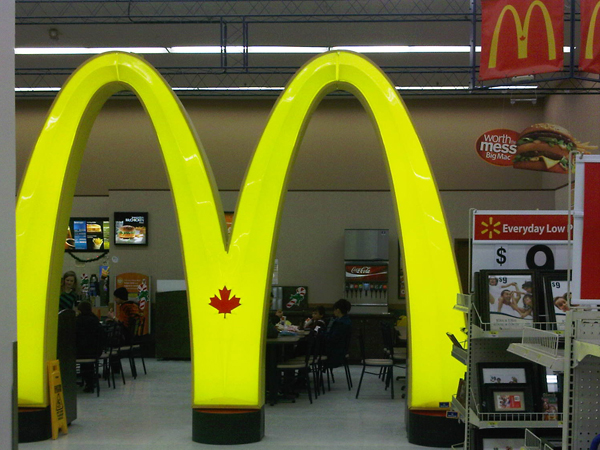 Hmm, what to order?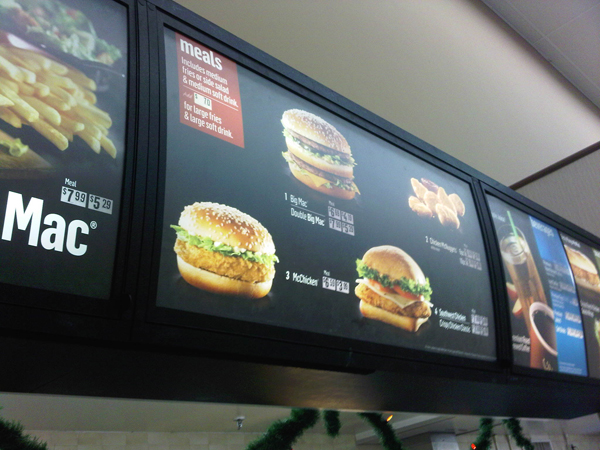 Scott ended up using a free Big Mac Meal coupon he had, and I got my specialty: the McDouble, plain. Only cheese please.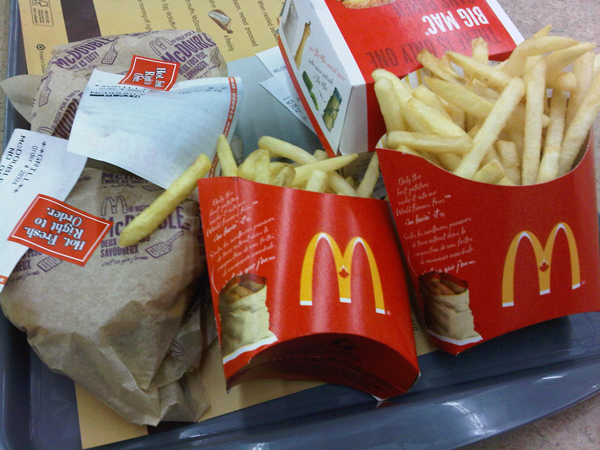 I give my extra burger patty to Scott since it's cheaper to order a McDouble (2 patties) than it is to order a cheeseburger. (I think…maybe it's just because Scott likes to have an almost-double Big Mac).  He went for an extra McDouble as well for good measure.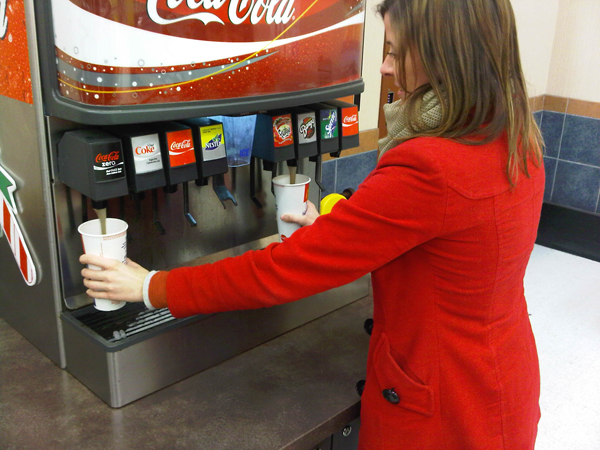 Love free re-fills. Did I get the Coke Zero, or the Barq's? Take a guess!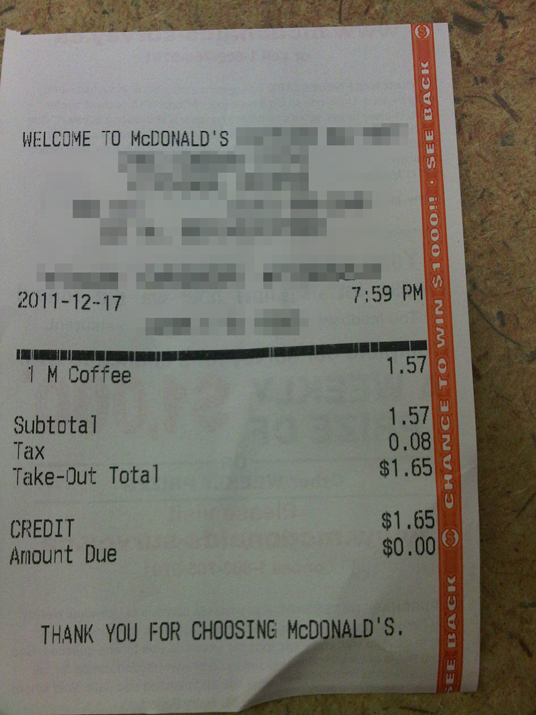 When I placed my second order of the evening, I decided to get a coffee so we could take it to go, and bring it with me to sip on as we finished up our shopping.
After I placed my order I asked the cashier if there was Equal available instead of sugar. He honestly had no idea what #EqualCanada even was. It was funny. He asked me and I said it was a sweetener. He then asked me why I'd rather Equal than any other options and I told him that it just tastes better in my opinion. He nodded and smiled as he was ringing my coffee through. One of the credit card machines was down so we continued to chat.
From there, I asked him if there was a comment card that I could fill out. He called out to the manager who came over to greet me (they were both super friendly and great to deal with), but the manager apologized and said they didn't have any comment cards. I thought that was a bit strange, because aren't they usually hung up in a little holder on the wall where you can grab one and fill it out yourself? I told him it was okay and I suggested that I could just fill out the survey mentioned on the back of the @McD_Canada receipt instead to suggest that McDonalds carry a variety of sweeteners to give customers more selection.
The situation got more silly at this point because I ordered a medium black coffee, but the guy filling my order said there weren't any medium cups in stock either.  So, as a bonus, I ended up getting a large, filled to the brim with coffee.  We were both laughing.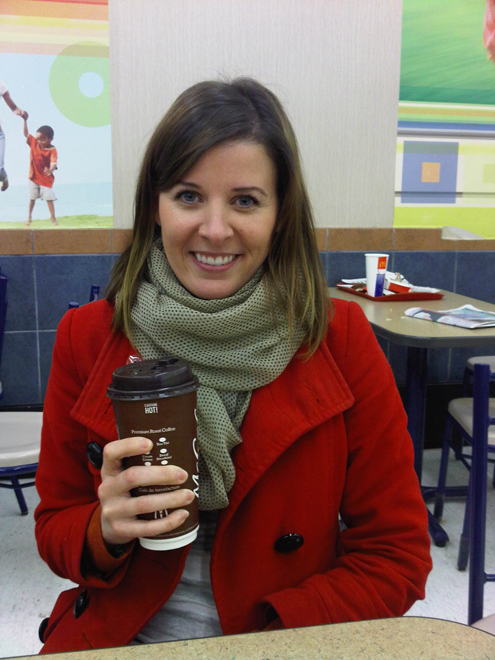 Sweet, upsized for free! The one thing I really enjoy about McDonalds coffee is not only the taste, but the cups are from the future. The lids are not flimsy and the top easily pops up and stays with the lift of your finger.
And no asking for double-cupped cups anymore since they are already two layer insulated!
As soon as we got home from our shopping excursion, I did fill out a McDonalds survey. They don't put it on the back of their receipts for nothing, right?
Hearing feedback from customers is important to any business and a really great way to interact with large corporations.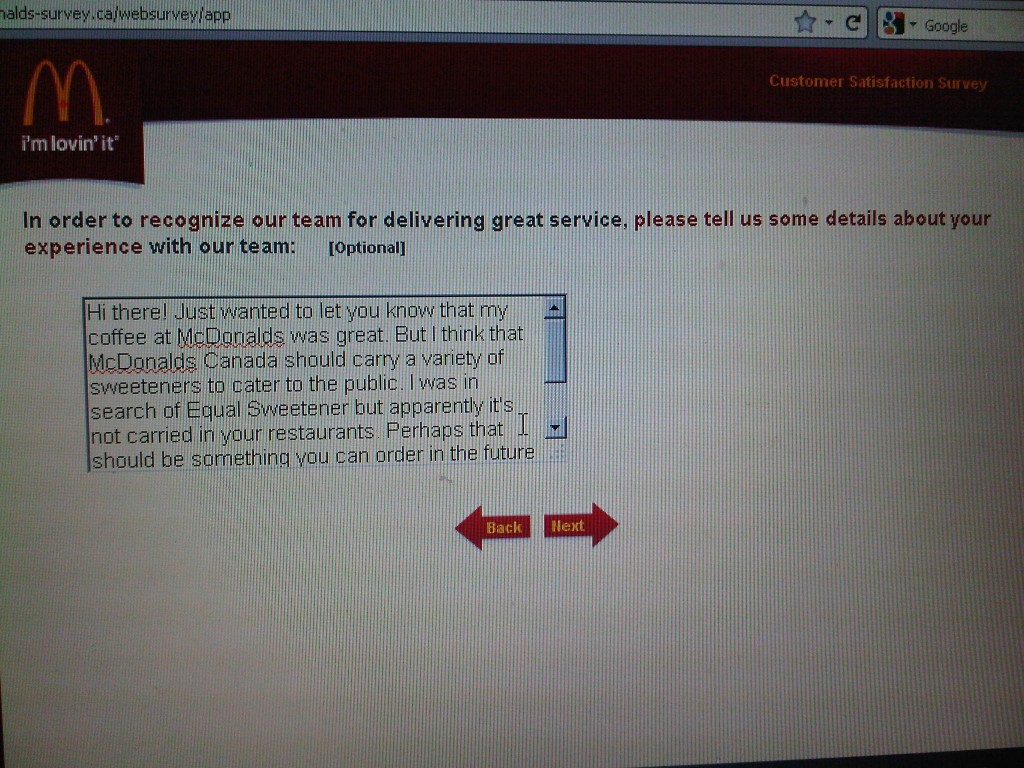 Have you ever filled out the McDonalds survey before?
I hope everyone is almost finished up the majority of their Christmas shopping. Does anyone have people left to buy for?
Disclosure: This shop has been compensated as part of a social shopper insights study for Collective Bias. #CBias. All opinions are my own.