I apologize for not posting the Riceworks winner yesterday. But I slept in until 4:15pm!! I know, insane right? I have a reason for that – we went to Nuit Blanche in Toronto and didn't get home until 8:00am. It was crazy. I'll have some blackberry photos to show you this week, that is if they came out at all.
Alright, let's get to it because I know everyone's itching to see who the winner was.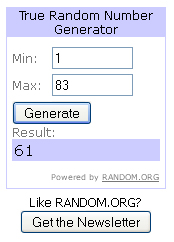 Also, I've decided to just give all five coupons to one person, since that'll be a way better prize than having 1 coupon sent out to five different homes.
Congrats Glogirl, please send your mailing address to me at spiffykerms(@)gmail(.)com by Wednesday!