Due to the Canadian postal strike, my Glymm Girl box was delayed in getting to me. Finally, it ended and I got to see what I ordered.
I was one of the few select people who got to get the box before Glymm Girl launched, and ended up paying only $5 for this box, rather than the $10 they market it for. Amazeeeeeinnnng.
Glymm is based out of Quebec and currently I think they only ship to Canadians. Us canucks are lucky because now we get to choose from two beauty deluxe samplers per month, Glymm Girl and Loose Button! The reason I was pleasently surprised with Glymm Girl is because everything but one of the items in the box, I've heard of before. Gucci perfume, Jelly Belly CANDY, OPI nail polish, and La Roche Posay face cream. Not sure if you can get La Roche Posay in the states — can you? I've used their brand before and purchased it at Shoppers Drug Mart.
So rather than write more about this new monthly subscription, how about signing up and seeing what I got inside for the July issue?!
Shiny pink packaging = winning.

The orange note there is a welcoming to Glymm and on the backside you see what the retail price is on the products and a little description.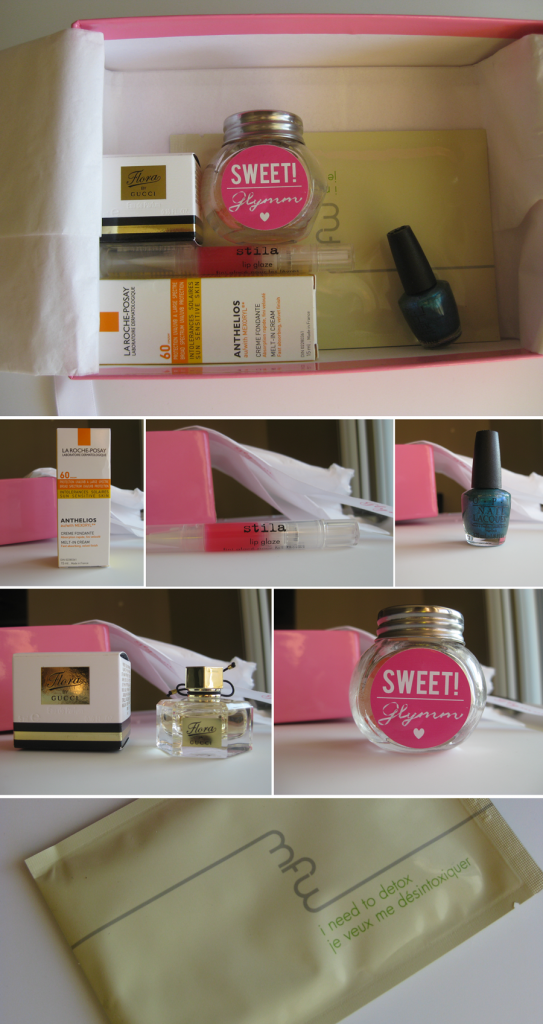 (click to enlarge)
The Gucci perfume reminds me a bit like Lady Million Paco Rabanne perfume, but Flora is a bit more feminine, if you know what I mean. The jelly beans were pink and white – they smelled and tasted like cotton candy. To die for. I think they won my heart sending me candy.
If you want to see my video review, just go to my youtube page and view it there.