Why couldn't there be a website like repairpal.com a few weeks ago when I had to fork out $400 of my hard earned money on my poor little Snowball (my car).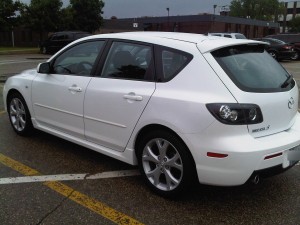 It doesn't look like this now because there is a ton of brown bird poop on my front door.
Whenever I call the mechanic I always ask how much something will cost in advance. I need to start asking how much it's going to be out of MY pocket, not just "$200" for the transmission fluid flush when he really means two hundred bucks plus an oil change plus tax = $403. I was really angry a few weeks ago when I was shocked at how much the whole entire thing cost. I suppose I could've easily checked my owners manual and did a bit more research online on the Mazda forums they have out there. But really – I kinda just not want to pay anything for my car. Not even the gas. I cringe each time I go to the gas station. I fill up and never look at how much it costs. Okay, I do, seriously. But I hate looking.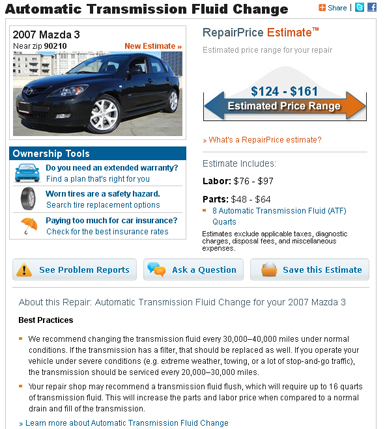 I ended up using the estimator on repairpal.com to check out how much my car would cost to repair in the only zip code I know in the states: 90210 (lol). Apparently for my year/make/model of my car, it costs between $124-$161. Not too shabby. Nothing like $400 or anything.
The site is quite easily to navigate, and all you have to do is select your year, name of the car, make of it and then it gives you a huge list of what service you need for your car. It's so convenient especially for the stereotypical female like myself who doesn't know much about cars and has no friends/family members around who knows anything about them either. lol.