Hot dang, lemon pepper seasoning is delicious and tastes like chicken.
While I was in Newfoundland, I watched my brother make a stir fry for his wife. My Sister In Law kindly shared a bit of her meal with me and I said I couldn't have anymore as I'd devour the whole thing on her. My brother ended up writing down the ingredients for me for this fancy and EASY meal so I could re-create it.
I did just that, and of course I didn't have patience to take any nice photos of it since I was ready to dig into it as fast as it was served. But here is what it looks like, and the recipe will be posted below.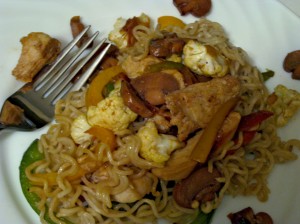 SCRUMPTIOUS.
Sauce:
Olive oil (I used canola)

Soy Sauce

½ capful of vinegar

pinch of salt

Garlic (I use the stuff in the tube)

½ tsp lemon pepper
2 packages of Mr. Noodles (do not use the powdery stuff that comes with it)

½ can of mushrooms

Cauliflower

Green and Yellow bell peppers

Carrots

Chicken
Think you'll be re-creating this at home? I wish the photo of the food looked more appealing.