If you follow me on Twitter, you know that yesterday I went to get my first oil change on my car. It was a long process, and I didn't know whether they were taking their sweet time, or if they were busy. The last time I had my car in for maintenance was when I was checking it all out at Mazda before my Warranty was up. 
At first I said:
Because it's true. The owner knows my name, and car. Same with the young guy who I think hits on every young woman he sees. But that's neither here nor there.
After sitting there for more than 25 minutes I started getting impatient. Shouldn't this take only 15 minutes? What are they doing?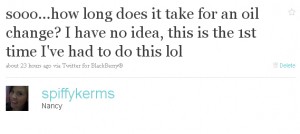 They quoted me for $38-$44 for the oil change and filter. Except…

Yeah. Expensive is it not? They did do a thorough job and check all the fluids in my car and even the timing belt and mentioned that I should replace the transmission fluid before 60,000km's. Which will end up costing me $225. Uhhh. I think I'll price around, before I go ahead with this guy because that seems awfully high. Knock on wood so far, everything seems to be running and working properly. Unlike my parents previous car which was such a lemon.
Maintaining a car > Fixing a car = expensive. Boy oh boy, but is it ever worth it.