Title of the entry? Totally my boyfriend, not me.
Two weeks ago today, I made my first batch of muffins, ever. Can you believe it? I think I'm a natural when it comes to this stuff. Nothing I make turns out un-edible. (I may just be jinxing myself here) or it could be the fact that I'm following super duper easy recipes from BFF's who bake like pro's. (Hi Jenna!). I have since made another batch of blueberry muffins and some banana bread. What have I turned into!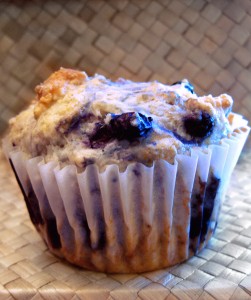 Doesn't it look so gorg? Mmm. I want to make a 3rd batch, maybe banana next time. The top was nice and "pebbely" as the recipe said,  kinda crunchy and I made 12 … they were gone within two days. Seriously folks, and that was trying to limit myself too. I couldn't help myself. What I don't get is why my muffin's don't have MUFFIN TOPS. Maybe I just need to make less muffins, more batter in each cup. I dunno. We'll see with if it progresses through my many tries.

I just may have to post this one in the recipe section you guyyyyyys.