I gave you a brief overview of my hair care routine last week and today I'm elaborating on the hair serum I love to use.
Ever since I decided to stop damaging my hair with the hair straightener every morning I've gone to other options to make my hair sleek and shiny on a daily basis.
I've written about my hair care routine but wanted to single out one product in particular that I can't seem to live without. Now I know that's going to sound absurd but I've been telling all my friends and co-worker's how I've been getting nicely tamed hair without the use of a flat iron.
It's two products put together basically. A boar bristle hair brush, and a hair serum.
I've been using hair serums for a number of years but until recently I don't think I was using them to their full potential. I've tried plenty in the past such as Aveda's smoothing serum (not shown), Aveda's balm,  Joico Kpak, Macadamia Nut, and two Kérastase products that I received in my monthly subscription boxes.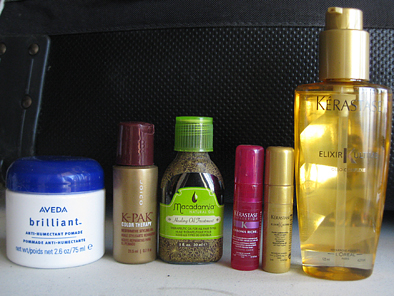 Now? I'm all about the Kérastase.  I first heard about Kérastase Elixir Ultime from Fleur, a very well known makeup guru on YouTube a few years ago. I trust everything she raves about regarding products. I naively thought it was only available in the UK. That is, until I received a sample of it in my beauty subscription boxes. Kérastase is said to give nourishment, shine, softness and condition the hair.
The packaging is great but not as eye catching as I think it could be. The serum is housed in a 125ml plastic bottle with a pump at the top.
On the backside of the box it gives the ingredients and instructions. I didn't realize you could use this elixir on your hair before you shampoo as a pre cleanse treatment. I'm almost afraid to use it before hand since I was my hair 2-3 times per week and I don't want to "waste" my hair cleansing routine and have oily hair. Has anyone tried this?
 How I use the product. After I shampoo and condition my hair I immediately put my damp uncombed hair up in a towel and let it dry that way. If you rush this process you'll get noticeably frizzy staticy hair. Trust me on this, you need to let the towel soak up all the damp wet hair. Your hair is at a brittle stage when its wet as it breaks easier. I leave my hair in the towel til I get dressed and off it comes when I'm about to do my makeup. I comb through my hair using a wooden wide tooth comb (spoken about here) and then put in a quarter of a pump of the Kérastase Elixir. The texture of the elixir is quite runny in consistency, so a little will go a long way and this 125ml bottle will last me a good year or more. I clip my hair up and continue onto my makeup routine. After that's done I blow dry my hair and when it's fully dry, I add one more pump of the elixir to my hair and I'm finished.
As for recommending it to you guys? If you're willing to shell out the $42 Canadian for this product, I would say go for it. I mean, it does give  you shiny, sleek hair. Plus the elixir is silicone free so it feels weightless on the hair, which is one of the top contenders in a product that I look for, as I do have pretty fine limp hair. I can say for certain that the Kérastase Elixir feels much better on my hair than the Macadamia Nut serum, which weighed my hair down.
Where to buy?  It's sold only at salons, and you can find one near you at www.kerastase.ca. I also found it on Amazon but it seems to be much pricier on there than in salon's. The only con to this serum is the price. If I had to choose what product would be the most similar that I tried, it would be the Aveda smoothing fluid in the blue bottle. It has 25ml less than the Kérastase but it's $26 compared to roughly $42.
Overall I give this product two thumbs up. A weightless product that works well in my fine, limp hair and whenever I use it at the roots very sparingly (not even a pump, just the leftovers from the ends) it keeps my hair looking volumized from the blow drying and styling I did.
You know those radio shows that tell answers and they want you to call in with the questions? A few days ago the radio show host said a woman thinks about this, an average of 43 times during the run of a day. I completely agree (though 43 is a little excessive) about the answer. It's her hair! I swear, whenever I wash my hair and use the serum, I can't stop feeling it.
How often do you use your hair styling products such as your straightener, or blow dryer? Do you use a hair serum?