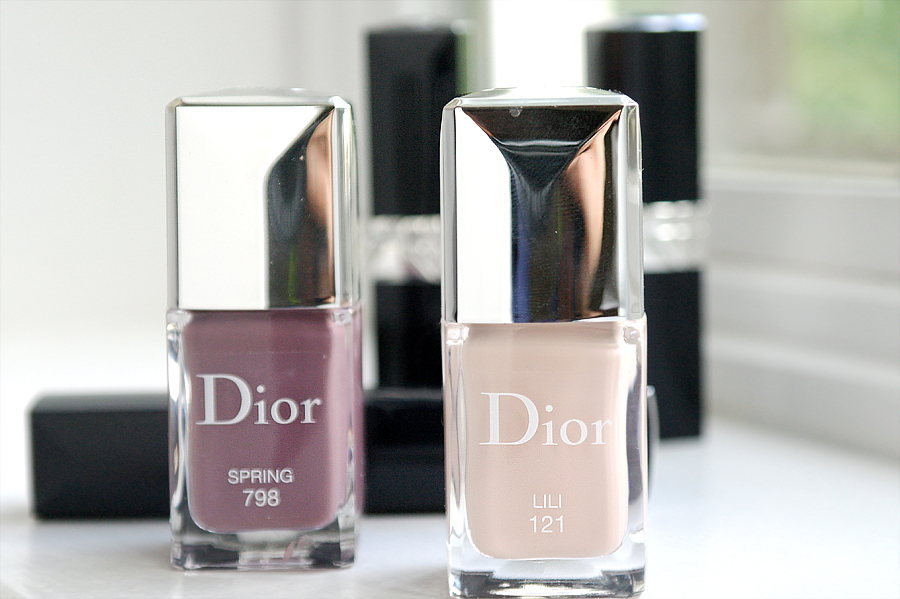 I decided to share the love with this collection of limited edition Dior Vernis. While I was home in Newfoundland I received an abundance of Dior goodies from the company. My younger cousin lucked out, as I gave her two of the four, for her nail polish collection. She even did some nail polish swatches for me, for this blog — thanks Claire!
We're a bit different in what we like in regards to nail polish formula and brushes. I've always said, Sally Hansen & Dior are my top two brands of nail polish I prefer to stick to. Primarily because of the nice shape and size of the brush. Where as my cousin Claire stated to me that while she likes the nail polish she found the brush too wide. She mentioned it was hard to keep it within the nail. Brands like OPI and Essie have smaller brushes which she prefers — and I definitely do not.
Here are the swatches.
Dior Spring is my cult classic this Fall. I have been wearing it for weeks, and only wore Lili simply for the sake of taking nail polish swatches. Lili is a colour I'd naturally gravitate towards, but Spring — boy, that's something special. A muted purple-grey. I've received so many compliments on it in person, and Instagram. It's a beaut.
My cousin sent over some polish swatches of hers. An odd thing to notice but doesn't she have the best nail beds? They're so much longer than mine.
 I'm not sure if it was a help from the Dior Gel Coat top coat or not, but when I wore Dior Spring — I hadn't had a chip in 5 DAYS. I went climbing one of the days, and my nails were a bit scratched on the surface but still no chipping. I'm telling ya, you get what you pay for. The Gel Coat was bought by me, a number of months ago. But I love using it on top of any Dior polish as my top coat to get a shellac like finish that lasts. The 4 Dior Vernis colours are available at The Bay for $26 CDN and are limited edition, so get your hands on them now if you want to snatch one up.