Guess what? I have today off work!
Expect two posts from me today. I'm in that kinda mood. The next one will be about a Make Up For Ever Holiday 2012 kit, so stay tuned for that one later on.
Well this is funny. I didn't go to CrossFit at all this week, so I didn't call it my CrossFit journal re-cap. However I'm still keeping up with the 50 day push-up challenge.It's starting to get difficult now.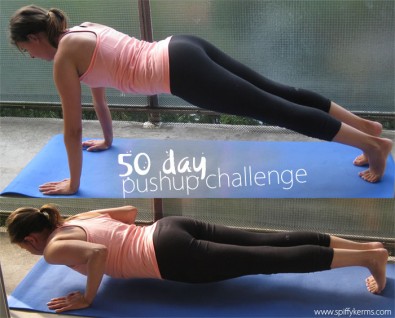 I'm on day 12 and I don't know how I'm remembering to do them, but I do remember — I am fully dressed and ready to head into work. I figured I'd better do them then and there, and not when I get home and most likely forget about it. I tell ya, if you're ever kind of chilly in the mornings — do 10 push-ups. It'll warm ya right up. Whoo wee.
My CrossFit coach is proud of me ;)
Wednesday is soccer nights, but this past Wednesday was exceptionally busy for me. I went to the climbing gym after work, to put in some volunteer hours to get a free month membership and right after that I drove across the city and somehow managed to get to soccer on time. I forgot how long it takes to get back into the swing of things. The last two games I've felt like I've played much better. More going after it, than waiting for things to fall to me. Know what I mean? I didn't get home until 10pm that evening, without supper! It was a long, fun day though.
What are your fitness plans for this week?