California to Canada. 2 provinces in 12 days with half of a carry-on luggage. Here's what I packed.
5 tops (+1 for sleeping in), 2 pairs of jeans, 1 dress, 5 undies, 1 bra, 1 bralette, 2 pairs of socks, 2 pairs of shoes, a watch, a clutch, and my hair straightener.
And this is what it all looks like in my suitcase. You'll notice I only used up half of a carry-on suitcase, and that's without a personal item. We brought Alfie with us, and he "has" to be one of our carry-on's. Eventually the second half of my carry-on ended up holding Alfie's food, some snacks and my noise canceling headphones.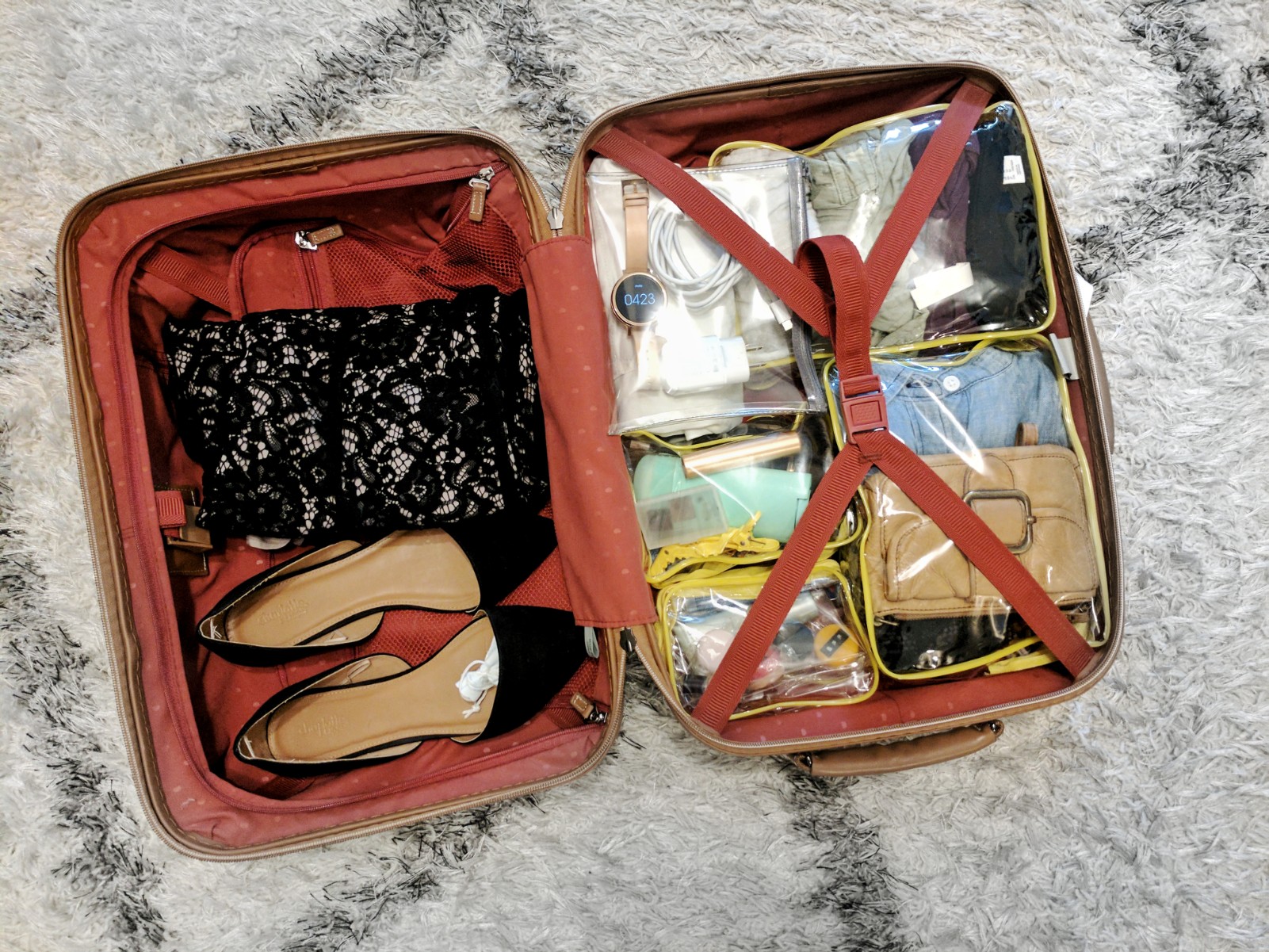 Clearly I'm a fan of rolling my clothes and storing them into clear packing cubes. Folding takes up so much room, not to mention the creasing it causes in your clothes. Rolling is the best thing you can do, then stuff 'em into packing cubes! I color coordinated my entire wardrobe for this trip, everything will go together since I'm using some easy neutral colours. Since I'm being detailed in this post I thought I'd show you what I inside each and every clear packing cube.
Packing Cube 1| 1 clutch, 1 denim top, 1 rain coat, 1 bralette.
Packing Cube 2| 1 pair of socks, 1 green button up, 1 black v-neck tee, 1 henley long sleeved, 1 purple sleep shirt.
Packing Cube 3| 1 watch + charger, 1 cell phone charger (the watch charger will go in here as soon as the watch fully charges).
Packing Cube 4| Toiletries/Makeup (toothbrush + retainer were packed last minute).
Packing Cube 5| Liquids (makeup + face lotion + spf + toothpaste).
Other side of suitcase I'll be putting my shoes into a dust bag, and the dress will also be put into a clear mini garbage bag to keep it from getting and nicks. We're going to a wedding in Ontario, so I obviously brought something other than my casual-wear.
Toiletries/Makeup + liquid contents: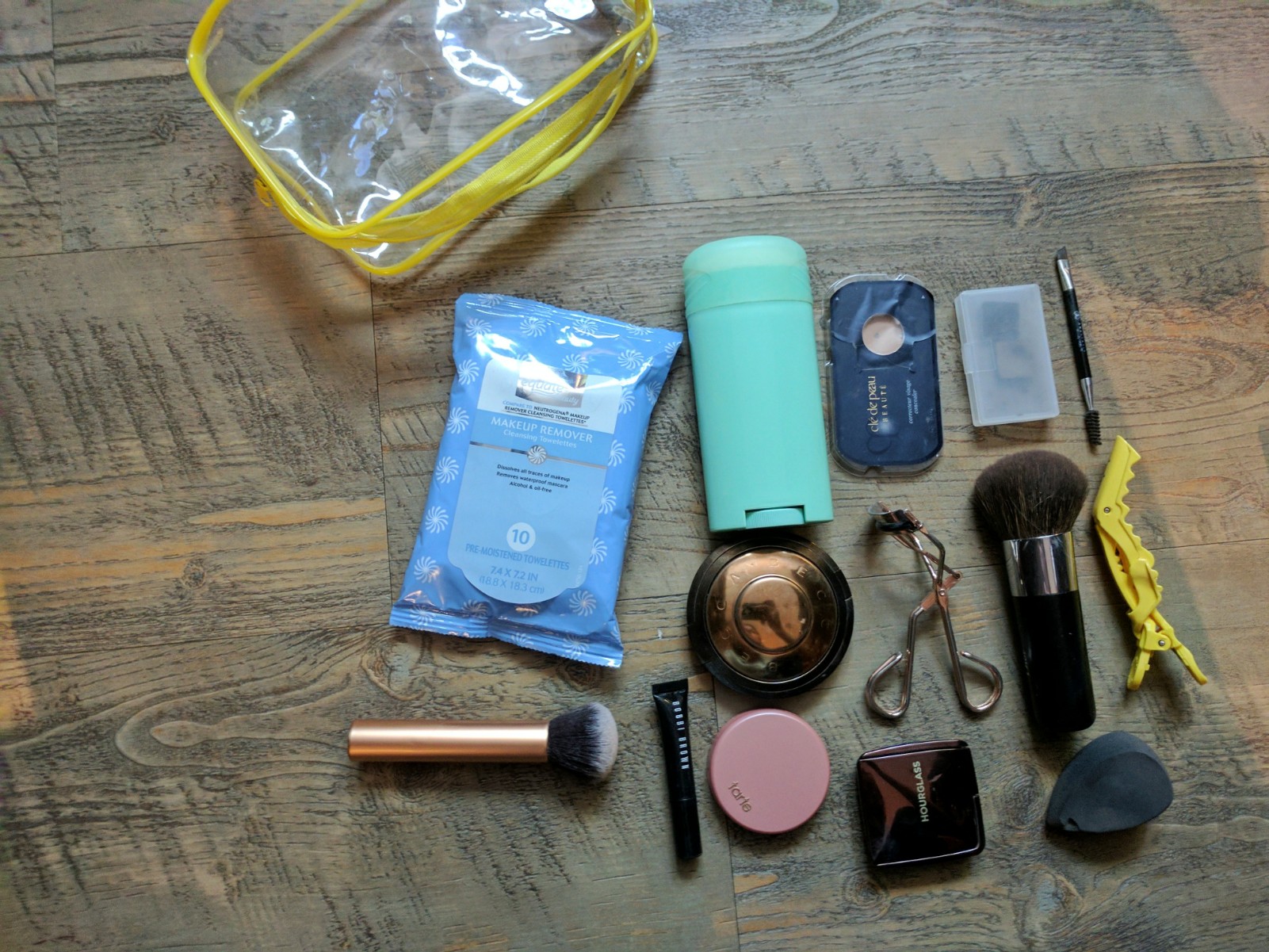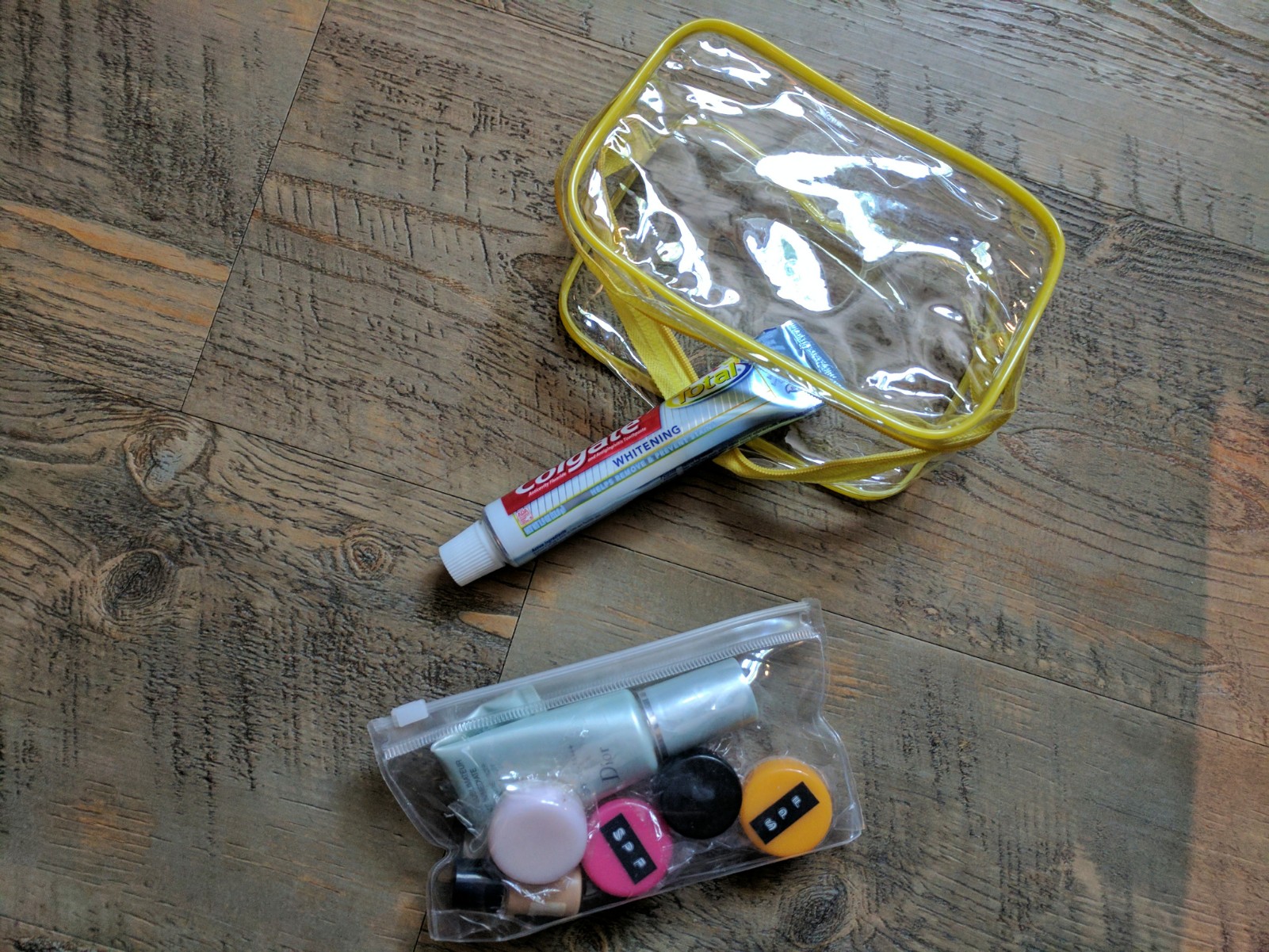 Always wear the heavier things on your flight. Save the space + weight in your suitcase. Remember my airplane uniform post? I'll be wearing a similar outfit, but wearing a heavier sweater this time: patagonia sweater, pink v-neck top, jeans, and slip-on sneakers.
See ya when I return to the US-of-A!