On St. Patrick's Day I sported my green outfit, and made the BF take photos of me and our pup before work. I didn't have a chance to post it yesterday since I wanted to show you all my teeth (hehe, is that weird? I don't care. I'm proud!).
Here is Alfie and I in the "movie room" and I'm standing in front of our huge projector screen. Nice hey? Alfie is not that red, I think the flash turns him red. He's still sandy colored where the red is showing. I don't want him to turn too reddish!! The other photos show his natural color.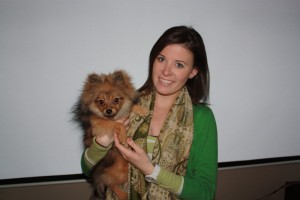 I sent these photos to my parents, and my Mom jokingly wrote back and said she sees more photos of Alfie than she does of her grandsons (which is true).
Hai Alfie!!

In the photo above, Alfie is looking up at me (being a good pup on his bed). BF is taking pictures of him. Can you see the top left hand corner of his bed all chewed out? When he gets put in his crate he sucks on his bed and eventually bites it — I think he gets sad when he's in there (aww!!). But it has to be done. Or he'll destroy the place and injure himself when we're not home. He's SO tiny that he fits into the weirdest places. Yesterday morning he launched over the baby gate we have blocking one of the hallways. Uhg. I hope he doesn't remember that he did that.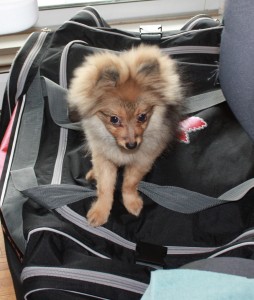 I love this look he's giving the camera. He's not allowed on the hockey bag. But it's where you'll usually find him lounging, and looking out to the patio. He loves weasling underneath the straps and feeling like he's strapped into a seat belt. He just hangs out, even if it looks awkward/uncomfortable. It's funny to look at but when I say "Off!" when he's on it – he literally jumps off and scurries under the coffee table. He would normally be allowed on it… if he didn't like to CHEW so much.
Btw, he totally has a loose tooth. How cute!!
I took him out for a walk on St. Paddy's day during lunch and after work for a good long long walk. I knew it was going to be quite busy on the main roads (where the bars are) but I took him there anyway. I had a bunch of girls come up and oggl'ed and awww'ed at him. Which was cute. But I also got hit on by quite a few youngin's! I felt like they were all jeuvie's and wanted to tell them how old I was, and soon will need arthritis treatment but I refrained — smiled and let them think I was there age-ish.