I've never asked my readers to help me out in any sort of way, but I wanted to ask of you something for my dear friend Karl! Please keep reading.
Karl and I have known each other for a few years. We met when he was displaying his companies products to sell in the building I was working in, at the time. I spotted the cool pens, and immediately started chatting away. I realized that week that we attended the same gym. Karl is just as silly as I am and we always are at the same work events. In fact, will I see you next Thursday at the BBQ Karl? :) He also calls me Milk Shake Girl / Candy Girl. Gotta say, it's pretty appropriate. I love milk shakes. Candy. Popcorn for supper. You name it.
Karl has organized the Waterloo Down Syndrome Golf Tournament, and is still looking for hole sponsors, players & donations.
Join the Waterloo Regional Down syndrome society June 12 2012 at Foxwood Golf Club, Baden Ontario and celebrate the Up Side of Down syndrome. The 2011 event raised just over $7000 for bursaries that assist the families with Speech & Language, Physio and Occupational Therapies.
I would appreciate it if you could help him out if you're in the area and would love to participate or donate to the charity itself. If you can, please e-mail him directly at karln@promotionalelements.com.
You can register and pay on the WRDSS website with MasterCard or Visa. Click to enlarge sponsorship levels below: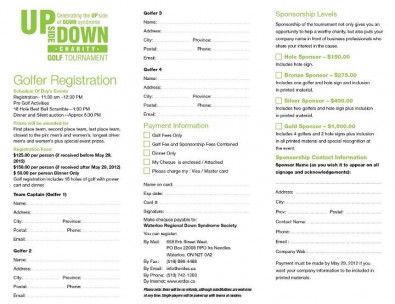 All proceeds go to helping our children young and old to reach their full potential.