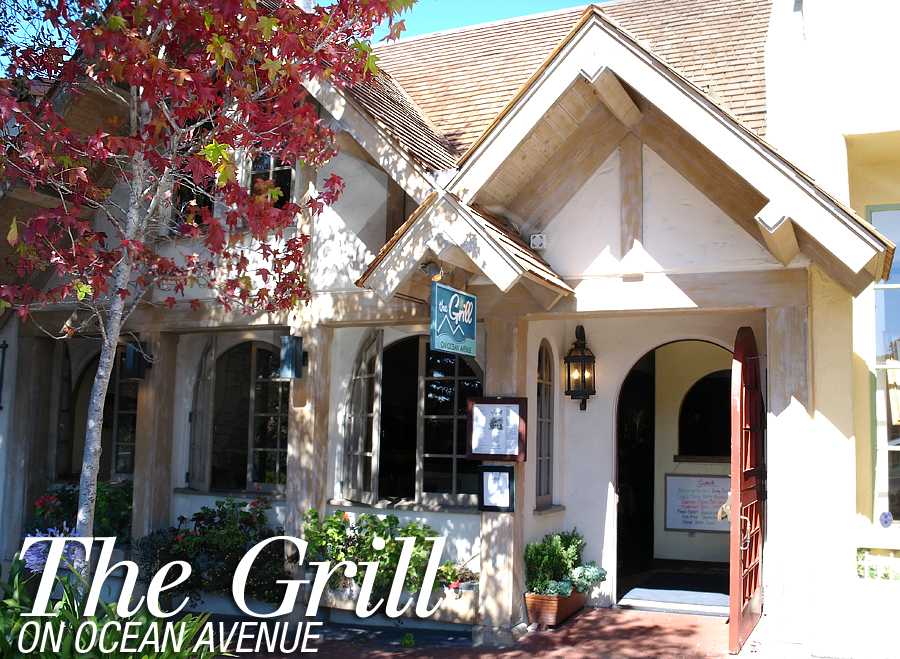 Once we quickly changed from our comfortable driving clothes to our spiffed up date night clothes, we walked to The Grill restaurant on Ocean Avenue, about two blocks from Hofsas House. Our reservations were originally for 6:30pm, but we pushed it back to 8:00 due to the traffic on the roads, luckily it wasn't a problem.
One thing that struck me when we visited The Grill was that the decor was warm and inviting, a quiet modern restaurant set with mood lighting for an evening supper. Though it seemed to be more on the pricier side of restaurants, our tables had linen table clothes, but with a paper layer draped over top. The portraits on the wall were blown up photos of the famous Pebble Beach. A little strange, if you're not into golf, but gorgeous photos none the less.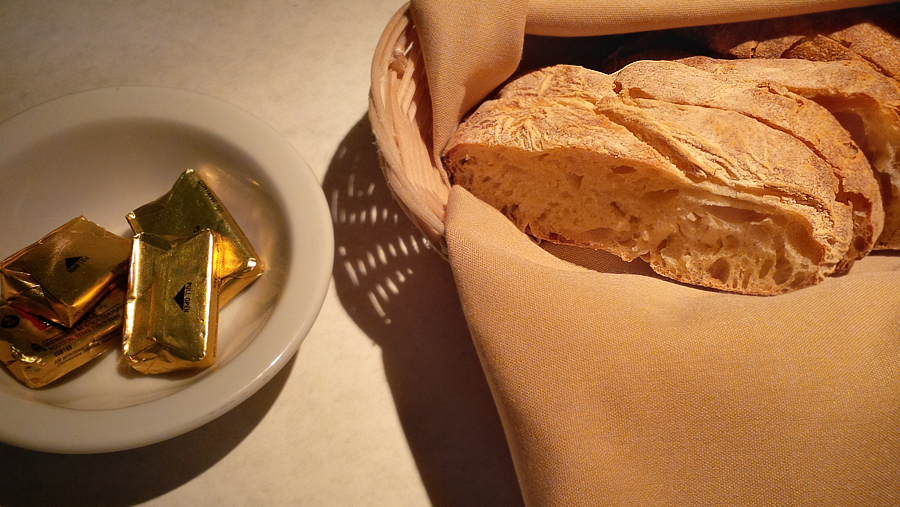 Any place that serves warm bread upon arrival, is a winner in my books. A nice crunchy outside, with a warm chewy inside is the best. The Grill got it right when they served this with warm butter, too.

Newlyweds (I can't stop using that word, when is it no longer considered a newly wed? I mean, it's been ten months), hanging out in the restaurant waiting for our app's.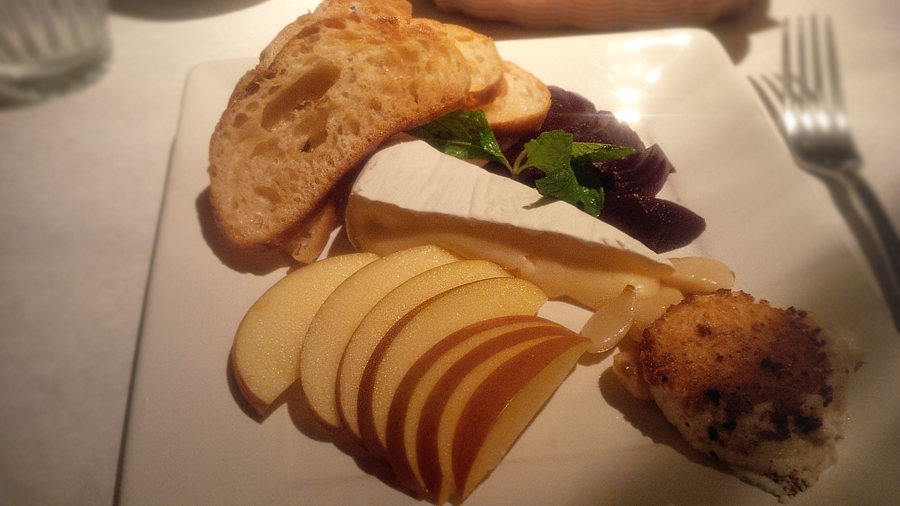 Appetizers are always a good idea, so I ordered the Warm Brie Wedge and Baked Mini Goat Cheese Cake: served with apple and poached pear slices, roasted garlic cloves, and bruschetta. I think the chef forgot to add bruschetta to the plate, but he probably read my mind and knew I didn't like it (since it's usually riddled with onions). I particularly enjoyed the pears which I was told was marinated for hours in mulled wine and a few other ingredients to achieve that deep beet colour. It was hard to polish this platter on my own, I had a little help from The Guy, but for the most part I devoured and enjoyed every last bite.
Bib Lettuce and Gorgonzola: with blueberries, golden raisins, toasted pine nuts tossed in a light champagne vinaigrette. This is what The Guy ordered, I had a taste of it, and it was refreshing and light, not at all creamy like it looked in the picture. Definitely a crowd pleasing yet unique twist to the regular salad appetizer.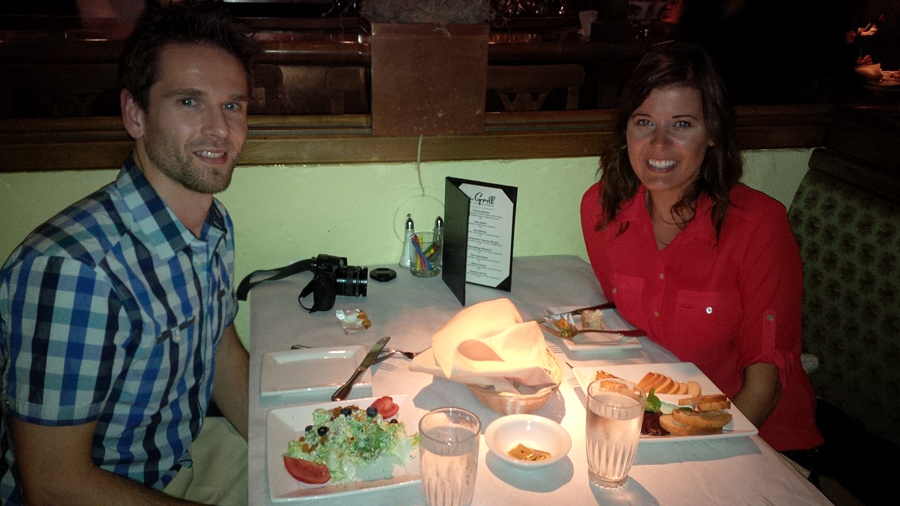 Juan was our server for the evening, suggesting his favourite menu items to us. I was deciding between chicken or salmon, and went with his suggestion. The Guy was also pondering between steak and lamb. Margot the manager of The Grill stopped by our table a number of times to have a chat about our time in Carmel. She was sweet, and gave us more suggestions on what to do during our stay in the little town.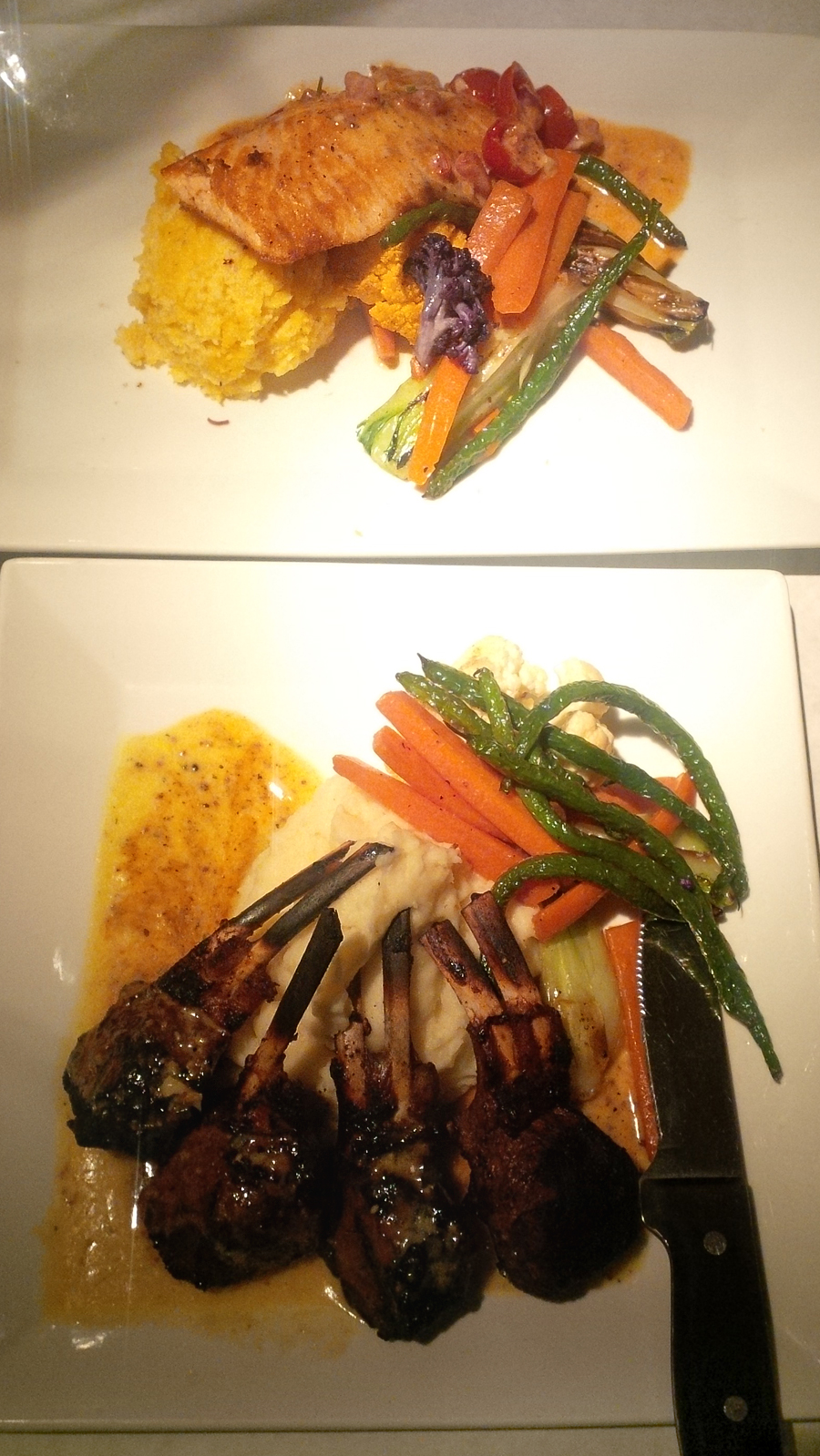 For supper I opted for the Flat-Grilled Salmon with cherry tomato beurre blanc and asiago polenta. I couldn't stop talking about it when I was eating it. I even let The Guy have a taste. The tomato glaze that went on top was excellent. I finished my plate and left most of the asiago polenta, it was a too corn-bready for me. I think we need to plan another trip out to The Grill, so I can have that delicious salmon again. The Guy decided to venture out into a whole new meat realm and go for the Moroccan Lamb Chops cut from the rack, spice rubbed ontop of a light rosemary-garlic sauce, mashed potatoes and fresh veggies. "This is fantastic — the sauce is incredible" he said after he was hesitant about ordering Lamb which he hadn't tried before.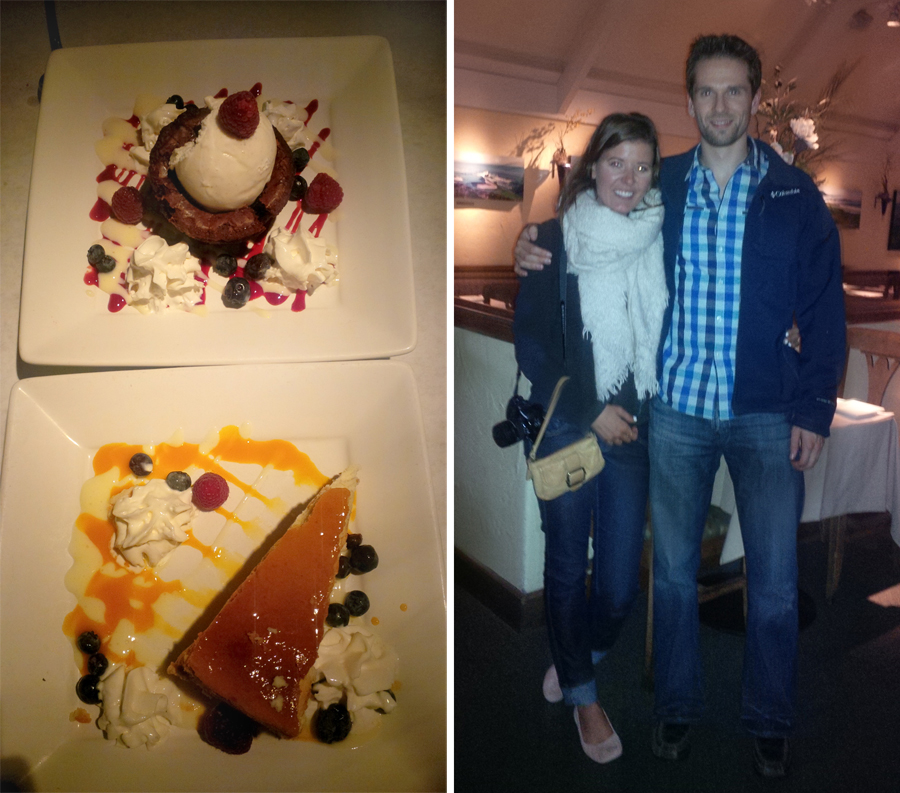 Dessert was then decided was a must, as our meal was impeccably mouth watering. Originally I was dying to try out the New York Style Cheesecake with creme anglaise, mango coulis and fresh fruit. Once it arrived I gave it a few tastes and decided I don't like NY-Style, it was a little too crumbly for my liking. The Guy suggested we switched plates, because he loves cheesecake and thought of ordering it anyway. I got his House-Made Double Chocolate Brownie with vanilla bean ice cream. Fair trade.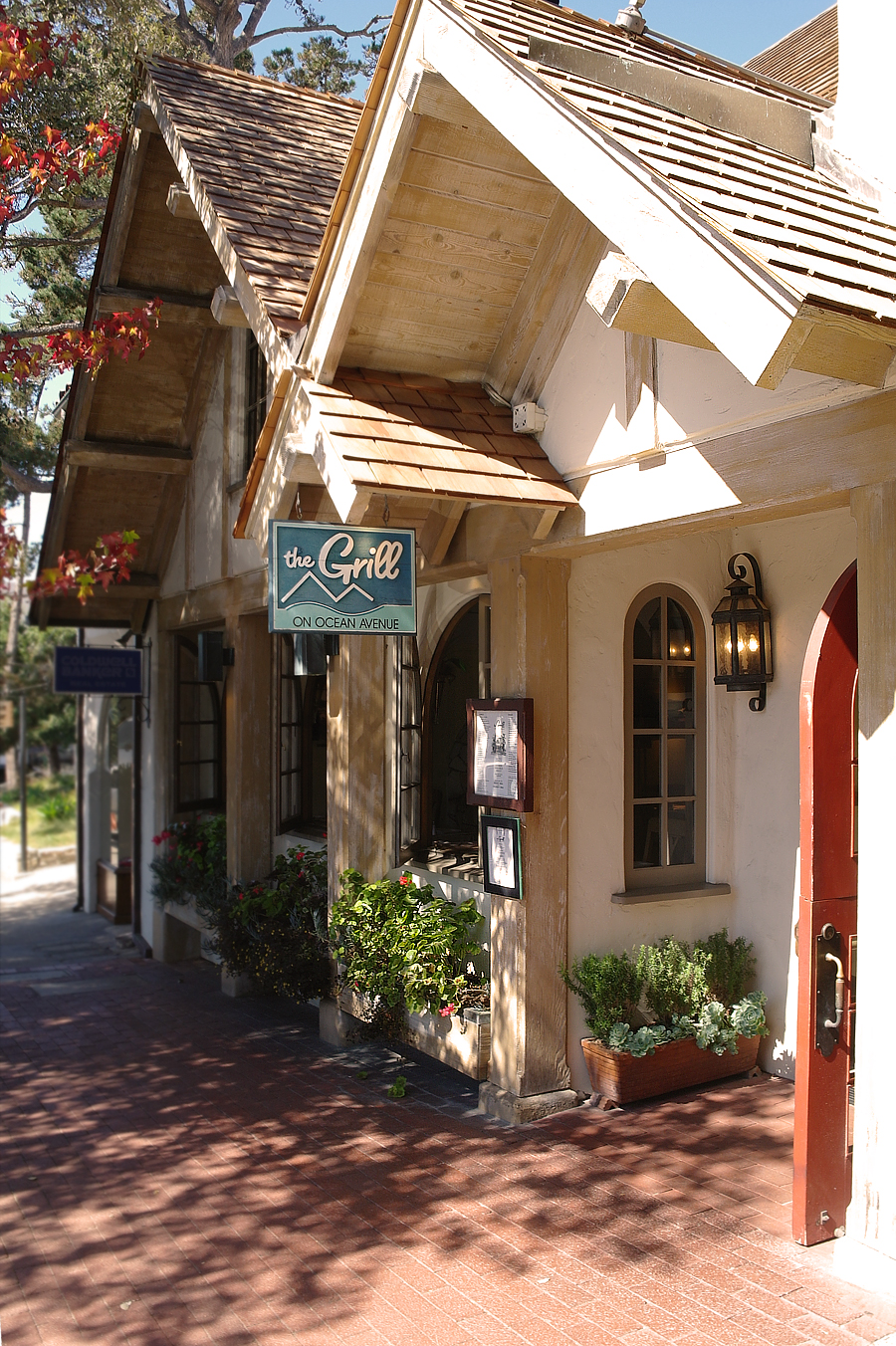 Our dinner experience was the perfect way to end our first evening. We retired back into our room at Hofsas House with our cheese platter and bottle of wine, then sat and enjoyed it while we watched our fireplace flicker late into the night.
Carmel is a perfect spot to plan a weekend getaway. Everything seems to be a walking distance away from one another, it has incredible restaurants and shops, and let's not talk about the view it has. Breathtaking! Come back tomorrow for  our day trip to Point Lobos.
The Grill
Ocean Ave, Carmel, CA 93921, USA
Phone: 831-624-2569
To learn more visit – www.thegrillcarmel.com
Our meal was hosted by The Grill, however the opinions in the blog post are 100% my own.