Ah, the nursery decorating process. How is that going, you may ask?
Well first of all, Alfie claimed the glider as his, ha!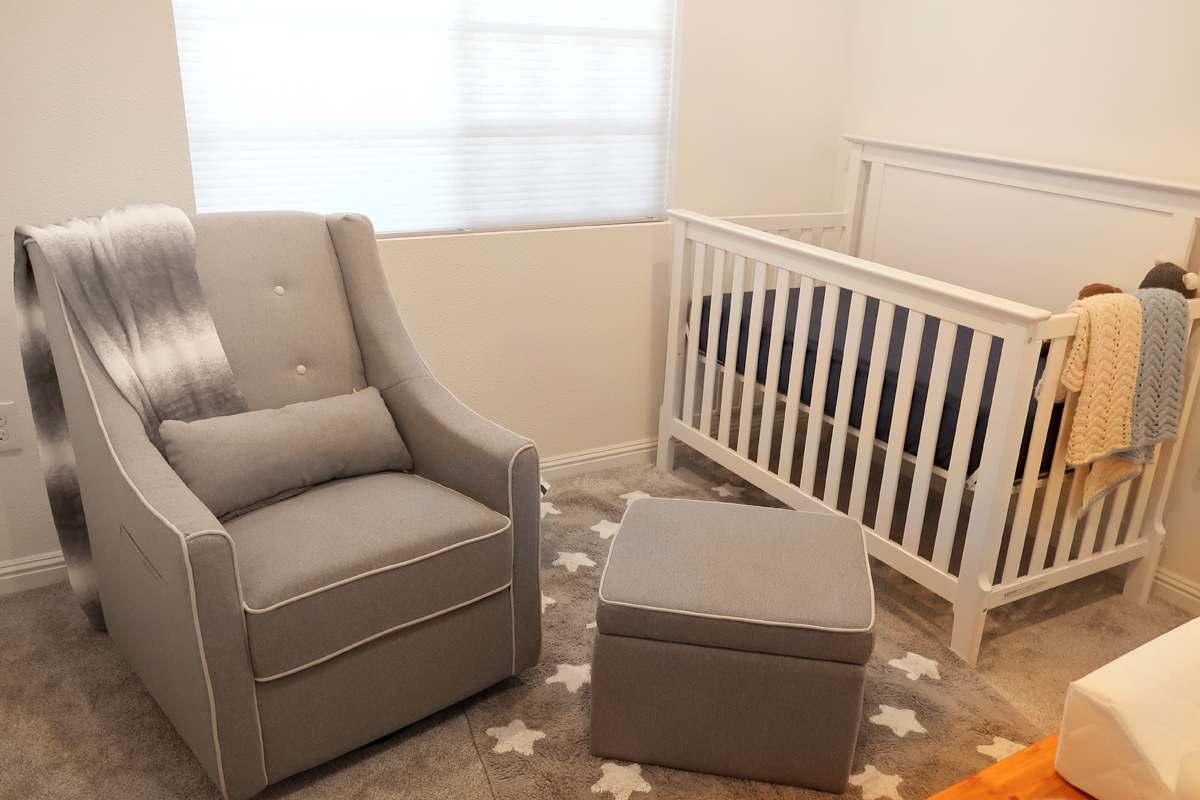 It's actually going quite well. I still have to pick up a few things before it's finalized, and I have free reign to decorate it how I wish and to be quite frank I'm kinda leaning towards the gender neutral route. I didn't want to buy anything unnecessary, like a change-table for instance, when I can simply use one of the dressers we have currently. For many months the nursery room became a storage room as we moved into our first home. When we moved in, it was of course bare bones. Even the closet was completely empty without a rod going across. Which is fine, it let us decide what we actually wanted to do with it. (Which is nothing at this point but putting in a shelving unit in — oops?).
I've been reaching out to a few companies I've been eyeing up the past few months ever since I found out I was pregnant, and I'm luckily many of them wanted to help me on this decorating journey with our little boy's nursery.
Once we moved into our new home officially, we quickly put the largest dresser known to man-kind, which as I mentioned, will operate as a changing table that also holds a few baskets for I suppose what will soon-to-be diapers, wipes, and whatever else goes on a diaper change table. #NewMomStatus. The dresser is a hand-me-down from our friends Father who was living here in California but moved back to Canada.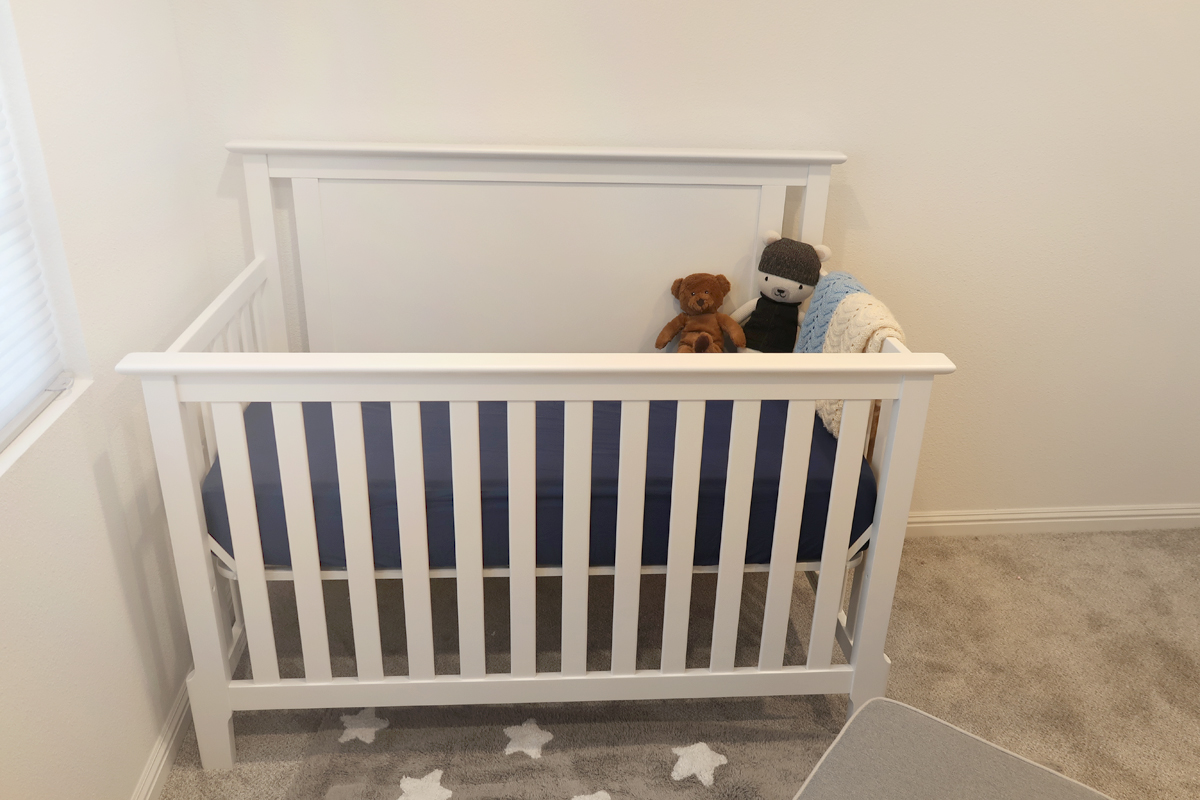 We then put together the Serta Mid-Century 4-in-1 Convertible Crib in Bianca White with the Serta Perfect Balance™ Deluxe Firm Crib and Toddler Mattress to go inside.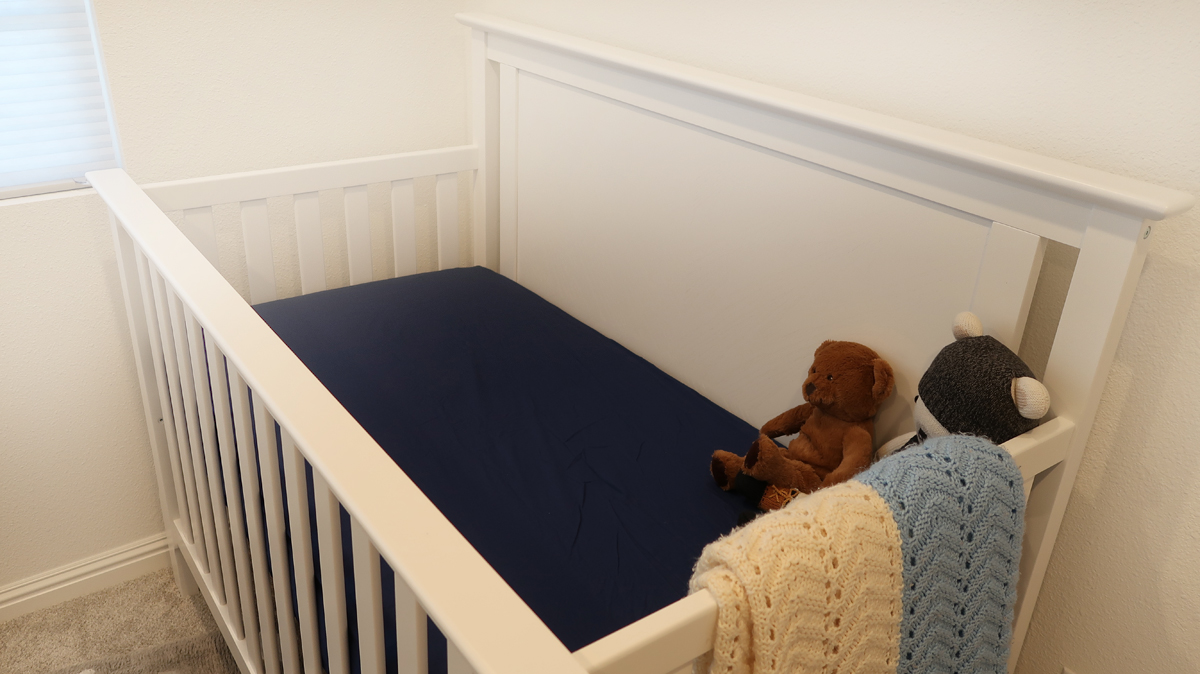 Putting together the crib was all Scott's handy-work. I love how bright the room feels. I'm pretty confident in saying it's my favourite room in the house right now as it perhaps should be — in the coming months I'll be spending a ton of time in there.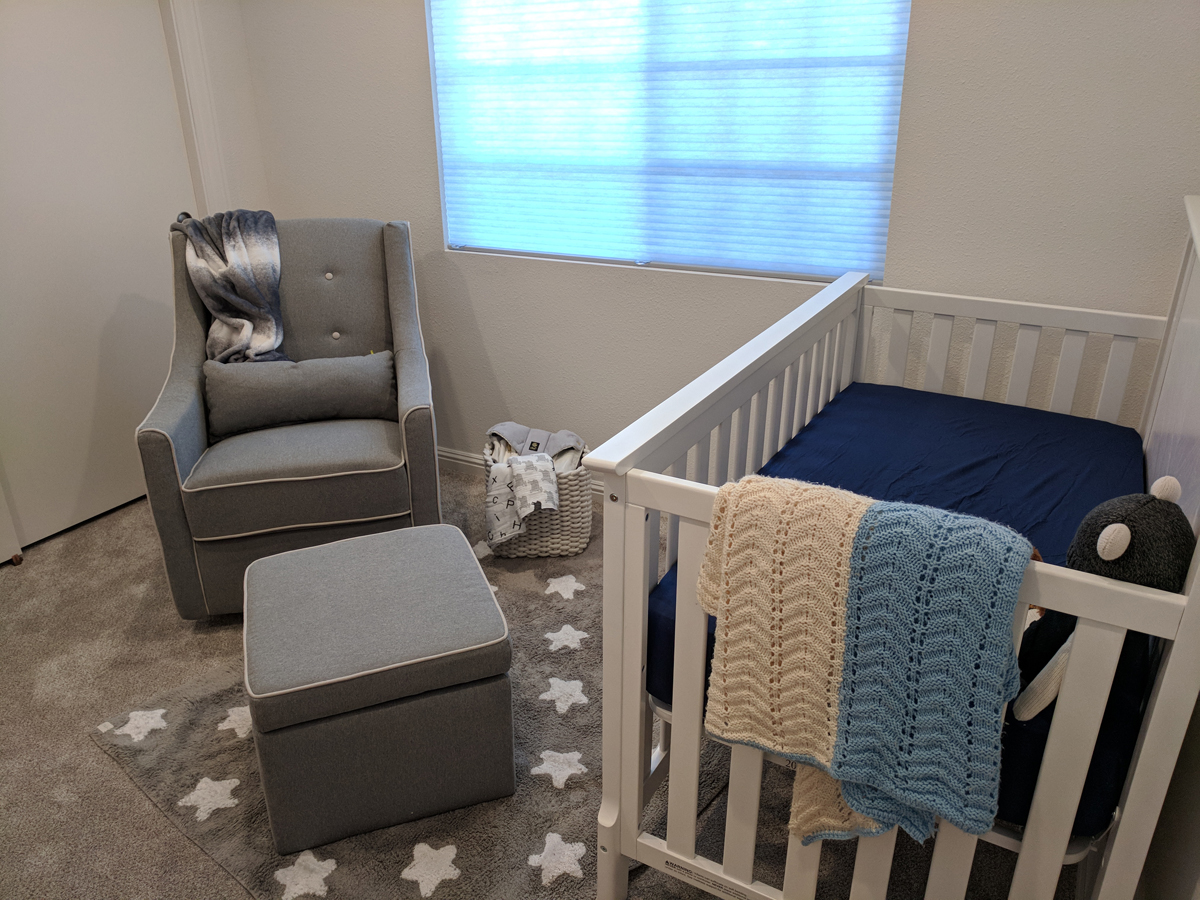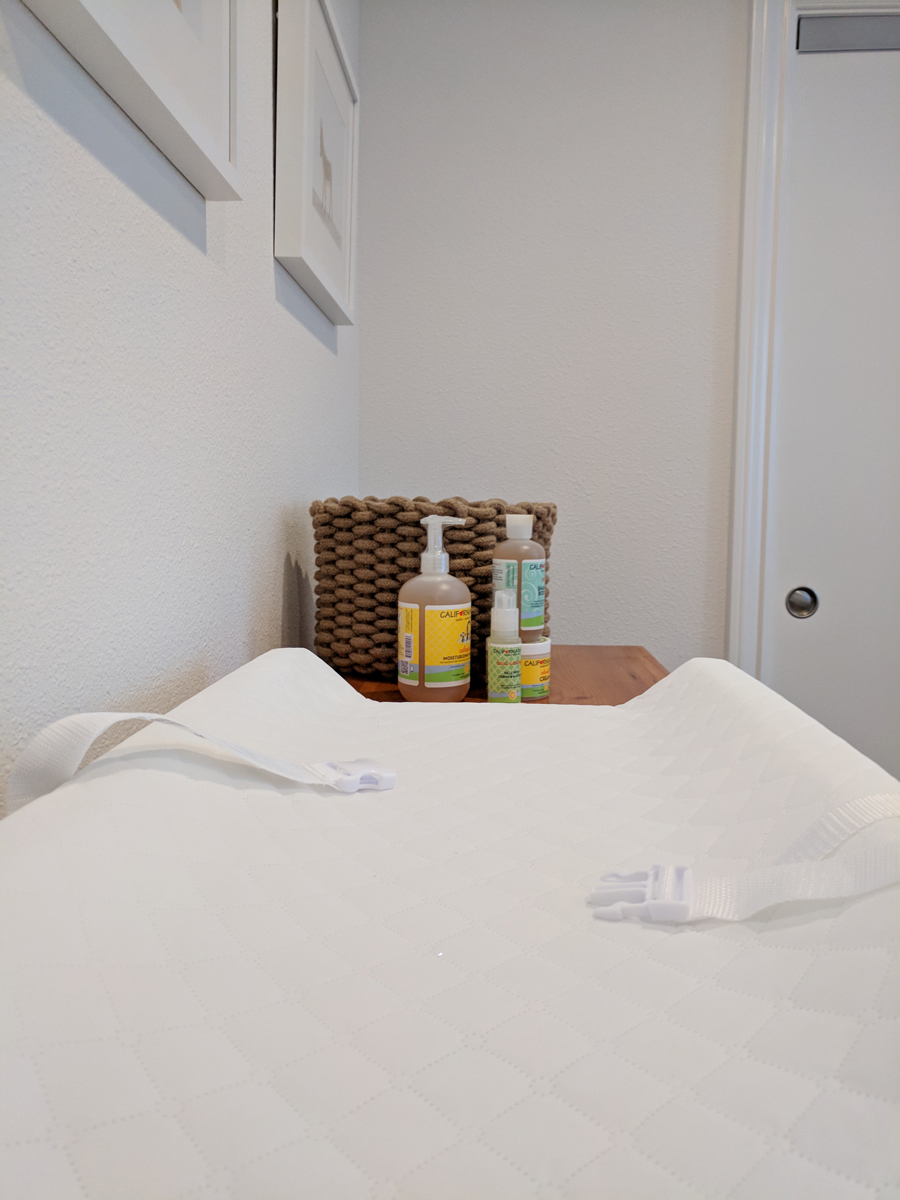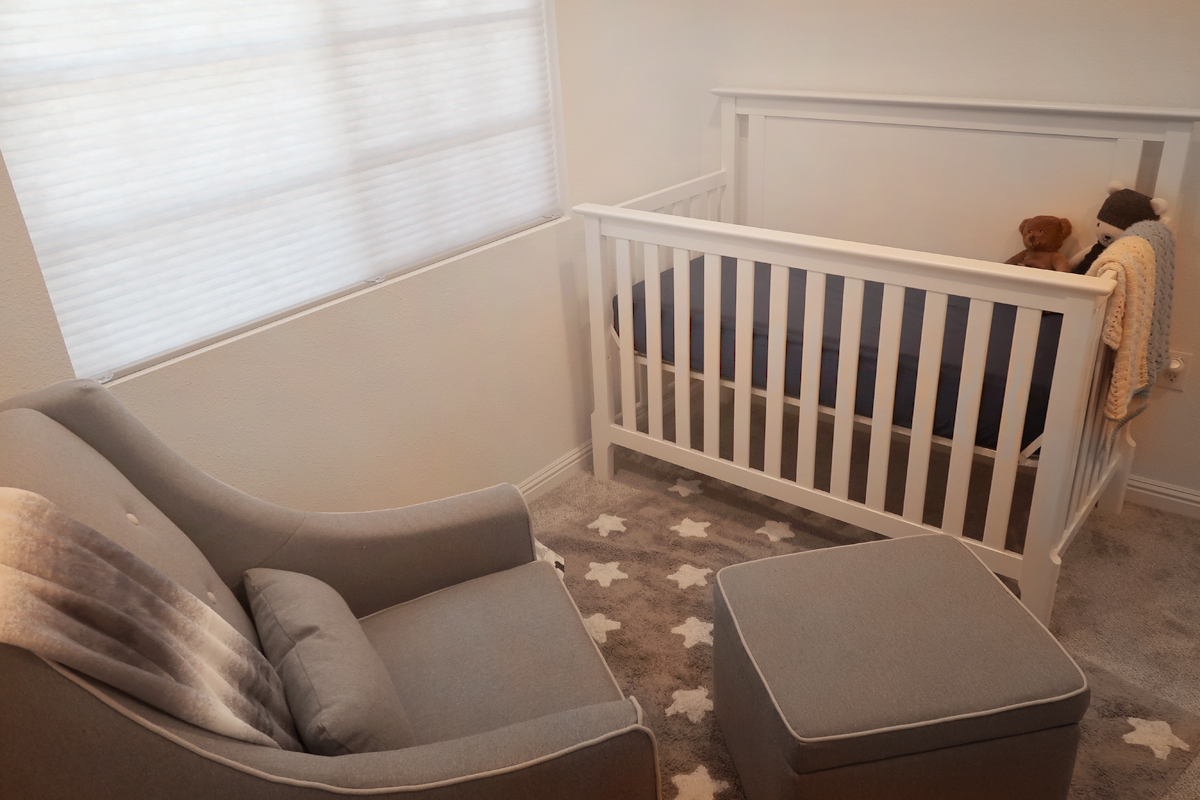 There's a monochromatic and gender neutral palette throughout the room at the moment, which I think pulls it all together to add to the sophistication of the nursery. I don't want it to look too childish, so I purposely kept everything soft in the room with greys, browns and whites. But I think I want to incorporate more blue-toned items in there somehow, we bought a crib sheet today in navy, while we were out – but I definitely want some more rich navy's in there somewhere.
There you have it, our little baby's nursery room in its glory, thus far.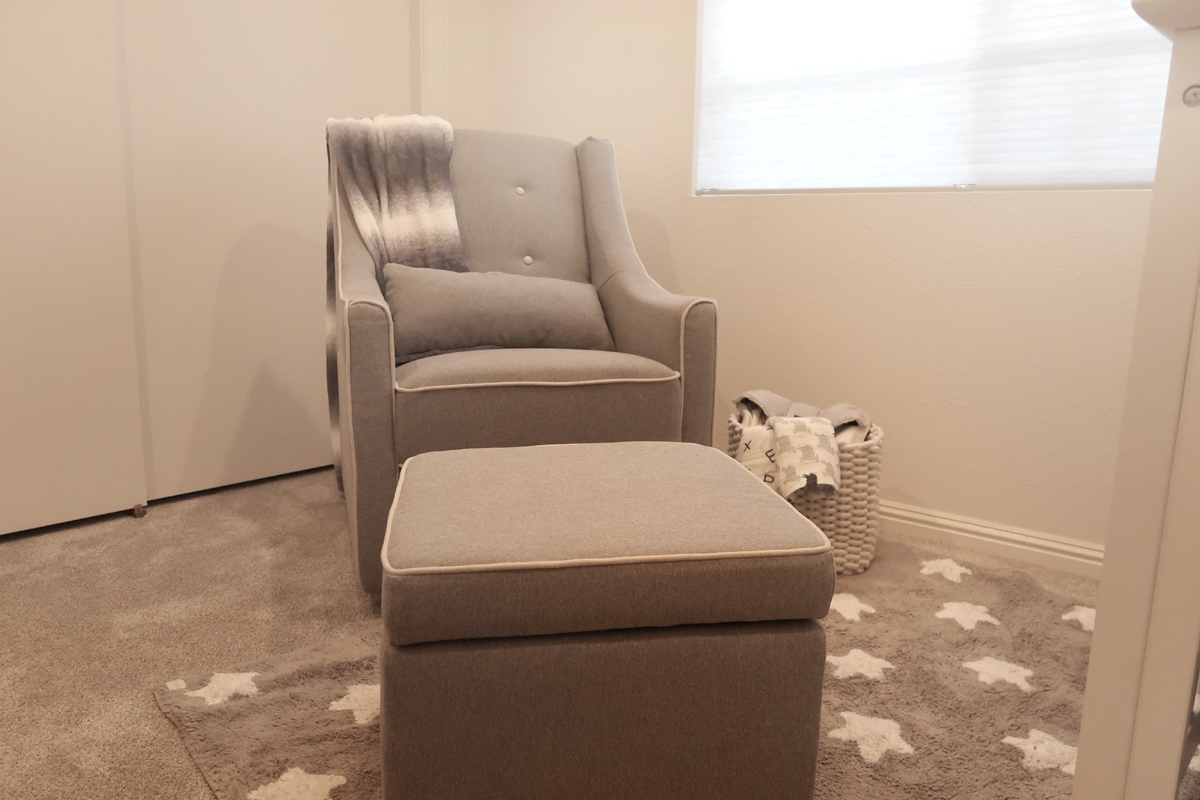 Now, who wants to win the exact same DaVinci glider as featured in our nursery? Please note that the giveaway is open only to US Residents (sorry!).
Enter below to win this DaVinci Owen Glider + Ottoman!
FURNITURE:
Mattress: Serta Perfect Balance™ Deluxe Firm Crib and Toddler Mattress | Crib: Serta Mid-Century 4-in-1 Convertible Crib
Area Rug:Â Lorena Canals Rugs | Dresser:Â Hand-me-down
Glider: DaVinci Owen Glider/Ottoman
ART & ACCESSORIES:
Art: The Animal Print Shop by Sharon Montrose | Polar Bear: Cuddle + Kind
Changing pad: Amazon | Baskets: Overstock | Baby Carrier: LilleBaby
Baby skincare: California Baby | Diaperbag: Homemade from my old co-worker back in Canada!
Blue + White knit blanket: Homemade knitted from my Great Aunt (ages ago)