Hello all! What does everyone have planned for the long weekend?
Last night I went climbing again with some bud's. Ended up doing top rope again for the first time in a year or so. I've been bouldering the last few weeks and finally strapped on my harness and did some 5.10's!
I was pretty happy about that. In just a few more weeks, I'll be tearing down the 11's! hee hee.
I have today off work, due to it being Good Friday. I slept in until 11am or so, then made myself some eggs (two, to be exact) and that gave me the burst of energy I needed. I ended up cleaning out our fridge which didn't take as long as I had thought it would, surprisingly.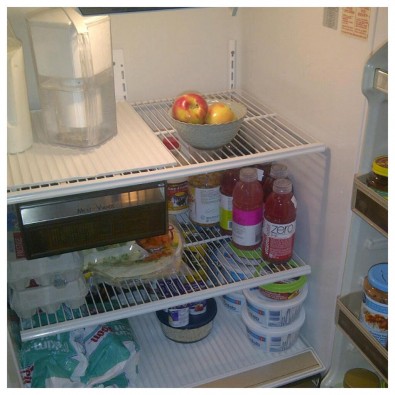 All spic 'n span now. Love opening it up and seeing everything so freshly organized. I think we have enough margarine to do us until 2014, don't you think? Also looks like we're well stocked on the vitaminwater. I'd like to tackle the porch now, but I kind of want to sit down and watch movies on netflix.
I also want to test out these bright neon kicks this weekend, since it's pretty sunny and not much snow on the ground anymore.
Perfect time to go for a run (first time since January) don't you think? Omg, I can't get over how bright they are you guys. They're the Saucony Virrata's.
What are your plans for Easter?