Didn't think that you'd hear from me again this quick – didja!!
So I found a good way to take self-timershots without a proper tripod and without having my phone dropping onto concrete.
My camera is seriously inside of a shoe, and that shoe is laying on the stroller. Lol. Hey, whatever works. Bebs was down for his nap and I had the stroller out, so I decided to see how it worked for me. And worked it did.
Although this is an incredibly basic outfit, it's what I've been reaching for, and pretty much my daily "uniform". Fall is coming up and I'm looking forward to start layering more.
Are you guys interested in all the OOTDs, or more of the layering ones. Cause I mean jeans and a tee guys, you can't get any simpler than that.
Anyway, this is what I wore literally today. Thought I'd share. I'm using my Google pixel to take these shots and often I have "motion" turned on, which means it takes a variety of shots all within probably a half second, so I can save any of the shots in the motion – you know in case I blink, or if I'm squinting hard into the sun. I can omit those. However with those, if it's not the original, and if it's part of the motion, it's like taking a still from a video, the quality isn't great. But, I mean, it's only an OOTD not like I'm taking super fantastic product shots here or anything. So I'll let it go.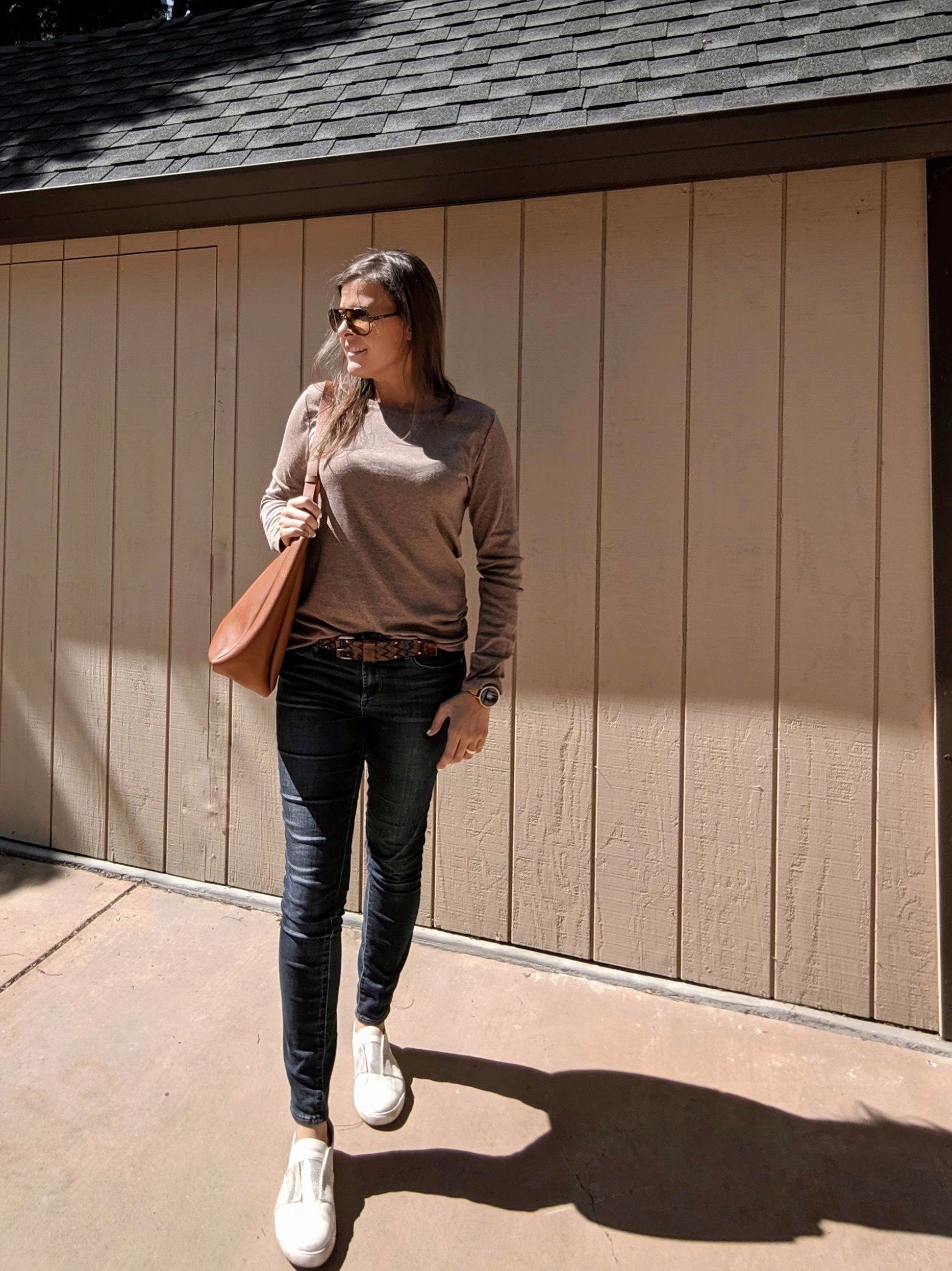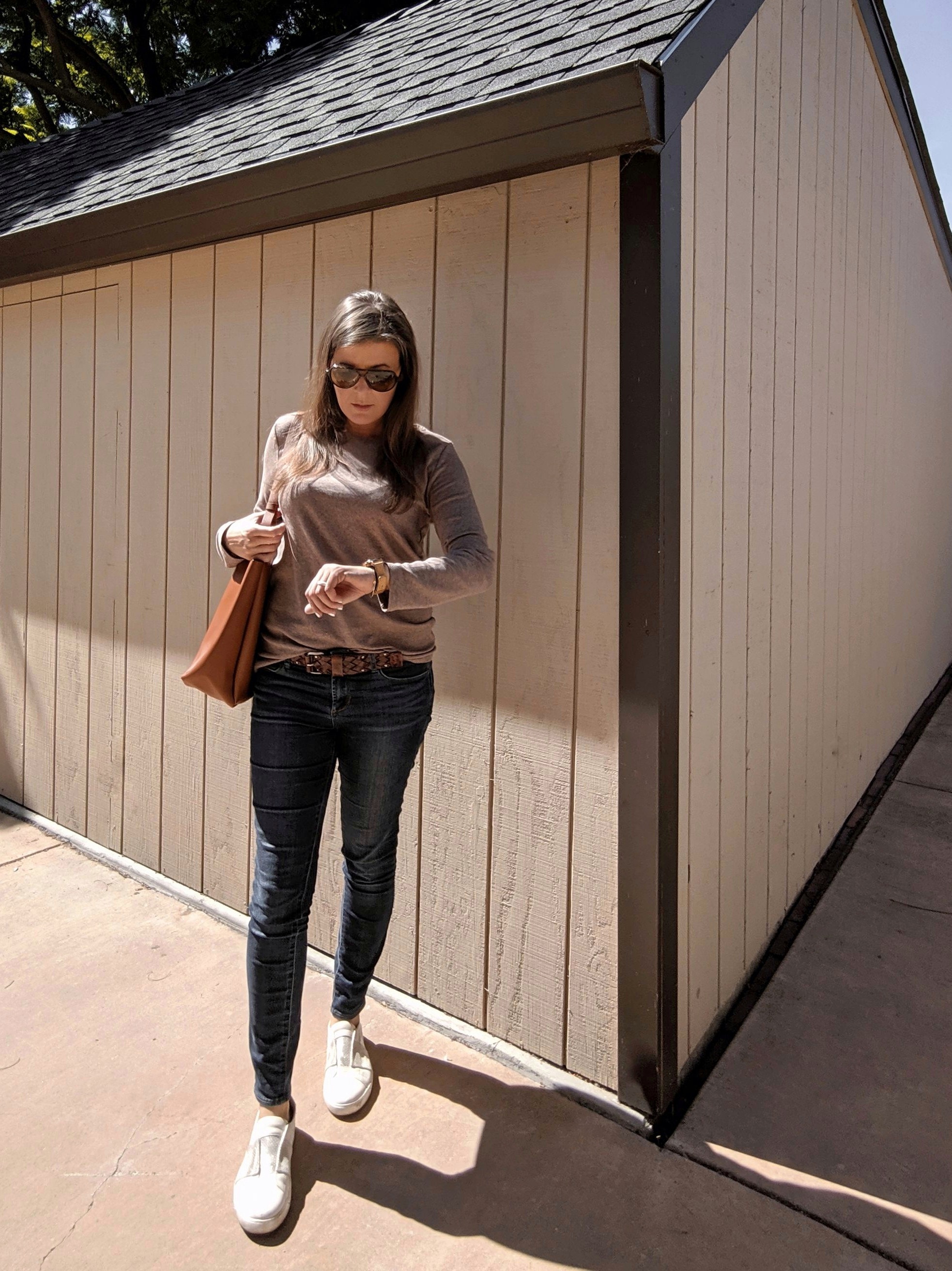 Outfit details
Crewneck tee: Target (in stores now!)
Jeans: Articles of Society  (they're always on sale with the Nordstrom Anniversary sales)
Belt: Decades old from American Eagle
Shoes: Johnston & Murphy (seen here, and here)
Bag: My goodie bag from Neiman Marcus that I got here.
Weird blooper that I sometimes may not include. My keys bulging out of my arse pocket, and me thinkin' a good ol' hair flick would look cool. It did not. ha!!!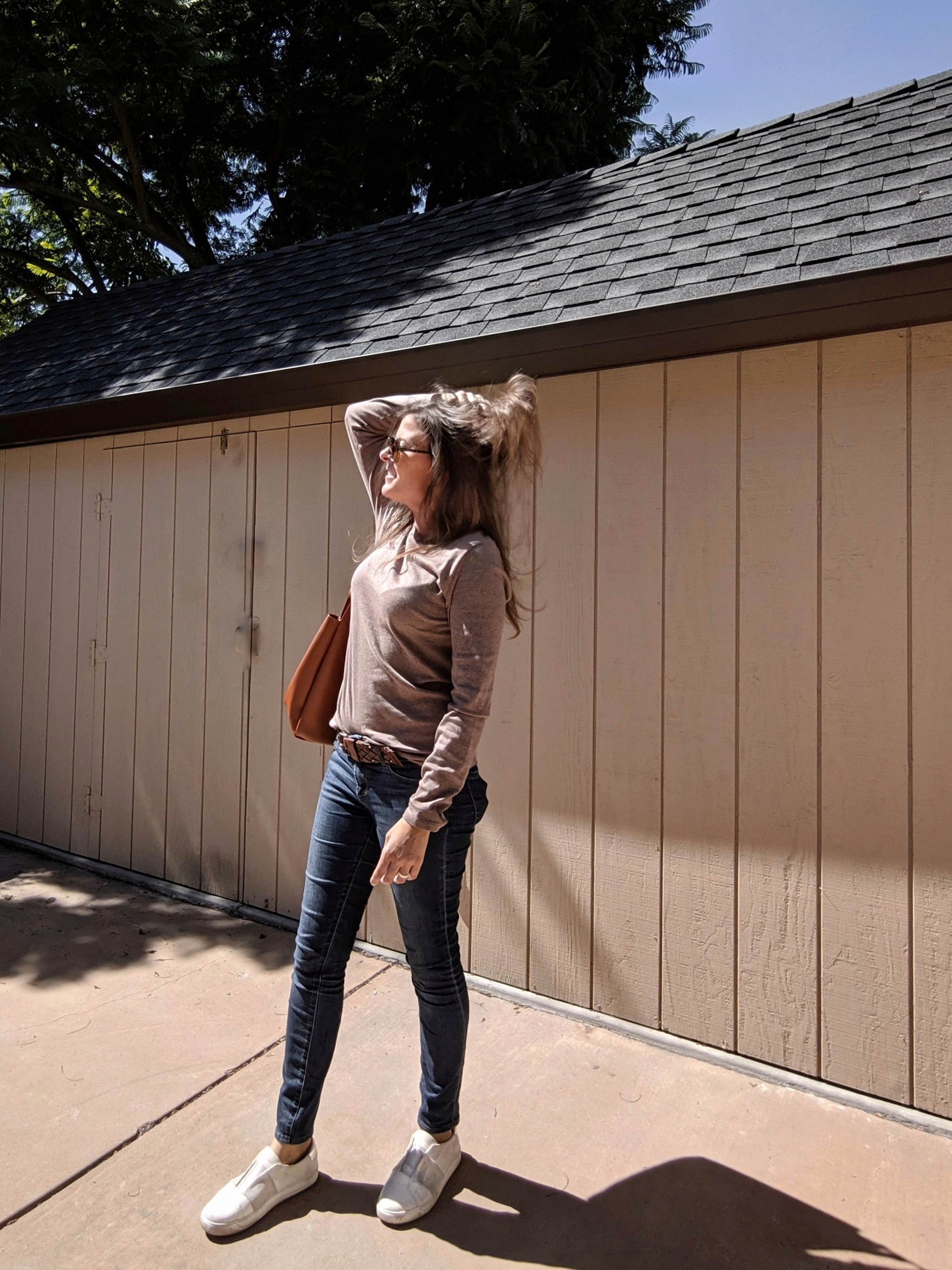 Up-close shot because this one was too cute not to share. He honestly just squat down behind my shoes, wouldn't move, and kept saying "CHEESE!". Sidenote, I need to clean the shoes obviously – but if you're not aware you can easily clean sneakers with imitation (or the real thing…) Magic Eraser things! Just google melamine sponges. Or pick'em up at the dollar store.
So, there ya have it. Enjoy your weekend folks.