Products marked with an '*' asterisk were sent for review. Opinions are my own.
Comin' atcha from the weekend. It's pretty rare I actually sit down and blog on the weekends so I thought I'd put another post together. Many bloggers talk about their workout routine but what do you guys do after you workout?
Do you like my green Lululemon Wunder Under's? I bought them back in May. Come to think of it, I should have bought them in black too (they do have a dark charcoal). If only I had known they would be my go-to workout pant for climbing and yoga. I haven't sweated in them profusely so I can't be a judge on how well they wick away sweat. I would imagine since they are cotton, it wouldn't that nice on the skin after a big ol' run.
You guys know I'm always on the go, whether it be gallivanting out on a hike with my friend, hitting up the climbing gym for a boulder sesh' or relaxing and doing some kinda painful yin yoga practice which conveniently is available at the climbing gym. I wear make up to the gym. Do I apply directly before I go? No, but I do my make up after I get a shower each morning. I like looking put together and not as though I had 3 hours of sleep (which I have you know, that I get plenty of sleep — but me going sans make up makes me look a little rough for wear). So I thought I'd put together some of my favourite products to use and ways to get comfy when you're home after a workout.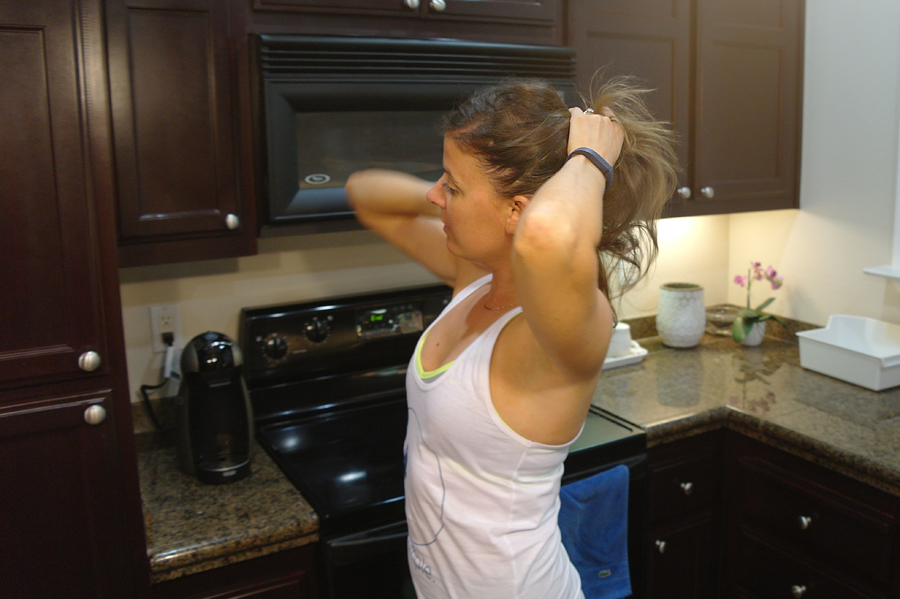 Grab an Iced Coffee: I don't pop by every time. However, often I'll be craving an iced coffee after I go for a climb. By luck, I found this one spot and will often splurge on a three dollar vanilla iced coffee. The people who own the spot are so friendly and always compliment me! They know how to keep a customer, hey? Although they put far too much ice and not enough iced coffee, it's one of the best places I've found.
Take Alfie for a Walk: As soon as I get home I know my little buddy has to go out for a piddle. Once I walk in the door I grab his harness and off we go.
Put my hair up: You know how some people need to remove their bras the second they walk in the door? I'm not one of those at all (since… y'know: I.B.T.C and all), I'm one of the people who need to put her hair up as she steps in the door. Anyone else? I grab a hair tie and put that hair in a messy topknot. I get all that hair out of my face and secured with a lululemon headband.
Have a snack: Whether it be a handful of nuts, some plantain chips or an apple — something needs to go in my belly as soon as I get home otherwise… hangry.
Add the layers: I'll almost always put on my grey H&M hoody once I get in the house.
Blast the music: We don't have a cable TV here at the house, so instead I opt for some tunes on an internet radio station and blast the music. It's either a Songza play list, or Audio Box Live (from Montreal, Canada!).
Take my makeup off: These Neutrogena Cleansing Towelettes* wipes are reserved for right after a workout when I'm super sweaty and need to cleanse my face immediately after coming home. I received these to try and I remembered why I wasn't the hugest fan — while they're great on the face, they sting my eyes. Up & Up are my usual go-to wipes which is much better on my wallet. I can continue using the Neutrogena one's, I just can't use them around my eye area. They both remove all the make up and don't leave any slick residue on my face. The worst. Lazy girls tip — keep make up wipes on the night stand because some days you're too tired to do the nightly make up removing regime. If I'm cleansing my face and not using wipes, purity by philosophy has been my number one cleanser to break down any make up I have on. This is safe enough to use around the eyes and doesn't leave my skin feeling sucked dry of moisture. That my friends, is why I have been using it since 2011.
Wash the body: If I feel like taking a shower after a climb or yoga sesh, which let's be honest — isn't always. I hop in and lather up my loofa with the philosophy body wash. Currently I'm using Love Sweet Love, it smells super girly, I love it. Never once have I used this for anything but body wash (you can use it as shampoo or pour some into a bath), I have a couple of these philosophy bottles stacked in my bathroom ready to use.  If I want something  more citrus-y, I use the Neutrogena Body Clear Body Wash in Pink Grapefruit*. The tiny beads in the body wash is supposed to fight acne. While I don't have any and I think this is probably geared more towards teens than someone in their thirties, I'd absolutely buy this again, especially now that I'm on a stricter budget and can't afford the $30 philosophy body washes every time. Isn't it funny I love a good pink grapefruit scent but feel ill if I taste the real thing? It doesn't make sense. Why you so bitter, grapefruit? You smell and look so tasty.
Alright, that's it. My after workout routine from grabbing an iced coffee or some food, putting my hair up and either removing all my make up or hopping in the shower.
What do you usually do after your workouts?
What time of day do you workout?