There's only a few weekends left of our beloved summer. To be honest, I think it's completely over up here in Ontario! I've actually cranked the heat in my car in the mornings, when it was 18ºC outside. Isn't that ridiculous? Who am I? I've become accustomed to the 40º heat I think.
What did everyone end up doing this weekend? Up until a few moments ago, the Boyfriend and I were drinking some tall boy drinks and having some snacks before supper.
That was what our weekend looks like. A lot of chilling out at home on our balcony, listening to some music (audiobox live!) and enjoying our last few weekends of the warm summer sunshine.
Speaking of music there's a Canadian Club Mixed & Ready Cover Challenge program. If any unsigned Canadian bands interested in sharing your talents and unique sound there's a few days left to enter.
Deadline for submissions & voting is August 27Â  and judging will happen shortly after. The winning band will receive recording time, new gear and a flight upwards to $3k to Toronto.
If you're interested, find out more details on the Canadian Club Canada Facebook page.
Have you guys ever tried these Canadian Club drinks? We had some with popcorn and peanuts. I feel like a university student, or a frat boy drinkin' with the boyfriend. They're really good.
I had the "Cola" one. Which tasted like a rum & coke.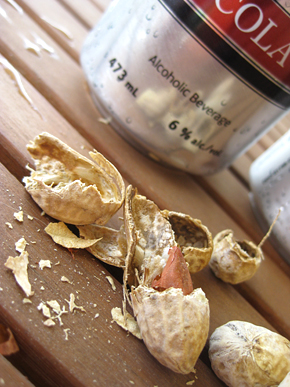 Popcorn is my favorite snack, next to candy. But I loved breaking open the peanut shells.
I ended up doing a few loads of laundry which I air dried out on the balcony. Browsing the net for some chunky knit wool scarves (and will be posting my favorite links + photos in the near future. I've also planned out our meals for this week — something I haven't done in months it seems, and writing the Broski of mine a funny Happy Birthday card, since his birthday is this week!
So we'll sit back, relax while taking artsy shots of the alcoholic beverages we've consumed and enjoy the last few days of summer.
Has anyone else been reading up on people's blogs talking about the HLS12 (Healthy Living Summit 2012)? So jealous of the people who ended up getting some really amazing swag from Reebok, one of the sponsors this year. They gave everyone some minimalistic Reebok CrossFit sneakers! Amazing right?
Cheers to endless summer nights!