This has got to be one of the top ranked weekends in 2012 thus far. For one, it was incredibly relaxing and two I got to spend it all with my Boyfriend. Now, you'd think I'd always spend weekends with my Boyf. But I don't. Many of you already know this about him but he's an Ironman Triathlete and is always on the go, training on his bike, going for long swims and pounding the pavement going for long runs.
I managed to go for a run during the early morning on Canada Day and ended up doing more km's than I ever have in two years. I think it's due to the fact that I didn't know where I was going, and I could keep going and wasn't thinking about how fast I could/should be going. I ran 7.5km's in total.
I came back pretty sweaty.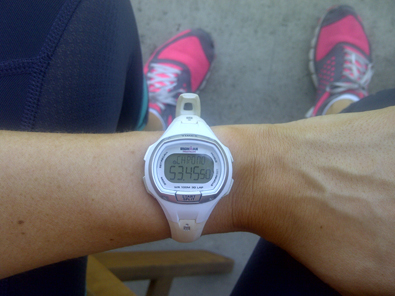 I didn't run it as fast as I usually like to go, but that wasn't the point of this run. It was just to get out there and go.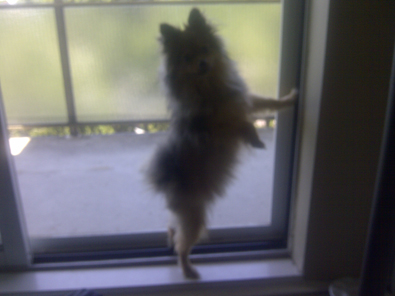 Our dog Alfie was looking pretty antsy on Canada Day and the Boyf and I then decided to venture out on a walk with him.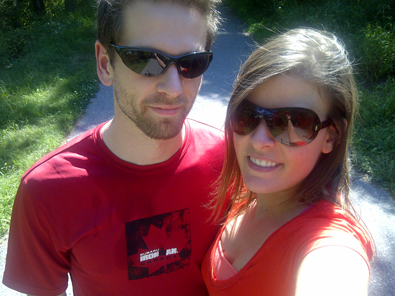 We ended up going for 90 minutes in total. So long but so relaxing!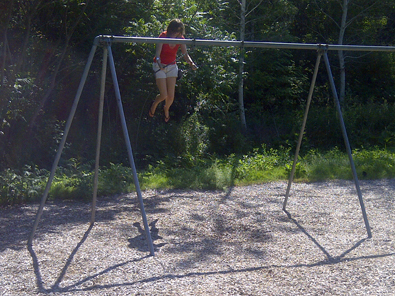 I even found a set of swing stets and started squealing with excitement and going high in the air. Then Scott reminded me it wasn't all that high and started poking fun at me ;) It sure felt high ….
Of course Canada Day wouldn't be complete without Fireworks and some treats! We also heard some hoodlums setting them off at 3:00am that night as well. It woke us up and we were pretty angry about it to be honest, ha..Seeing as we had intended on waking up early to drive to Grand Bend beach!!! YEAHH.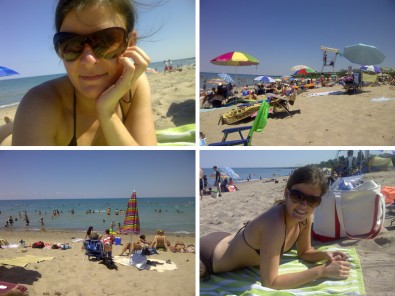 We arrived super early in the morning and reserved some prime real estate on the beach. The boyf and I stayed there til mid-afternoon, cooking in the sun, then cooling off with a quick dip in Lake Huron. It was the perfect day anyone could ask for on a beach. It wasn't too hot when you were laying down but you did get hot, and ended up quickly cooling off in the water. A light breeze, not windy at all.I'm kind of glad I didn't bring my iPad or kindle to the beach that day because my Blackberry had to be put away for fear of covering it in sand. Danger bay!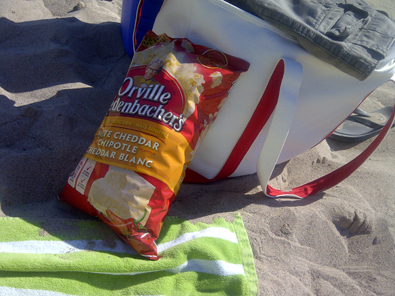 We even brought along some popcorn supplied by Orville Redenbacher, sandwiches, water and apples to chaw on while we were there.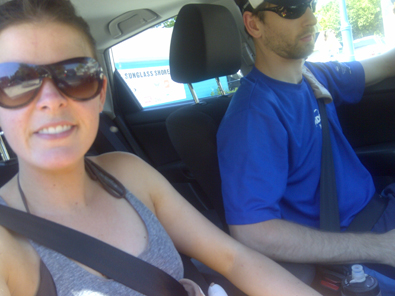 We were done for the day and decided to venture on back to our homeland. It wasn't long after this photo was taken that I took a big chunk out of my middle finger. I accidentally rolled up the window with one hand while my fingers were still at the top on the other hand. Blood. Everywhere. I silently cried, and I felt like such a little girl with tears streaming down my face while Scott pulled over the car and bandaged me right up. It wasn't deep enough for stitches, and I think it was just the initial shock and pain that threw me over the edge. I'll spare you the details and any photos. But I'm all good now, with a nice band-aid over top for a few days :)
Back to the grind tomorrow. Back to reality.
Now for the fun giveaway part of this huge massive blog post!
One of you lucky readers will get the chance to win one of Vanessa's tank tops from her Etsy Store at Ruffles With Love.
I could definitely see myself sporting some of these tanks to my local CrossFit box. Love them!! They're not just for women either, there are some men's selection on there as well.
Enter using the rafflecopter form above. Open to residents of the USA & Canada and it ends on Saturday night at Midnight (EST).