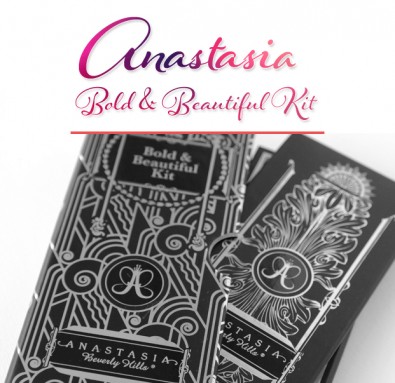 You can't beat a good hair day, or face day. I love to dress up and make myself feel extra pretty for certain occasions. Since Valentine's Day is long ver — which holiday do you look forward to, where you'll head out with that boyfriend (or hey… girlfriend — not discriminating) for a nice evening out and look up to par? I suppose if you count St. Patricks Day coming up, but I don't really go out on a date night with my boyfriend on that day. ha ha!
Anastasia has come out with another wonderful set of eye shadows and eyebrow kit, to help you all feel wonderful every day. Please welcome, the Bold & Beautiful Kit by Anastasia Soare.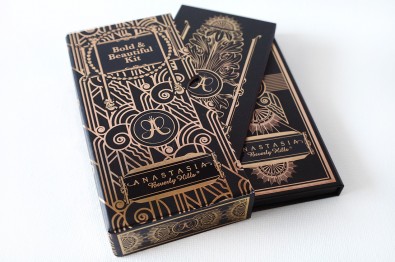 The palettes are enclosed in an intricate gold/black pattern which is the size of a wallet if I had to compare it to anything. You can see the size of it as the photo below shows me holding it.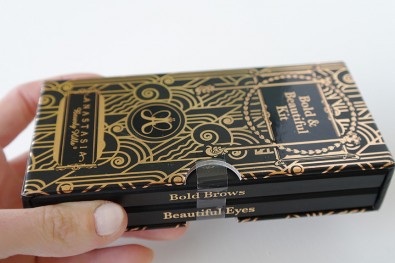 They're little booklets that look as if you could store them on your bookshelf and they'd blend right in with all your novels.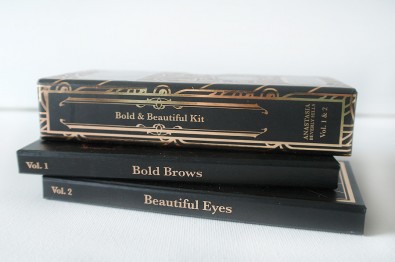 How gorgeous. Sucker for packaging.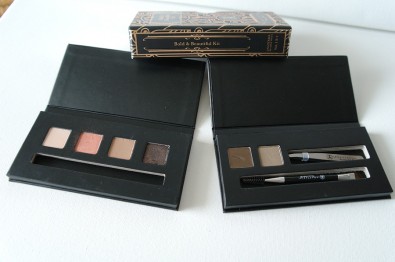 These palettes would be great to carry around with you if you're on the go and would like to touch up your eyebrows or shadow, it's small enough so you can safely stow it away in your purse until you need it next. It's so versatile, as you can wear these colors as an everyday neutral, or go for a completely opposite fun coral color that just packs a punch.
Swatches!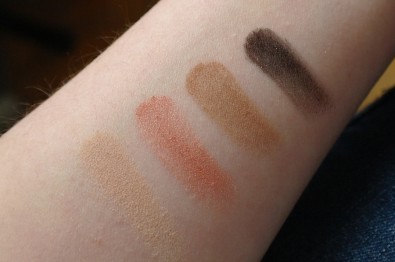 Love that it comes with a real brush and spooly and a set of tweezers.  Below is Vol. 1 for Bold Brows which has a brow powder, pomade/wax, mini duo brush and mini tweezers.
The eyeshadow quad comes with a double ended eye shadow brushes. One for packing on color, the other for blending. They're pretty good too! That's all I used on my eyes, and I didn't have to resort to getting my MAC brushes out. Vol. 2 for Beautiful Eyes includes four matte and shimmering shadows in some perfect neutrals.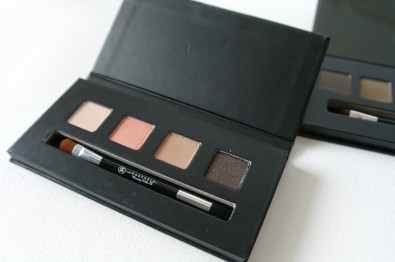 I filled in my brows using the lighter color. I'm not used to filling them in, ever. So it was a bit of a shocker when I looked in the mirror. I think I may have went a little overboard. Hee hee.
The overall look I created: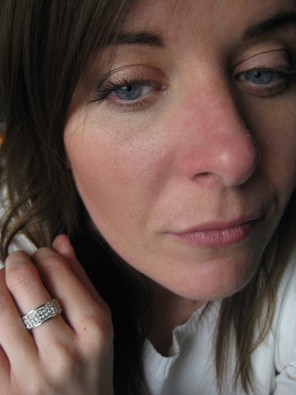 You'll notice that this palette contains mostly neutrals. I know some people aren't a fan of so-called "boring" colors like these. But I personally would never go out and buy something with bold colors since I never wear them. I gravitate towards more easy to wear, easy to blend colors that suit my blue eyes. You can now pick up this duo Bold & Beautiful Kit at Sephora for $36.00 or on the Anastasia Soare website.