You guys know I'm not working right now, so I don't have any plans for dressing up on the 31st along with my co-workers. Though, I suppose technically I could dress up and do a skype video to my old co-workers in Canada and join in on their fun festivities that I'm sure they have already planned. I'd be up for that.
Do you remember me dressing up as Mary Katherine Gallagher, the hilarious chick from Saturday Night Live?

What about the nerd, with her asthma inhaler and pants pulled up to her boobies?
This year I'm taking a subtle approach to Halloween costumes and I'm going to simply decorate my nails. I've had my nails polished
I tweeted out to my old co-worker Amy (that now has a beauty blog!) I enjoy Sally Hansen, Dior and SinfulColours nail polishes. They are all have one thing in common: a nice sized brush. Two being relatively cheap since you can pick them up at the drug store. I cannot for the life of me paint my nails with a smaller brush, it simply won't look neat. I've given up, and gave most my Essie + OPI polishes away. The first and only SinfulColours I bought was a few months ago when I tested out the nail polish racks at Walmart, and for under two bucks I got a completely opaque perfect white for myself, that you see me wearing on the regular.
A PR company reached out to me, I suppose they saw the SinfulColours pictures on my blog or Instagram, and asked if I wanted to receive five more. Sureeee, why not I say.
I'm not a sparkly nail polish person, because hot dang it is a b-oh to get off with any and all nail polish removers, but I could deal with it for a special occasion or two. So here we go. A subtle approach to Halloween with decorative nails.
I received the four Tricked Out Top Coats that are all sparkly, and one glow in the dark colour which was much cooler than I thought it was going to be. Imagine waking up in the middle of the night, forgetting you painted your nails and you look down to glowing fingers. Trippy!
Left to right: Cauldron Coutour, Mystery Moonshine, Glow In The Dark, Splatter Spell and Pumpkin Spice.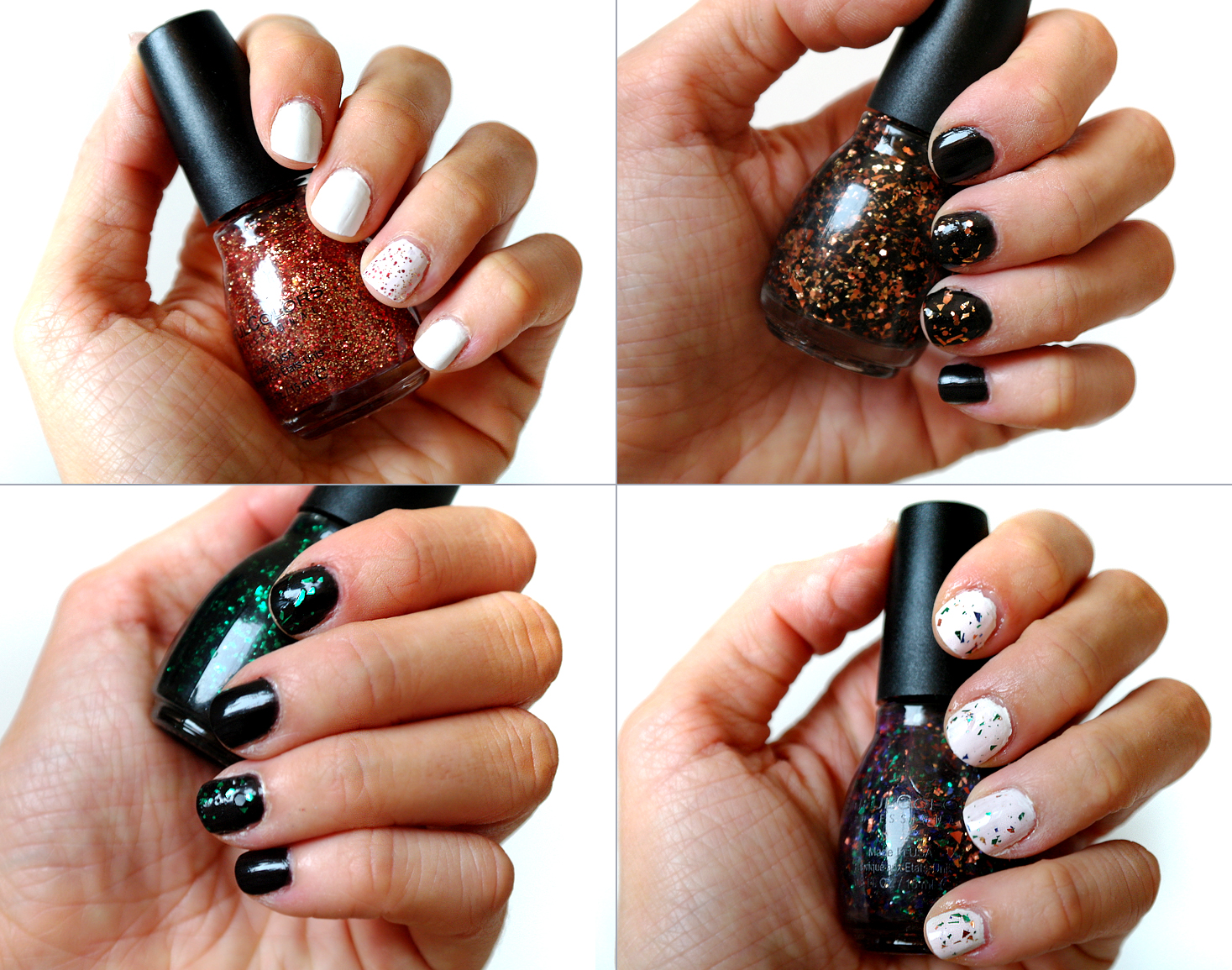 Pumpkin Spice and everything nice. This could be easily applied on neutrals, reds, whites and blacks for a completely different effect whether it be for cool autumn days sipping on your Pumpkin Spiced Lattes or for a subtle sparkle to your ring finger to play along and get festive for Halloween. The white polish underneath is a Sinful Colour in "Snow Me White" required only one coat for a completely opaque look.
Splatter Spell is a chunkier glitter with big flakes of copper bits through it.
Cauldron Coutour, a flakey emerald green that can be perfectly paired with a black nail polish as the base to pull of a pure Wicked Witch of the West look.
Mystery Moonshine looks more like a fun birthday confetti than a Halloween colour and it's fantastic over white nails.
Lastly a shot of the Glow In The Dark nail polish, that definitely works. Hah!
SinfulColors are $1.99/each and is now available at Walgreens and Target stores. Follow SinfulColors on Twitter & Facebook.