I probably shouldn't even be writing a hair care post. Because as soon as I started caring about my hair, that's when it all went down hill. Funny how it worked out that way. All throughout High School I had shiny, very healthy hair and I never got hair cuts, I also wore it up in a pony tail almost every day of those 4 years. I didn't go to hair salons. My Mom often told me when to cut my hair and she did it herself! Savin' the dolla bills.
Now I blow dry my hair, I straighten it and use Aveda shampoo. I've been getting regular trims every 10 weeks (but now I'm going to push it back to every 12 weeks or so because I would like it if my hair were a bit longer). It needs a break from all the damage of the blow dryer and straightener. Every single day.
But get this. I've decided to give my hair a break. I haven't used my hair straightener for the month of September, or October. After my last hair cut I decided to see what the turn-out would be if I took a break from it. So far so good! The reason why I used to straighten my hair so much is when I used my Body Shop (see below) hair brush, my hair wouldn't go straight. I decided to pick up a boar bristle hair brush and when I blow dry it with that, it stays straight! I have flat hair, dry with a round brush occasionally and it still goes flat at the end of the day.

I've had that hair brush on my wishlist for a while, so when I was in San Diego I popped into Sephora to buy it since I wouldn't have to rack up a $120 Sephora online order to get free shipping. Oh, and my local Sephora doesn't carry hair brushes, I asked that the day the place opened. Shame. OK! So! I picked up the Boar Bristle Hair Brush. It has received 187 reviews with 4.5 stars so it must be doing something good, for people.
Of course there are cheaper alternatives found at Shoppers Drug Mart, or Walmart for that matter — but hello you earn points when you shop at Sephora!
For the past number of years, and I know it has been more than 6 years because I've had this brush before I met Scott (how I remember odd things like when I purchase hair brushes, and not remember movies I went ot last week, I do not know why)  — and before that I had the exact same one I left in a hotel once, so I had to re-purchase it. It's a Body Shop cushiony pin brush that seems to work well. Or so I thought, until I bought my Boar bristle. Rawr!!
I tried to find the exact dupe of the hair brush I own, on The Body Shop's site — but I can only find these. Lameo. Anyway, this is my very own hair brush I've been using for many years: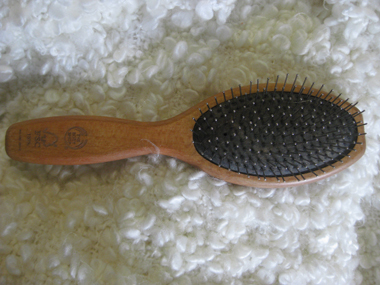 Also, I do use this $7Â  wooden wide tooth comb to detangle my hair when I get out of the shower. Detangle is a word Mister Firefox, stop making it a squiggly red line underneath.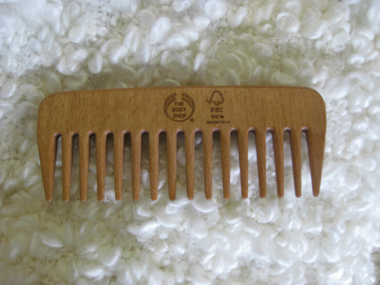 Getting back on topic as to why I'm not needing to straighten my hair every day. Blow drying my hair with The Body Shop cushiony one was fine if I wanted to look like a 5th grader. It left my ends wonky, au-naturale looking and just all over the place. I had to straighten my ends basically, to get a sleek look even after I've gotten fresh trims. When I use my Sephora boar bristle brush it basically straightens my ends for me, brushing my hair the exact same way when blow drying. I do not understand why, but I'll take it!
I've been recommending this (or any boar bristle) brush to everyone lately! Have you ever used one? I think I had a travel sized one back in high school and I remember it used to give me a sleek pony tail with no bumps. Are you picky with your hair brushes? What sort of one do you use on your hair?