Oh boy. Those little Christmas bulbs are back, by Dior. With a few beauts in tow and one dud in my opinion. I mean. If we're being honest and all.
I've been loving how simple my Holiday photos have been, lately. I feel like it looks so Christmasy. Dior and Sally Hansen nail polishes (quite the difference between high end and drug store price range) are my favourite formula, along with the polish brushes itself. Both brushes are wider than the average nail polish brush, and can coat the entire nail in one solid swipe. The tip of the Dior and Sally Hansen nail polishes have a c-shaped dome-like brush on it, getting close to the cuticle for a crisp sharp finish. Making your manicure look professionally done, even if applied quickly.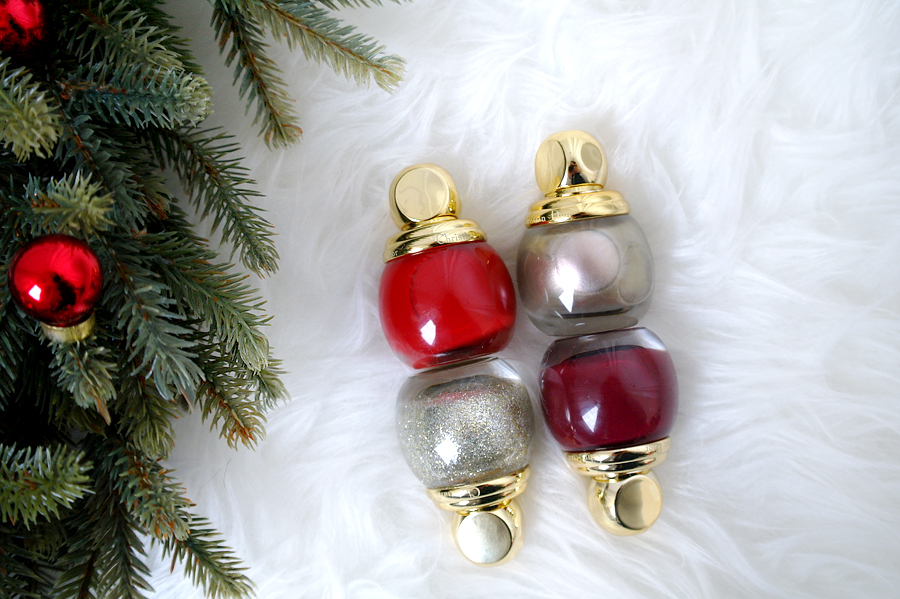 Even though I do get sent Dior product for review, I have been buying quite a bit from them lately. I still use their Dior Hydra Life BB cream, along with a gel top coat that acts like a shellac top coat polish on your nails. It's fantastic, and doesn't get goopy. I'll talk about that in another post, though.
Let's see them all on my nails. That's why you're here right?
Diorific Vernis in the shade 227 GRIS-OR
Let's just get it right out in the open and over with. I have to admit, I really don't like this gris-or colour of polish. Perhaps it's the metallic gold/silver sheen to it. Perhaps it's just not a colour that suits me and that's why. Or perhaps I'm just overall not a fan of anything but creamy nail polishes. I could see my Aunt pulling off this shade though, and it would look great on her! Just not me.
Diorific Vernis in the shade 991 MYSTÈRE
To ease up the pain in me stating I don't like a Dior nail polish, I'm posting my favourite colour next, out of the entire 4 from the State of Gold collection. Looks a little purple in the bulb shaped jar, but comes out a beautiful plumy-red almost oxblood colour onto the nails with two coats to fully get that beautiful thick creamy colour.
Diorific Vernis in the shade 951 PASSION
I feel like this passion shade pairs beautifully with the Diorific Mat 750 Fabuleuse lipstick I wrote about last week, right? Such a bright cheery-feeling red. Imagine this paired up with a cozy white fluffy sweater on Christmas Eve? Swoon.
Diorific Vernis in the shade 001 STATE OF GOLD
Lastly, a similar glittery polish to last year's (see my post from last year), but this one has a much finer, smaller glitter. I personally think this one would be beautiful just how I advertised it on my ring finger, as an accent dot on the nail. Or painted fully on that accent nail. But if you're into glitz and sparkle, go all out and apply it on top of all the nails. It would make a gorgeous statement.
What colour from this collection would you wear?
Diorific Vernis are now available in stores and online.