We've been on the go all weekend and it's been incredibly amazing having my husbands family here. Three off them ran the Sacramento marathon on Sunday and it felt extra special since it was my sister-in-law's 30th birthday on Sunday, so she got to celebrate it by running with her Father and Brother.
While I enjoy keeping busy and spending oodles of time with my husband, our friends and family, there's still nothing better than unwinding after a long day. I'm afraid I may be coming down with something. You know the sore feeling in your body throughout the day. So what better way to potentially cure what may be an oncoming sickness than a nice bath and treat myself to an at-home spa evening. Once that's done with, put on my cozie's and curl up with a tasty hot drink and catch up with the family. Does the trick!
Our house is finally decorated for Christmas, so you can see a bit of a sneak peek at how it looks with the little feather Christmas tree next to our new grey armchair from O.co. It's a bit firm, but overall pretty comfortable to sit down and relax. As you know, I've been on the hunt for the perfect grey (or green) arm chair. Ideally I wanted it to be a velvety fabric, but I was pleased with the Inspire Q, so I got it!
Alfie has taken possession of the chair, I don't blame him. He's either on the chair, or our new Moroccan Shag rug, it's so cushiony and soft you guys. I'm no longer sitting on the couch on the other side of the room, I'm always sitting here with my feet up on a foot stool, wrapped up in this huge Christy Linens blanket watching YouTube videos, listening to music, or it's where I go to chat on the phone with my parents.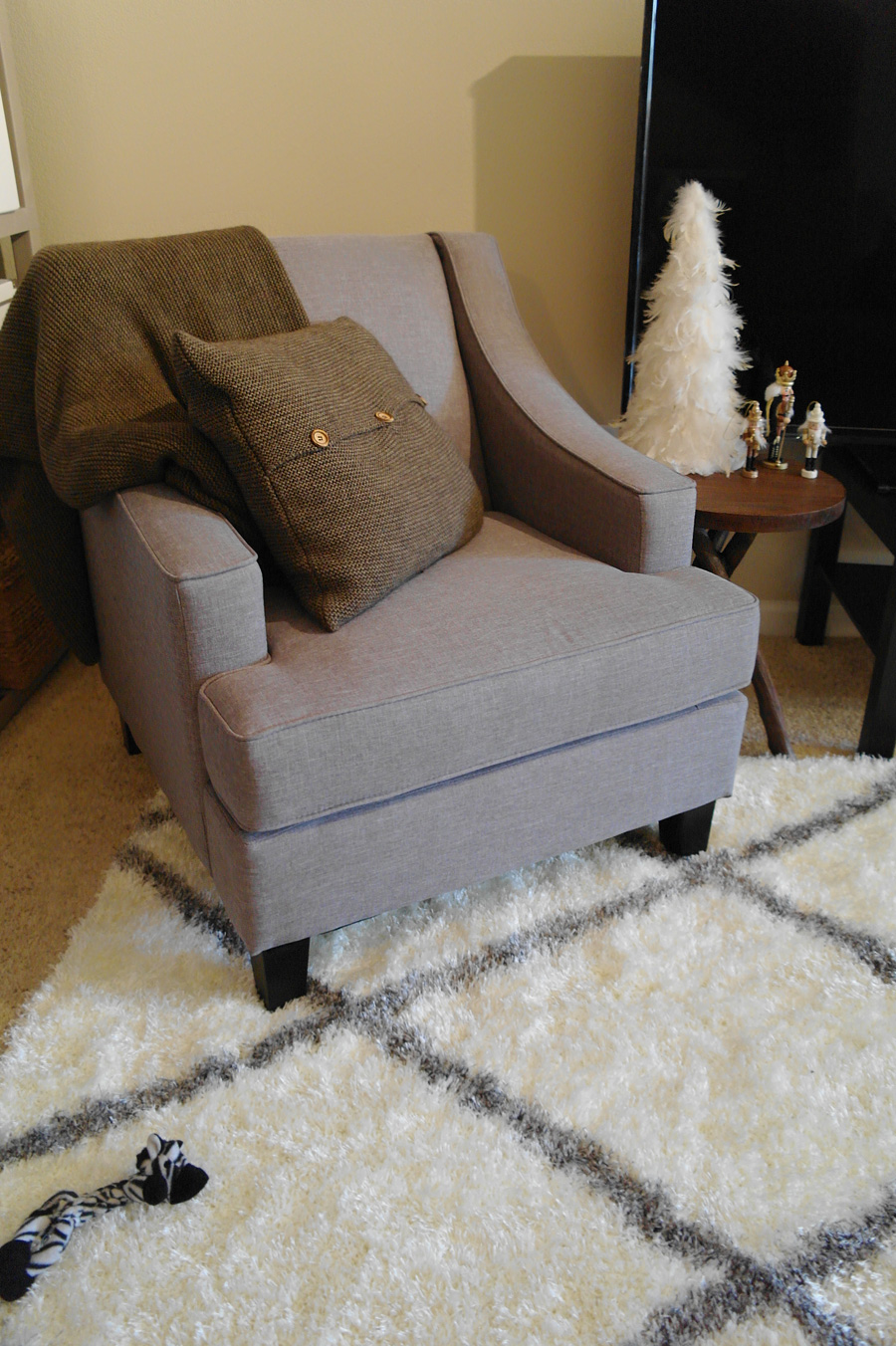 I love that I now have a "me chair".
I love to draw myself a bath and have a little soak to warm my body up. I bought the candles at H&M, but they're unscented. Great if you're not feeling up to smelling all those heavily scented candles. As for smelly candles my favourite candle is the World Market Bougie candle in the scent gardenia. I've been using Pure Brazilian shampoo ever since I dyed my hair — I love how silky and hydrated my hair has been feeling, I've been letting it air dry a lot lately, so it's getting healthier and this is only helping. Thank goodness it doesn't cause my hair to get frizzy.
I've been described as having a hotel-like bathroom. I love the way hotels present their towels for guests, and I try to mimic it at home for ourselves. It's a little bit of luxe with handsoap not from the popular soap shops and just different stuff to decorate with.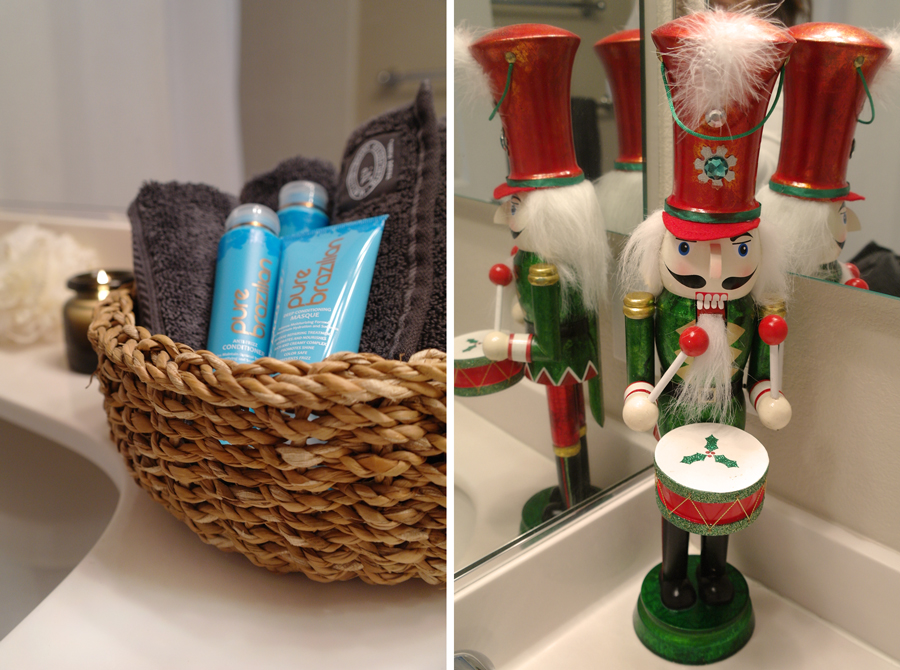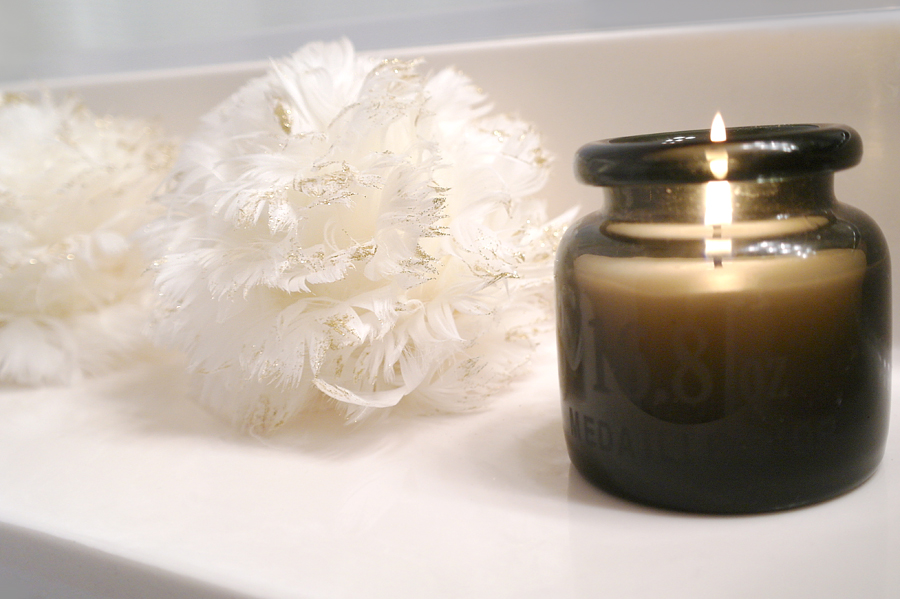 Once my bath is over I'll head back downstairs and make myself some hot chocolate or tea to sip on in my Santa Mug (from the Superstore/Loblaws in Canada last year). I mean, tis the season, right? How come no one has told me about Celestial's peppermint tea? Is it limited edition? It's amazing, and kind of reminds me of peppermint white mocha's from Starbucks.
Alfie trying to get up in my business, I don't blame him. We both like to cuddle.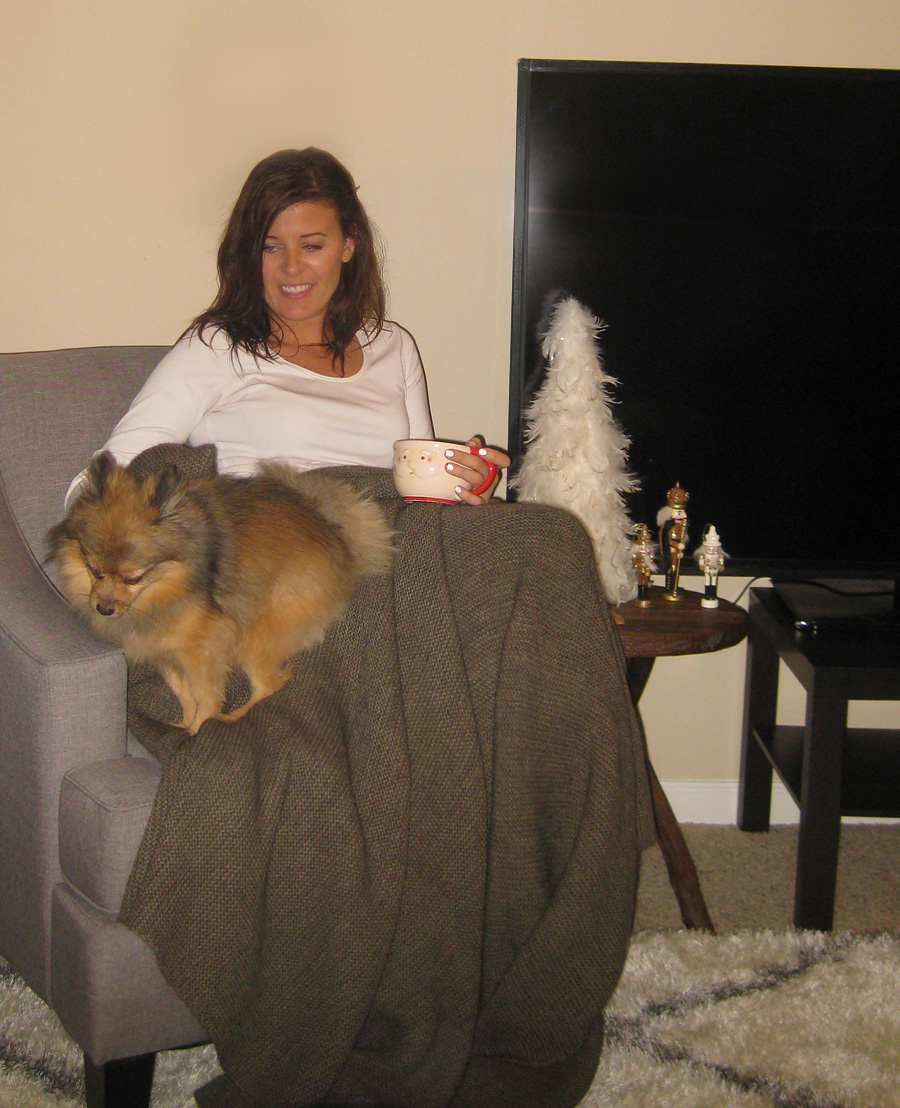 …and a little while later, he's on the floor conked out. 
What do you do to unwind or treat yourself after a long day?
Disclaimer:
Supreme Hygro towels + throw and cushion c/o Christy Linens
Inspire Q arm chair c/o O.co aka Overstock.com
Moroccan Shag rug c/o Rugs USA (just spotted that all shag rugs are 60% off plus you get free shipping!)
Shampoo, conditioner + hair mask c/o Pure Brazilian