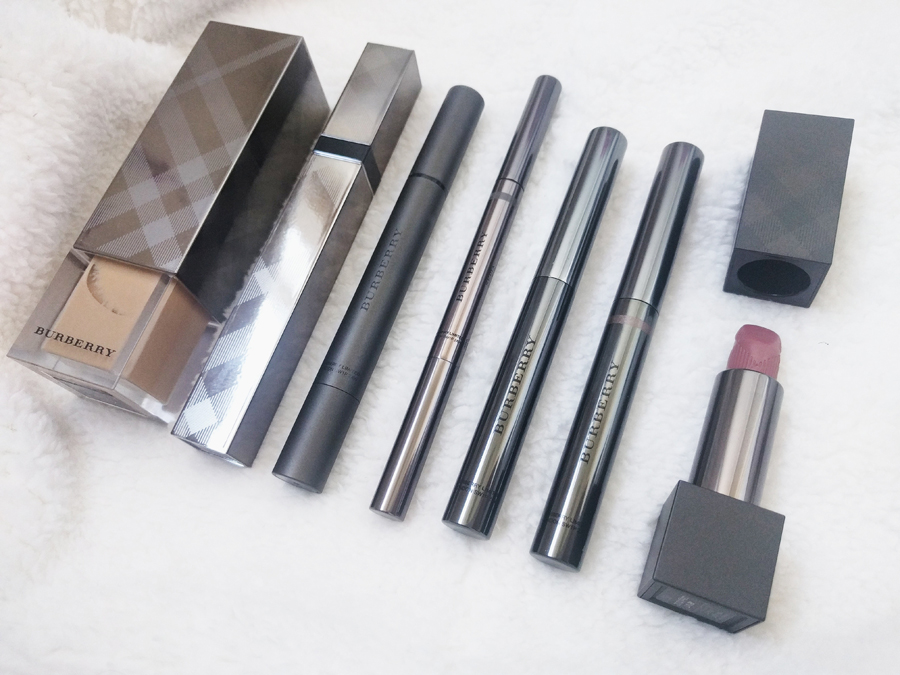 1| Burberry Fresh Glow Luminous Fluid Foundation in Honey You can tell from the photo above how much is left in the bottle. I've been testing, reviewing, and wearing this foundation since I first received it. That's rare for me! I usually like to switch up my foundation daily to give others a fair go. But I've been reaching for this since it has the perfect amount of coverage and satin-like finish without looking overly done up.
2| Burberry Cashmere Concealer in Honey I purchased my first Burberry Cashmere concealer last year (in the lightest shade Porcelain), and this is my second shade to play around with. I'm a huge fan of a light and creamy concealer (think: Cle de Peau, my go-to). The Burberry Cashmere concealer is excellent to use under the eyes because it doesn't slip around, and it brightens without it sinking into lines. I tend to apply my concealer after my foundation so I have that extra brightening effect. And, as always, I blend it in with my ring finger.
3| Burberry Effortless Eyebrow Definer in Sepia Another product I purchased sometime last year. I have a few favourite eyebrow pencils, and this one is always in my makeup bag. It's probably the colour that suits me the most out of all my eyebrow pencils.
4| Burberry Fresh Glow Highlighting Pen in Nude Radiance I'm not usually a highlighter-wearer, but this was fun to pop onto the highs of the cheekbones for an extra glow when the light catches on it.
5| Burberry Eye Colour Contour in Pale Copper What a gorgeous shade, and incredibly creamy and easy to blend out with either an eyeshadow brush or what I did – my ring finger. This shade in particular is so complimentary to my blue eyes.
6| Burberry Cat Lashes mascara in Jet Black If I'm going to be completely honest, this isn't a mascara I'd go back to unfortunately. Luckily, it doesn't clump but it doesn't have as much volume and length that I'd like. Then again I guess I don't need the volume and length since my eyelashes are incredibly long naturally. But when I wear mascara, I want it to look like I have eyelash extensions on, or something to that effect. I like dramatic eyes.
7| 100% Pure Cocoa Pigmented Bronzer in Cocoa Glow warming up my complexion with bronzer. I swept this in a 3 and E shape along the sides of my temples, under the cheekbones and just under the jaw line. I also love popping it onto the nose and center of my forehead.
8| Burberry Lip Velvet in Rosewood This lipstick shade has a hint of raspberry, and it's so comfortable to wear! It's also a matte forumla so it's going to
Finished look: