My skin has had a rough go of it for the past number of weeks and I'm careful now what I use on my face. In January I had a product that made my eyes swell up and my skin dry out so much it looked wrinkly and cracked. While I am more prone to a dryer skin in the winter and then dry-normal in the summer. I almost always feel the need to moisturize, especially my scaly man hands. I've been trying to figure out which products are fit for me, and which products I'm weeding out of my facial cleansing routine. Thus the title of this post my skincare routine at the moment.
Shown in order, here are the products I use on my face on a daily basis.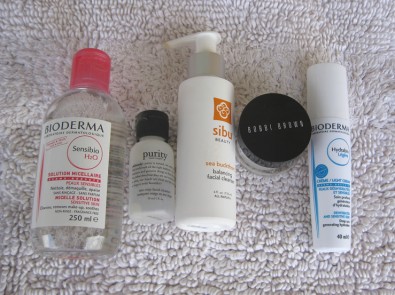 When I get up in the morning I wash my face with a sample sized Philosophy Purity cleanser. Since it's almost out, next up to the podium will be the the Bioderma Solution. Purity is truly a great cleanser for my skin type, and I am definitely going to be purchasing the large bottle. I also use this in the evening when I want to remove my makeup. It doesn't irritate my eyes and of course I use it twice in the evenings. Once to get all the makeup off, and another to actually cleanse the skin.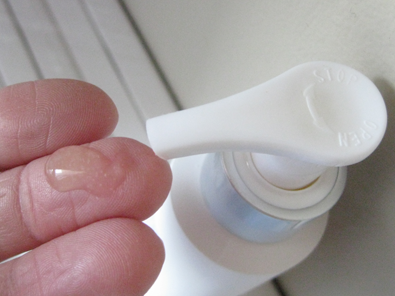 On days where I feel like I need to scrub my face a little more I break out my Sibu Balancing Facial Cleanser. The exfoliating beads aren't as harsh as some exfoliators I've used in the past, so you can really use this one on a daily basis. I've used it for a week straight when I first got it, and I didn't have any negative reaction to it. I reviewed the Sibu daytime facial cream a few months ago, and while it does have a similar smell, it's not as strong as the moisturizing lotion. In fact, I like the cleansers scent much more. It has more of an orange scent to it which I find appealing. I recommend you exfoliate your face and body on a weekly basis to get all the dry, dead skin cells off your body. You're left with a very subtle smooth skin. Plus, when you moisturize you feel so smooth all over. I'm a huge fan of exfoliating.
After cleansing my face I always apply my eye cream as my under eyes get cakey and dry looking if I don't. Right now I'm obsessed with the Bobbi Brown Extra Eye Repair Cream. I also have the hydrating eye cream by Bobbi, which is more of a lighter weight which is perfect for day time. The extra eye repair is a nice thick consistency and is amazing to keep that area moisturized, especially at night.
Next on goes the facial moisturizer. Currently I'm using a light weight facial moisturizer by Bioderma Hydrabio Light Cream and while it's great for my sensitive dry skin. I don't feel like it's worth the money to go out and buy again. I didn't pay the $48 for this at Shoppers Drug Mart, I actually won it on a Twitter beauty basket giveaway from a Twitter party (follow me!)
This next step is only if my skin is feeling incredibly out of whack or super dry and tight after cleansing my skin. I'd only use these serums or oils at night and apply around the eyes or places I feel dry. Which are usually my chin, cheeks and eye area.
Left to right: Origins A Perfect World which smells terrific since it has White Tea in it. Though it's a little heavy silicon feel to it. But sometimes my skin needs and likes it. Kiehl's Midnight Recovery is probably my favorite by far. I've gone through 3 sample sizes and have yet to fork over the money for the full sized. SkinCeuticals Hydrating B5 Gel is pretty good. I'm using this one right now, it's thicker (still liquid unlike Origins) consistency than Kiehl's. The last one is pure Vitamin E oil, which was the only product that truly healed my dry cracked sore skin from when it was inflamed and dry. It was very messy, sticky, and oily on my face. A little goes a long way with this.
Note: Only use one of these products at a time! lol Don't change them up either from evening to evening. Finished one sample and then headed to the other. All of these serums are amazing but incredibly expensive.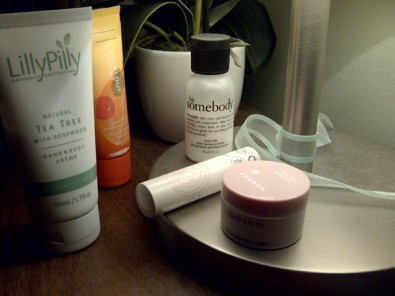 On my "night table" which is actually a set of dresser drawers, I keep a variation of lip balms and hand creams. The one's I gravitate more towards is the impeccable Avene Cold Cream lip balm, and the Philosophy Somebody hand cream. All moisturizes, and cleansed for a good nights sleep.
That concludes my daily skin care routine! In February my skin has been pretty much back to normal. I think the simplicity of everything helped a lot. Meaning not wearing tons of makeup, cleansing my face with good quality products. I know there was a ton of product shown, but the only ones I use on a day-to-day basis are the one's in the first photo.
Hope this was helpful, and if you have any questions of comments leave them below!
I was not compensated for this post, but the Sibu facial cleanser was provided by Sibu.