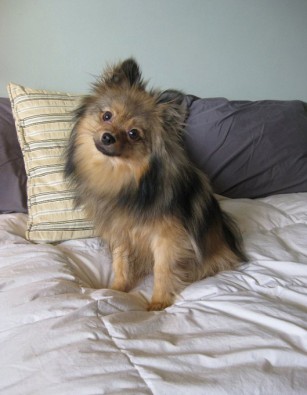 Our Pomeranian is now two and a half years old. I feel like he doesn't get much attention on the ol' blog. So here he is today, getting a special featured appearance.
We picked Alfie up from a seller a few hours away from us on January 9, 2010. We fell in love with him instantly and we brought him home the day that we drove to see him.
This was taken a few days after we got him. Look at his fur hardly even grown in, little sweetie!
My boyfriend and I have separate roles that play into Alfie's life. I've had dogs my entire life, so I'm comfortable with grooming and clipping Alfie's nails. I could take him to a groomer, but I want him to be able to bond with him and allow him to trust me to do these things to him. Plus I don't fully trust anyone else grooming our dog. I don't want to chance Alfie getting his nails cut too short, or getting bossed around. He needs his hair trimmed often as he has long hair, and it grows especially fast around certain parts of his body, one being his little toosh. Believe it or not, he actually enjoys having his bum hair trimmed, and lays on my lap until it's all finished. I think it's because he knows that after I'm done with the scissors, he gets a really good treat.
With little dogs like Alfie, you have to be very cautious of what you feed them. Because of his tiny mouth and teeth he can't afford to loose any of his pearly white chompers due to tooth decay. My Boyfriend is in charge of Alfie's food and what he eats. So we go to specialty dog stores where my Boyfriend stands with a number of different dog foods, reading up on what would be best suitable for our pup while I get distracted by the dog jackets and cute new leashes. Being that he is a 10lb dog, he needs to eat specific foods to keep him in top notch shape. Alfie gets dry kibble twice a day, and we never feed him wet food on a regular basis with his food because we feel that it's not the best for his teeth, and since he loves wet food so much he would never eat any of the dry food we give him. But when we're training him or rewarding him for something well done, I always give him wet treats like this one below:
We're running low on his treats, so I recently drove to my local Global Pet Foods store and picked up a few sample packs of Nature's Harvest Fresh. I got four of the offered flavors in Beef, Salmon, Chicken and Lamb. This new line of pet food is a great, safe convenient alternative to dry foods. But we plan on just using it for his treats. I thought it'd be fun if I filmed a video of Alfie trying out all the different flavors. Let's see which one he goes to first! Â Or, maybe he'll just dive in and start gobbling them down without sniffing at all. Note, the salmon one isn't shown as that was the first treat we gave him and it didn't last long since I gave half of it to my co-worker's dog as well.
My co-worker's dog also tried it.
Julie's dog Rocco, is a mix between a Yorki-Poo and a Chinese Crested Powder Puff. Rocco is almost a year old. This little guy was also a huge fan of the Nature's Harvest Fresh samples.
Pro's about Nature's Harvest Fresh:
Made locally with sourced whole food ingredients
It's grain free
Alfie goes crazy for it — as I thought he would
Con's:
It's very pricey for a box of twelve it's $21.99. Individual patties are $1.99 each.
Thanks to Nature's Harvest Fresh and Global Pet Foods for supplying our dogs with these snacks!