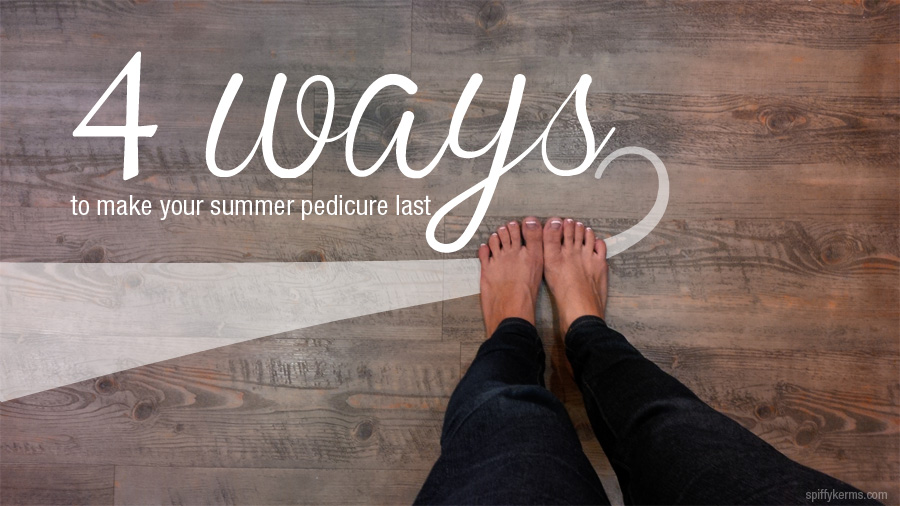 Who doesn't love getting pampered once in a while? I love going to the salon and getting my toes painted fun, bright colours, especially during the summer when I've been rocking a bit more self-tanner than usual and I'm blending in with all the California tanned skinned people. I'm not the pale Canadian any more. By all means rock your paleness if you choose to do so. I personally prefer a bit of sun kissed glow to my skin.
I know it can be annoying to get a chip in your polish a few days after paying big bucks to get them done professionally, or even at home. Today I'm sharing my secrets with you on how to make your summer pedicure last.
Bring your own nail polish
I'm not going to get into details, but I'm positive bringing your own polish to a salon is far more sanitary than using the ones provided. I don't know how long the polish has been sitting on the shelves, which that can add into the factor of your polish not living up to its full potential. Bonus is that when you bring your own polish and it happens to chip, you have the exact colour to touch up.
Scrub your feet often
Dry heels and feet are a total eyesore, so why not keep them soft and smooth every way you can? Buy yourself a pumice stone with a handle (tweezerman is the best one I've used). After you've been in the shower and your feet are washed, and warmed up, give those heels a good scrub to keep them looking in tip top shape. I prefer to keep my heels and feet as soft and supple looking as possible, so I do this step every day.
Moisturize your feet and cuticles
Keeping your feet looking moisturized makes them look healthier and prevent you from future dry cracked heels which can be painful. Applying a cuticle oil will help your pedicure to look fresh and of course, will help your polish last.
Apply a clear top coat
Take any clear top coat nail polish, apply a fresh coat of polish to your nail to keep it looking glossy and brand new. Another added tip is if you apply your clear coat polish to the edges of your nails (where you clip them), it will prevent any polish from lifting and chipping. Seche Vite, and Dior polishes are my go-to for top coats.