A while back, my husband received a pair of Mizuno Prophecy 3's to review on my blog. Trying them out was immediately put to the back burner as he got them in the midst of us moving to another country in the middle of winter. He commented that since they were so expensive he didn't want to ruin them and wear them out during that blasted Canadian winter with all the ice, slush and dirt. I could see where he's coming from, they're pretty expensive in comparison to a regular running shoe: $210. Add that into the equation of him wanting to cycle through a few half-worn out pairs of running shoes that he had in rotation before he dug these ones out of the box.
I started to get overwhelmed by him wearing them, and not providing me with blog related feedback other than they were comfortable, and his favourite shoe as of to date. And I'm not writing that to sell you on the product, he truly gets excited when he puts them on, saying they're his fanciest running shoes he's ever worn. Needless to say, the shoe has gotten a lot of wears over the course of 2014, he loved the Prophecy so much he bought a second pair.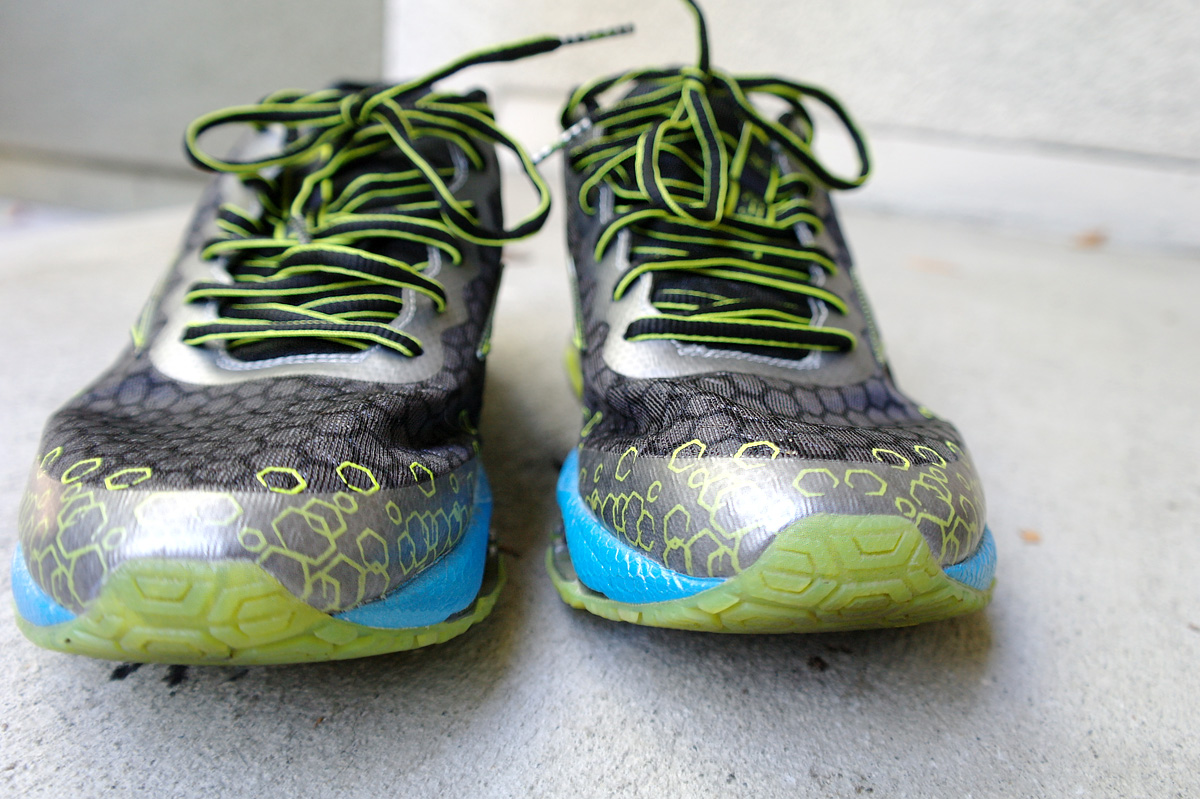 I finally rallied him up and asked him to sit down and give me some ideas on how to articulate a post about the best shoes he's ever had.
I wanted his spin on the blog, so he wrote down his thoughts on what he wanted to say, below. I certainly can't review them, the shoe's weren't on my feet, right? Although the Mizuno Wave Prophecy 3's aren't worn by me, I feel like I can still contribute a few paragraphs on the piece. I've had so much time to read up on this sneaker and I feel as if I know it like the back of my hand. Although The Guy is not a heel striker I've read that the Wave Prophecy 3 shoe is good for heel strikers, due to its engineering.
To give you a bit of a background, The Guy / Mr. Spiffykerms / My husband (the man of many nick names) is a 5x Ironman Triathlete who trains all year round, and runs sub 3 hour marathons, knows a little more than I do about running. The Guy illustrates how these shoes are efficient on his runs and one of his favourite pairs of shoes to wear. He has owned many different pairs and brands of running shoes and is an experienced runner with little complaint about his running form. He has a number of running shoes that he rotates through, and a newest edition to his ever growing collection is the Wave Propehcy 3's.
Where to start…  I am not completely new to the Mizuno "Wave" shoes, having worn (and loved) a pair of Wave Creation 8s a few years ago.  I feel like the Prophecy 3s are a lot like those old shoes, except lighter, sleeker, and better looking (the uppers are made of single piece of smooth mesh fabric).  Lately, as many runners have, I got caught up in the minimalist running shoe craze and Sauncony Kinvaras have been my workhorse shoes for a while.  I also really liked my Brooks Pure Flows as well.  Both of these have reduced heel to toe drop — unlike the Mizuno's.  I don't know what the heel to toe drop is for the Prophecy's, but it's big.  To my surprise, however, I had no difficulty adjusting back to this shoe.  Miles felt great right from the start.  I would describe the Prophecy's as having a well cushioned but firm ride.  I think the full length plastic plate is responsible for that, and it does a great job of covering up any pebbles or surface textures you may be running on.  But despite the firmness, they never feel harsh and still stay responsive.  They are not like some over cushioned shoes that feel dead, soaking up all your energy with every step.  And that firmness comes with other benefits as well.  These shoes have never hurt my feet from day one.  I found them fantastic for rejuvenating tired or sore feet.  As a result, I have used these shoes exclusively for all of my long runs this year and continue to do so.  I still cycle them with my other shoes, though, and haven't had a problem moving to/from the larger heel toe drop.
The shoes fit a little big, so I half sized down and they are perfect.  They have a large-ish toe box (which I like) and a smooth and well ventilated interior that doesn't hug your feet too tightly.  One potential draw back of the Wave plate and those big gaps is that I feel rocks could pretty easily get caught up inside there.  For that reason, I haven't used these for any significant trail running.  That said, when I have, I haven't actually had a problem either so maybe they would perform just fine.
All and all, these are excellent training shoes.  I think they are a tad heavy for racing for me, but if my feet were aching or I was having any sort of plantar fasciitis issues, I would seriously consider them even for that as they definitely don't feel slow.  Keep up the good work, Mizuno!