On a whim, I bought this. When beb's goes to sleep, I watch YouTube on occasion. Those occasions turn into late night amazon shopping excursions and adding stuff to my cart, never buying, always adding. This time I went onto a new-to-me website (I think the name of it was Bath & Unwind, or vice versa. It was UK based, but they had a US website. Score.). Whatever.
Allanna from YT (another Canadian, if you don't already know her. I'm sure many do), was talking about a new foundation (which I bought). I've been using it every day that I've been wearing foundation – a few times a week, if that. I love it by the way. But I also went down the rabbit hole of shopping because I noticed a few more (again, new-to-me) brands I've never tried.
This brand being Evolve Organic.
I bought a 1oz jar of moisturizer, because guys…Â Â I'm in my late thirties. I had a baby 13 months ago, which also significantly changed, well, everything. Something in my skincare routine needed to change, which I noticed a few months ago. I wasn't sure what.. but my skin was looking dull, and not because it's been winter. My poor ol' Philosophy Hope In a Jar that I've been using for 6+ years wasn't cutting it anymore. I didn't know what to reach for. I tried using my Saturday Skin moisturizer that I got as a PR sample late summer. It wasn't doing anything for my skin either. Makeup wasn't looking good, nothing felt good on my face.
Hence, me trying out a new brand. 'Cause why the heck not.
Meet, the Evolve Daily Renew Facial Cream. (Purchased myself, thank you very much).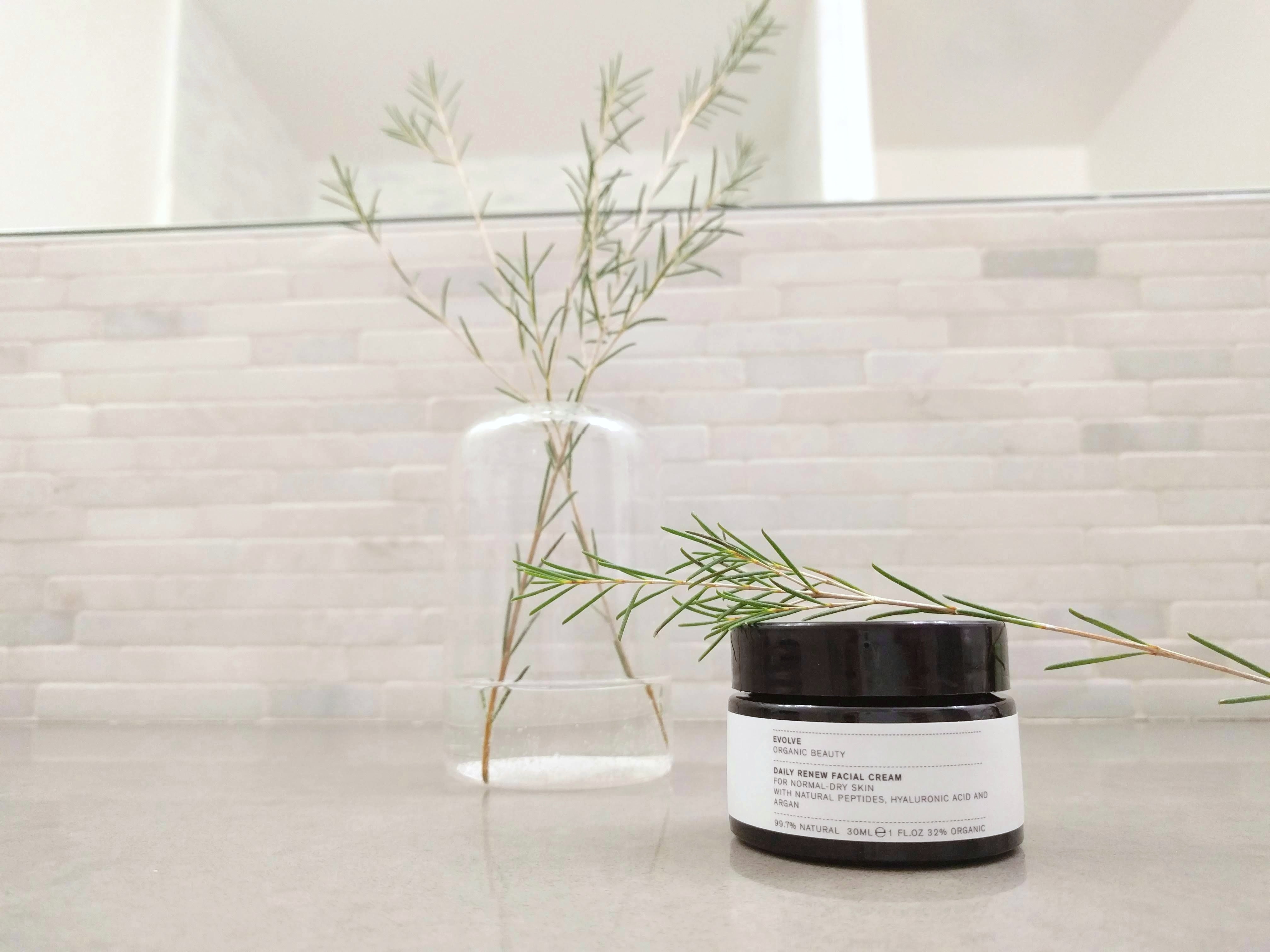 What sold me on it? Okay, first of all, yes I admit…the packaging drew me in. Then, the look of the moisturizer. It looked thick. We're now over a month in using it. We, meaning me. I'm not sharin' this goodie ;)!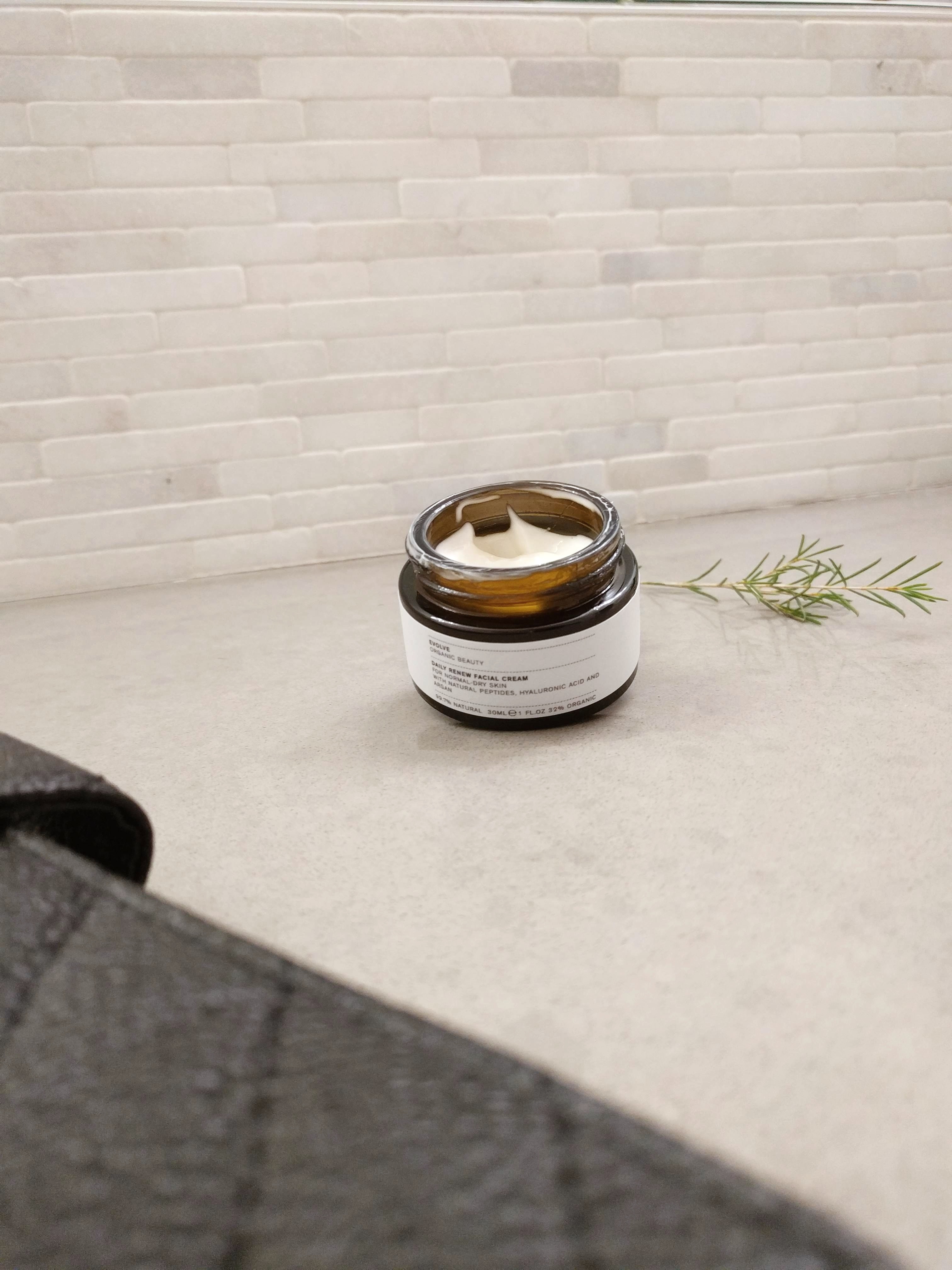 See? Doesn't that look amazing? (Also, I can always rely on Trader Joe's to have lovely flowers for my beauty product flatlays, ha!). I love a thick moisturizer. I need something that'll soak up this dryness goin' on post-partum. I need heavy duty, and something that will make me look dewy for more than 3 minutes.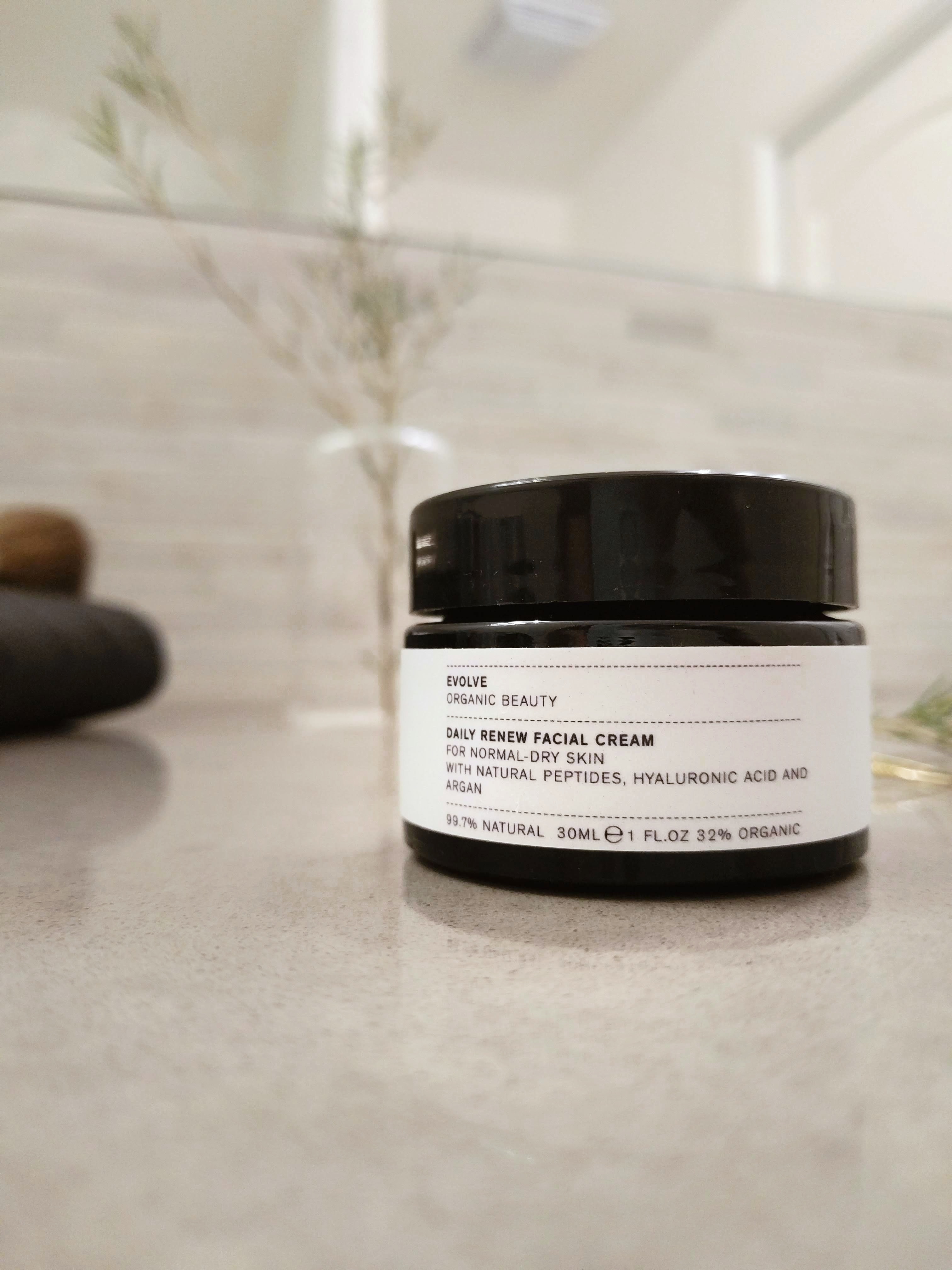 This is it guys. THIS. is it. Let me explain. You know how you find a good hand cream (okay a little off topic but follow me here), you wash your hands and the hand cream still feels like it's there? For a while? That's how my FACE feels…ALL day long. It's soft, all day. Why? I don't understand it, but I love it.
Now, unfortunately it's only available in the UK (okay, unless I shop on that US website again). I need to scope out where to buy it in person, if possible. Because if I'm in love with it in a few months, as much as I am now, I'm well, not screwed since I can buy it online. But guys – you get my drift, right? I just need it closer. And not across the Atlantic Ocean and waiting for it in the mail and opening the door for the DHL guy in my bathrobe at 8p at night. Scary, but exciting since I knew it was the PR parcel that came from Evolve. Nice.
All this to say, I love the moisturizer. I bought the one ounce jar myself. Started stalking (following them on Instagram) online, then noticed they had a blogger enquiry section which I reached out for, literally expecting no response back because I haven't been really regularly blogging for a while. But DUDE… they got back to me, and in a swift fashion. They mailed over a parcel to me to help this ol' thirty-something-something year old skin. Fantastic. Thanks guys. They sent a 2oz jar of the moisturizer, and some hyaluronic serum.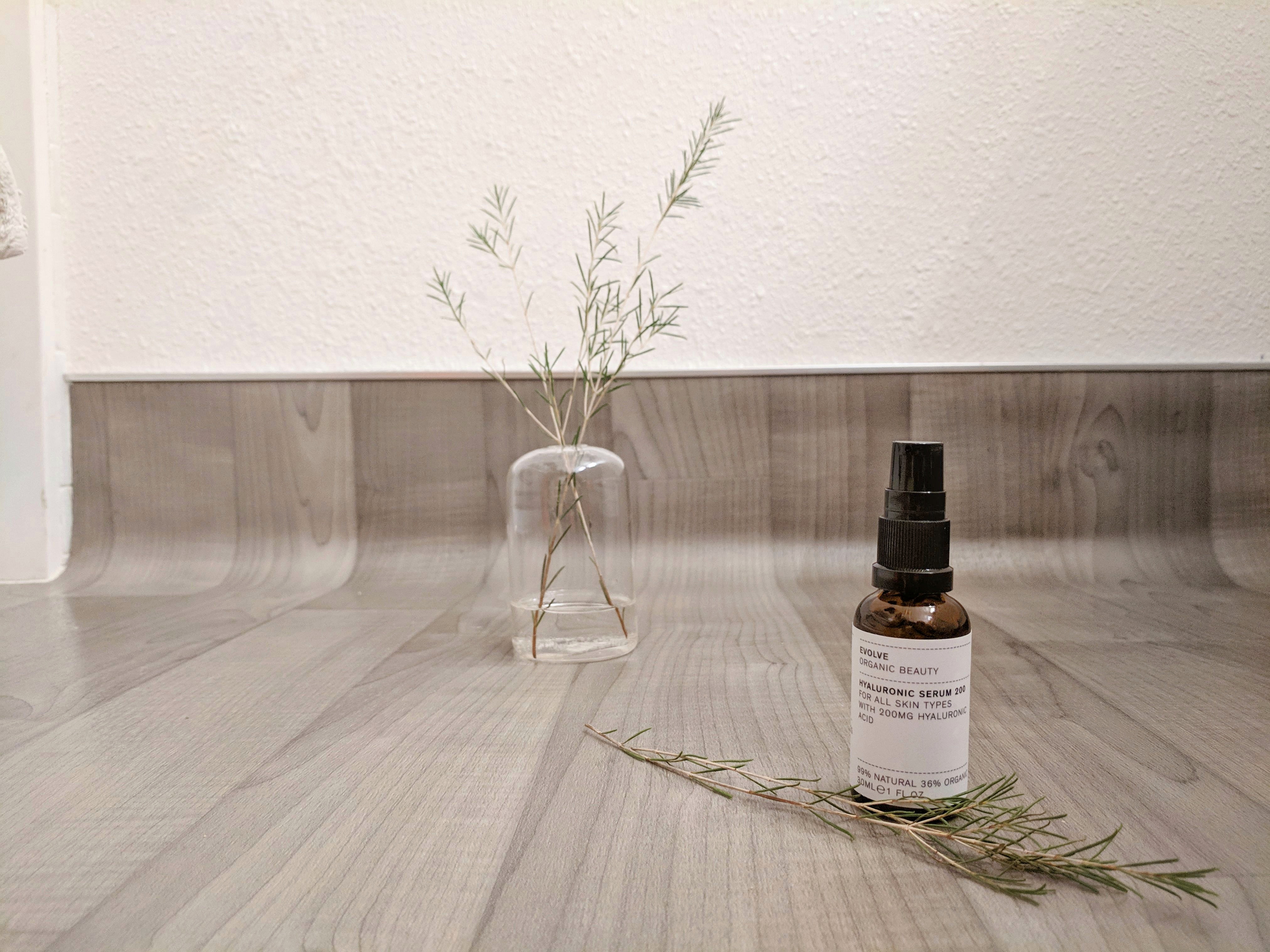 For years I knew hyaluronic was great for the skin. Never once have I used it though until this parcel came. It feels heavenly. Truth be told, I've always been minimal with my skincare and makeup steps. Only time will tell if I continue adding a serum before moisturizer, into my routine. We'll see. I love it, yes, but will I remember to do it always? Who knows.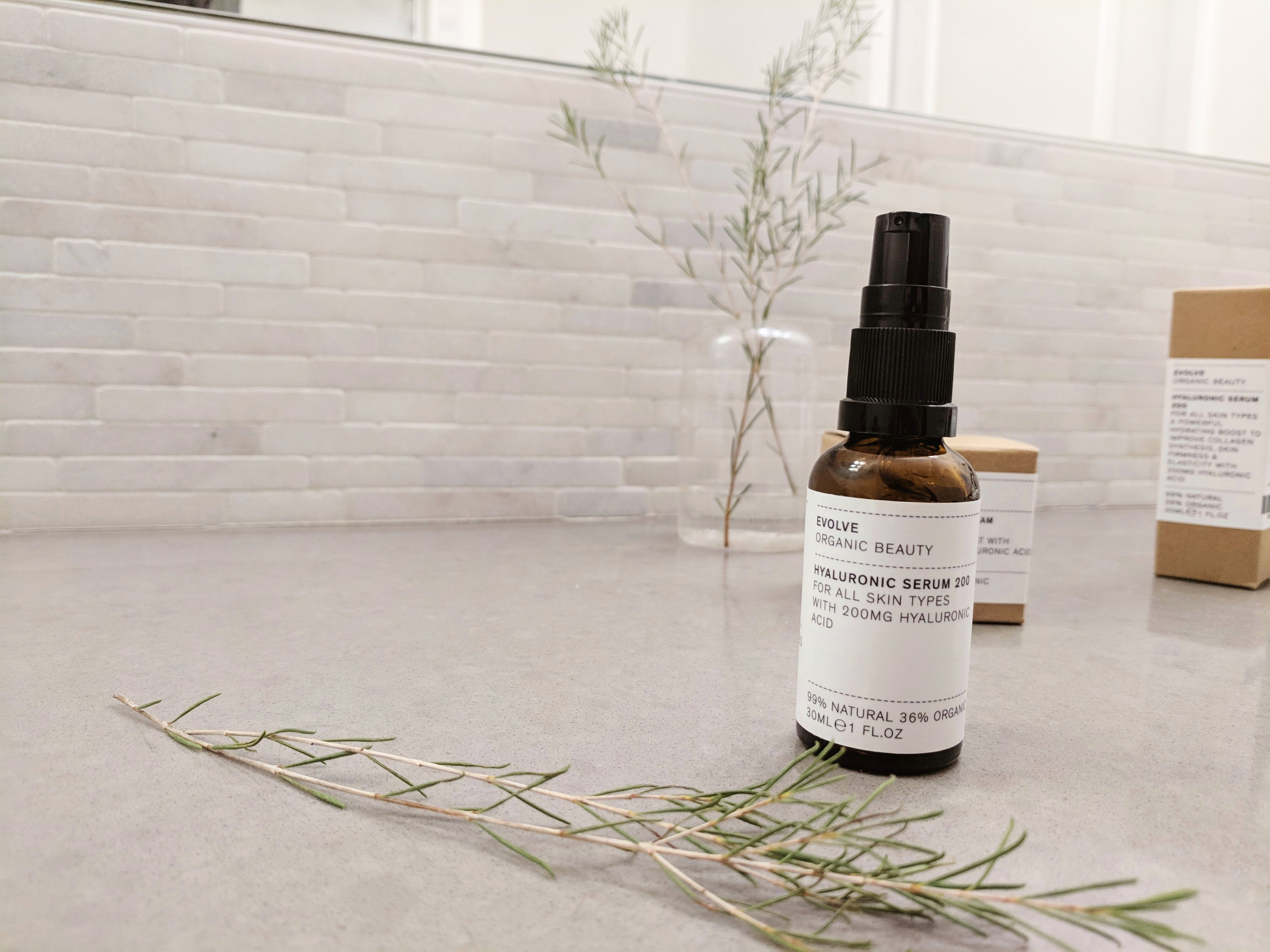 Hyaluronic serum 200 is 99% natural, vegan, cruelty free, and safe to use when nursing bebs. Very important.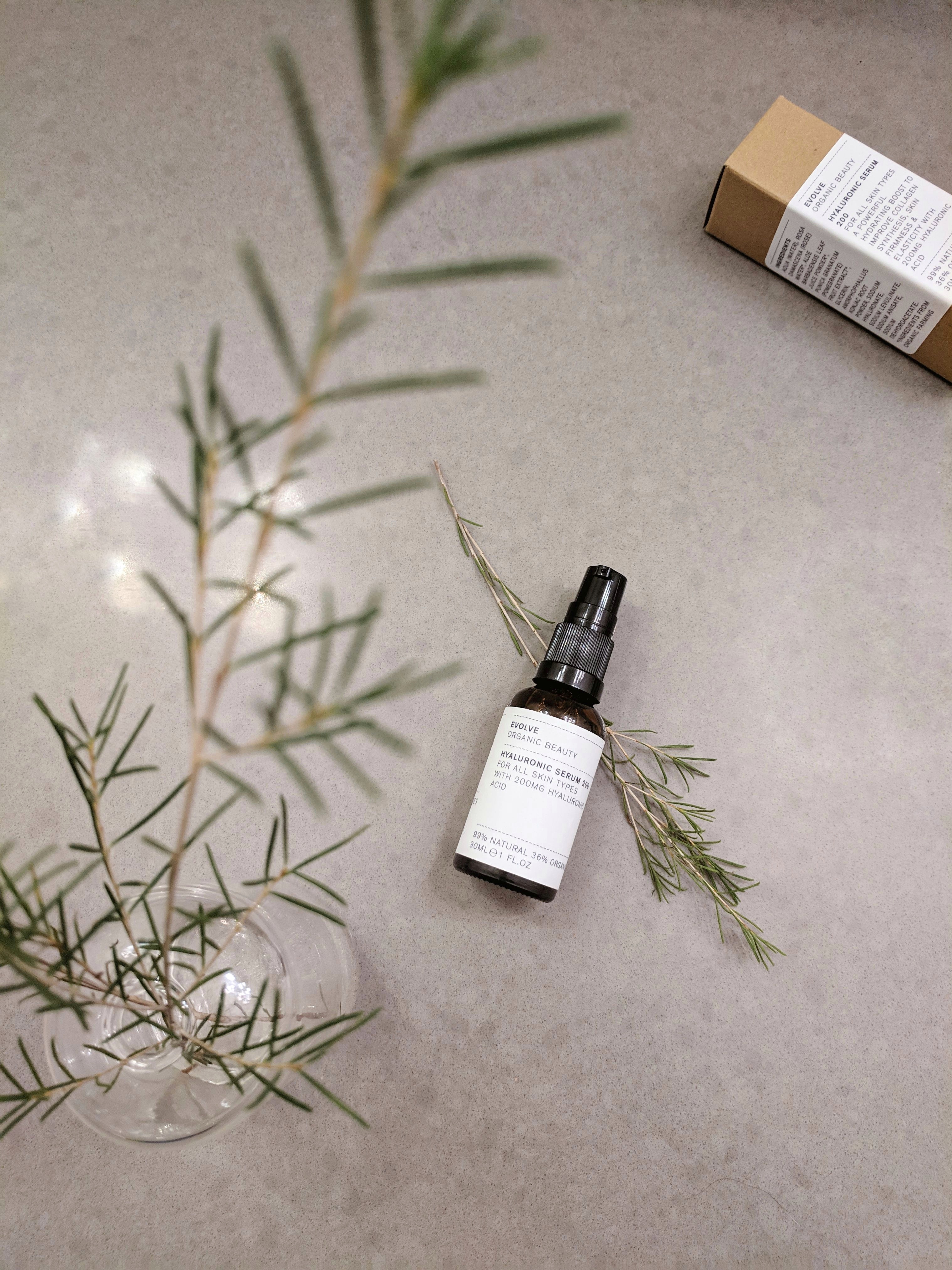 Man. I'm stoked for it.
I hope my skin continues to love it. Will keep you posted. Love their packaging, too. Easy to photograph – ha.