Chloé has launched a collection named My Little Chloé this February, which includes their popular fragrances in little falcons of 20 ml. I've already spotted them at Sephora! They come in these elegant miniature bottles. They're limited edition so if you want to snatch up this trio available in 20ml falcons, head on over to your mall. They come in three completely different scents to suit a variety of people.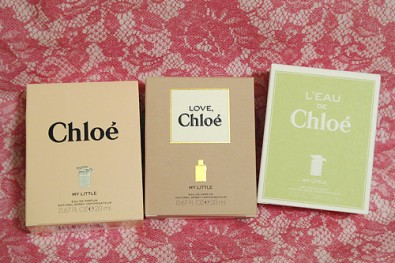 I've been wearing the Love Chloé eau de parfum and since it's a stronger version of the eau de toilette, it lasts throughout my entire work day, like a champ. Love is not an overpowering scent, and quite comfortable to wear. It's not what I typically reach for when picking out scents to myself as I usually grab one's with citrus. But this works for winter, it's a musky, yet not too deep and 'manly'. A very feminine yet sophisticated scent, if you will. It's one of those perfumes that most certainly will not give you a headache.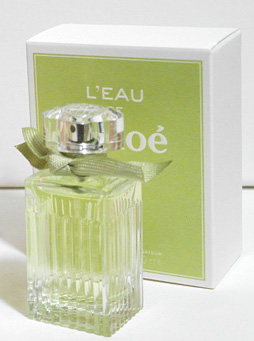 L'eau de Chloé? Well, let's just say it isn't my cup of tea. In fact, I wore it to work last week and my co-workers complained that someone in the office smelled like a little old lady. It was me! I was the one who smelled like an old woman! I had sprayed L'eau de Chloé on me earlier and my co-workers made me vow to never wear it to work again. Needless to say, it does not exuberate youth that's for sure. It has a powdery scent with a light touch of floral. It's very delicate and feminine, however it does smell older. My initial thoughts were that it was pretty good smelling. Perhaps I have an older nose?
Quoted from Sephora.com
Notes: Grapefruit, Cedrat, Peach, Violet, Rose Petals, Natural Water of Rose, Cedarwood, Patchouli, Amber.
Style: Free. Spontaneous. Feminine.
________________________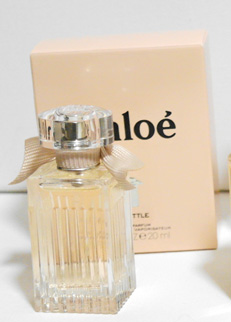 Chloé along with Love, Chloé both have this inviting champagne warm color about them that I just want to scoop up. I ended up giving my boss the Chloé perfume shown above and it definitely suits her. You know how you can get a whiff of something and it reminds you of that person? Chloé was most definitely suited for my boss. I think this one was also my favorite out of the trio I received. Since this is an eau de parfum rather than a eau de toilette, it lasts a relatively long time, without needing to be refreshed on the skin.
Quoted from Sephora.com
Notes: Pink Peony, Freesia, Lychee, Magnolia Flower, Lilly of the Valley, Rose, Cedarwood, Amber, Honey.
Style: Chic. Comfortable. Addictive.

________________________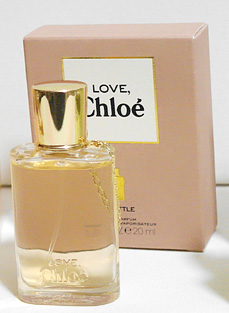 Finally Love, Chloé is the prettiest bottle of them all with the gold cap attached by a chain. When you first spray it, it has this charming feminine yet clean and fresh scent. It has powdery notes with floral as well, but they are not overpowering in any sort of way. It balances out beautifully.
Quoted from Sephora.com
Notes: Orange Blossom, Pink Pepper, Iris, Lilac, Hyacinth, Wisteria Blossom, Powdery Musks, Talc, Rice Powder.
Style: Light. Sensual. Iridescent.
________________________
Besides the 20ml falcons being adorable to look at, they are the perfect size to carry away with you on a weekend getaway or to tote around in your purse. I wish all perfumes were sold in miniatures, as I often don't like to buy large bottles since I rarely go through them.
Would you buy these charming My Little Chloés'?

How often do you wear perfume?