Oh, my first Burberry lipstick!
It's the Burberry Kisses Blossom Pink No. 29. ($36 CDN/ $33 USD)
I bought this lipstick during the Sephora 10% off Beauty Insiders sale that happened in April. For the first month or so it lived constantly in my purse along with my other favourite nude combo. I decided not to cart it around with me at all times because I kept reapplying it every hour or so and felt I might be going through it too quickly. I mean, I don't mind using up a lipstick by any means — but I gotta have a bit of diversity to the ol' smoochers too!
Why I'm lovin' it.
It's hydrating thus not leaving me with dry lips
It doesn't smear on your teeth because it's a lightweight formula (a 'kiss' of colour if you will, a play on Burberry's words)
The lipstick itself is a gorgeous easy to wear pinky-nude that I find suits my skin well whether I'm self-tanned or pale
It's comfortable on your lips
Swatched once (top) and multiple times (bottom), so you can achieve a wash of colour, or a more opaque look when layered.
Left: bare lips. Right: After applying Burberry's No. 29.
Of course the age old question is, do high end lipsticks really differ from drugstore brand lip products?
Well I suppose you could certainly find duplicates, but since I feel like my makeup collection is minimal for a beauty lover, I don't mind paying up the extra dough to feel a bit more fancy with my luxxe Burberry packaging c'mon who really finishes a lipstick? Sure, if it's your absolute holy grail. But this lipstick will last me a while and I'll get a lot of enjoyment out of applying it.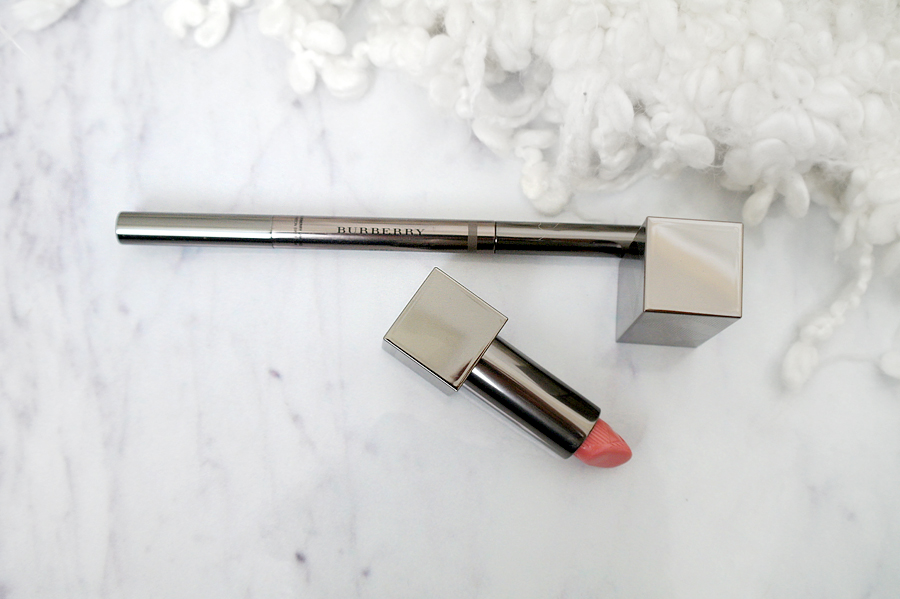 It's not a long lasting lip colour by any means, due to the formula of the lipstick. But I wanted to try it out for myself and see how I liked it. Hence, why I bought it (with the 10% Sephora sale).
What are you favourite high end lip products?