Well now that you're all caught up on the three large recaps of our road trip across the continent (recap 1 // recap 2 // recap 3), I can now finally get back to regular blogging.
Once we arrived in California, we stayed in a hotel for 5 or 6 days until we found a town house to move into. I didn't realize a lot of places would let you move in the next day. You'd think it'd me more common to wait until the beginning of the month. We hired movers to unpack our U-Haul on Saturday February 15, and we've been settling in ever since.
On The Guy's first day of work, Jessica came to pick me up and we went out for a bite to eat at Bumble. The restaurant is in Los Altos — a really quaint part of the silicon valley, yet very expensive to live.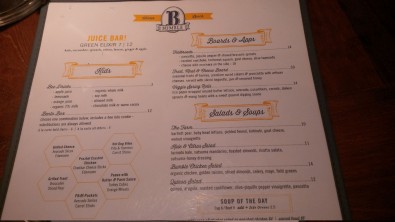 I love their Graphic Design work on the menu's and inside the whole place. It's beautifully decorated and family friendly. There's a play room for kids, and a fish tank that divides the play room and the restaurant up. Also, if you're not a huge fan of children there's also an adult-only area where you can eat.
Jessica suggested I order the BLT off their lunch menu. As for my drink, I couldn't decide between the guava lemonade which sounded so refreshing on a warm winter's day (ha! how funny does that sound) in California, or the regular lemonade. I asked the server what one I should try, and he suggested his favourite – the guava lemonade. Served with a paper striped straw and all. The perfect touch. It was as good as it looks, and sounds, my friends.