So this whole hive-situation has been ongoing since July 16. Right down to the very day — I track it because I cannot wait for the day for them to completely disappear and get the heck out of my system. Some days are worse than others, where I feel self-concious and not wanting to leave the house. Other days I'm all "eff this, hives. I'm going out whether or not I have hive-face!"And some other days I embrace it, especially on the days where my lips swell a little and I kinda look like I have really well done lip injections. I'm now on a three month waiting-list for getting a monthly injection. I'm not sure how I feel about the injection, I'm going to have to do a lot more research before I agree to having it.
I thought about uploading a picture of me with my hives, but I'm still not comfortable showing them. Especially after showing a few friends and seeing their reaction to the pictures I showed them, they say almost disgusted-like (in a not-so bad way haha) "Oh God! I didn't think it was that bad!" Well it sure is! Lol.
But today I wanted to talk about some sensitive skin issues, and what I use when I want to be incredibly cautious of what I put on my skin, on those days that my hives are really noticeable, or are raised up (especially on my face/neck area). On most days they tend to flare up around different parts of my body where it's easy to disguise with long sleeved tops and jeans, but on occasion they're on the outskirts of my face/forehead and neck (and why does it always seem to happen on days I need to be somewhere in particular?!).
Here are my holy grail sensitive skin products that I have been reaching for, to gently soothe my skin, yet remove all the makeup from the day, or… cover it up.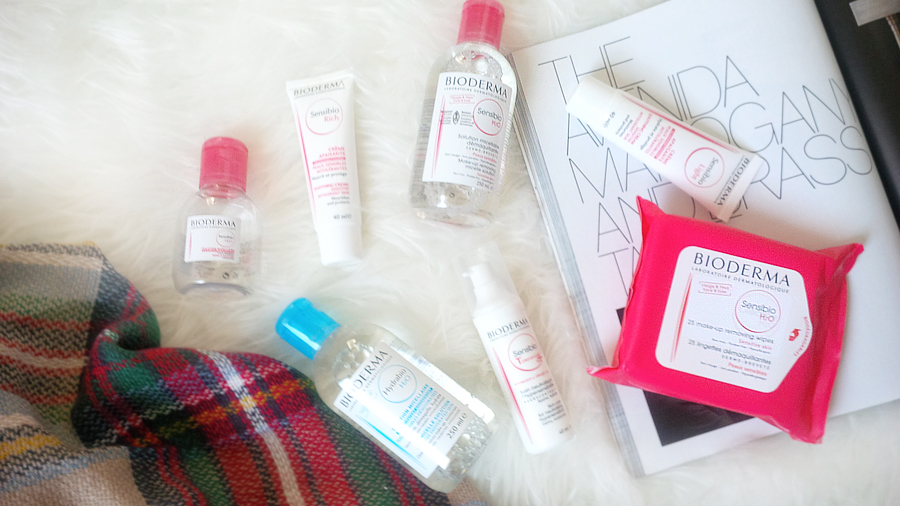 Bioderma has always been a front runner product for me. It's hypo-allergenic, and basically feels like water applied to the skin. Although Bioderma is hard to come by, here in the USA (I think the only reputable company that sells it here in the USA is Beautylish), though it's readily available at almost all the drug stores in Canada. The mini bottle of pink Bioderma Sensibo off to the left of the picture is one that I refill (and now has just a drop of product left) over and over, because I like having mini's in my medicine cabinet instead of huge bottles. The bioderma makeup remover wipes in the pink resealable package is my second pack of the wipes — I keep them mainly by my bedside in case I get lazy and don't want to wash the makeup off my face at the end of the night. As for the three facial creams, they're incredibly hydrating and gentle enough to use on my sensitive, hive-prone face. So these have become a real staple in my routine lately.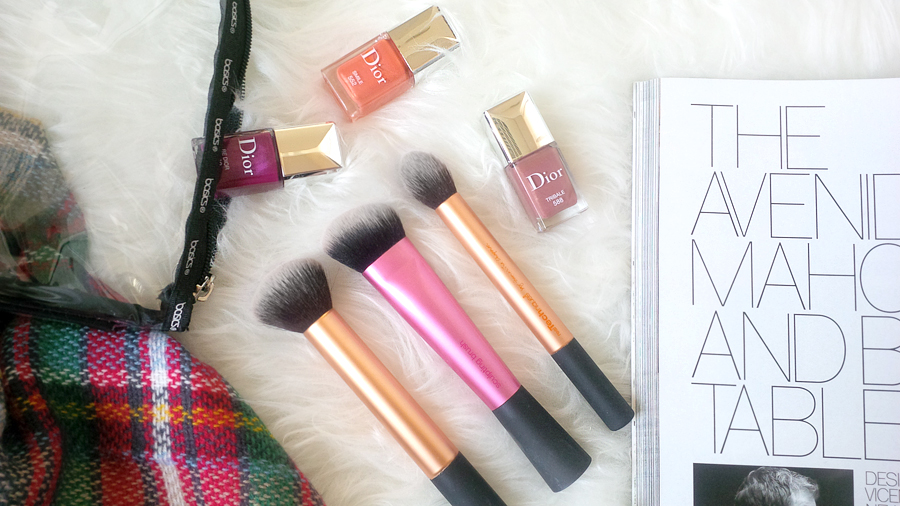 Here are the three main makeup brushes I use to apply my makeup whenever I want to wear it (to cover up the hives). They are all by Real Techniques and from the Canadian online store called Farley Co Beauty. The purple brush in the middle is a new-to-me one, where I use to apply and chisel out my cheekbones with bronzer. They don't scratch or irritate my face, nor do the brush 'shed' having me to use my hands to touch my face and remove the hairs. It's the brush brand I recommend to both beginners at makeup, and people who have been using makeup for years. The makeup case off to the side is also from FarleyCo Beauty (buy it here!).
While I was in Newfoundland I discovered Bourjouis healthy mix foundation, loved it so much I ended up buying two shades of it to suit my skintone at all times. It's almost a dupe for my Dior HydraLife BB cream, but pretty much costs the same (Dior comes in a 1.7oz for $60-something, and Bourjois is $30-something for 1oz).
bareMinerals bareskin concealer is excellent for covering up my hives, especially when they look like big clusters of raised pinky-red hives on my neck and face. Set it with a bit of setting powder and you're set for the day.
If all else fails, skip the makeup for a week or so, and paint your nails; which is what I tend to do. Then paint them a different colour each day, because you're allowing the skin on your face to breathe and have a chance to heal. Here are some of the new Dior polishes for Fall.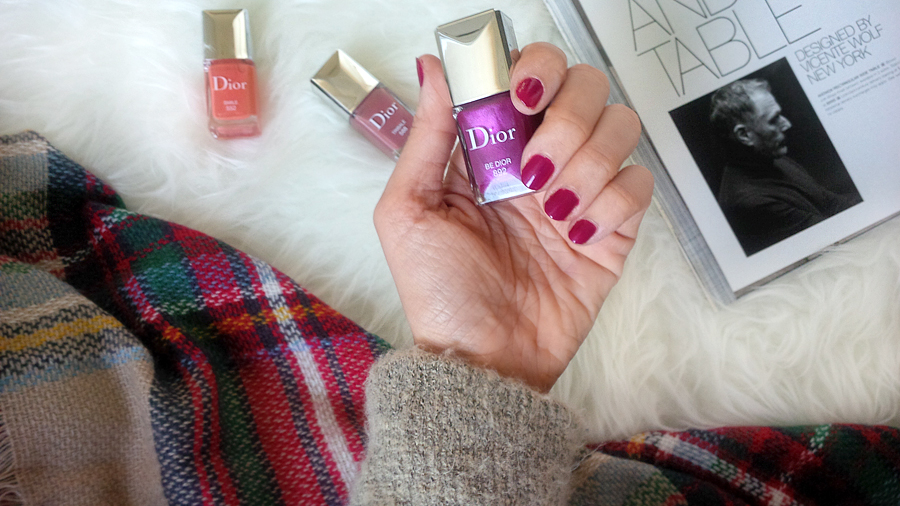 Be Dior 892 — I'm surprised at the colour outcome of this product, it was more of a berry on my nails, and more purple in the bottle. I still love it.
Tribale 588 — is a gorgeous browny nude, that is now applied to both of my hands and will be wearing this all week!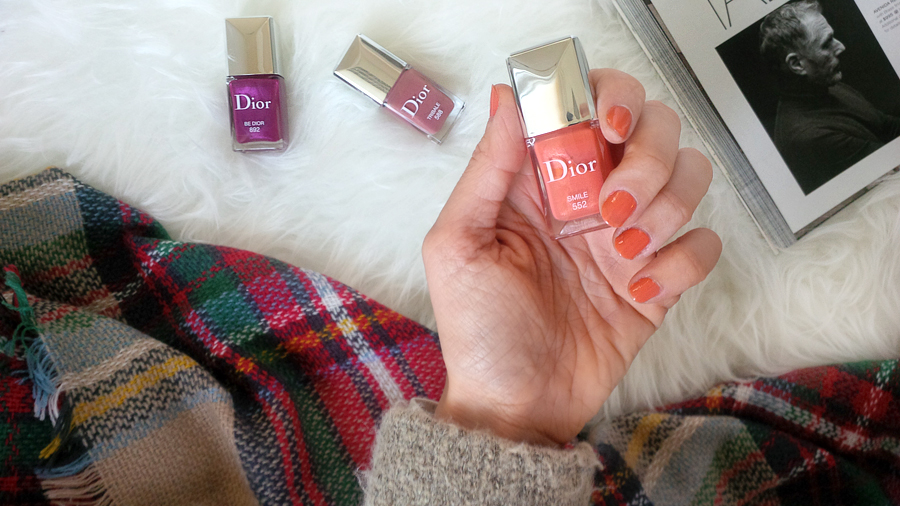 Smile 552 — A little out of my comfort zone, and feels a bit Halloween-y, it's still a fun colour. Perhaps I'll reserve this colour for my toes.
Have you ever had hives? I mean, I'm shocked at how long this whole situation has been going on for. It's not even weeks now, it's months slowly turning into years. I hope that one day I'll just wake up and they'll be rid of. I guess only time will tell. I'm so sick of taking hive pills every morning and night though. I mean, the multiple Doctors have been telling me it's safe for the long-run, but I don't want to be taking all kinds of pills for a "long run". I rarely take pills for headaches, for heaven sakes.
Anyway! Hopefully you enjoyed my unique post about what I really use on my face when I have hives, or what I use for my skin to actually breathe. What are some of your favourite beauty products lately?