There are tons of blog posts featuring travel essentials from hair products, to makeup, to what to pack. Speaking of what to pack, my friend Jessica has a new website called Pack For Where? which could be pretty helpful for a lot of people.
Today I'm talking about my travel essentials I want to bring with me to my trip home to Newfoundland. Not counting makeup, electronics, or clothing. It's the other stuff…you know, deodorant, dry shampoo. That sort of deal. Hope you're interested! ;)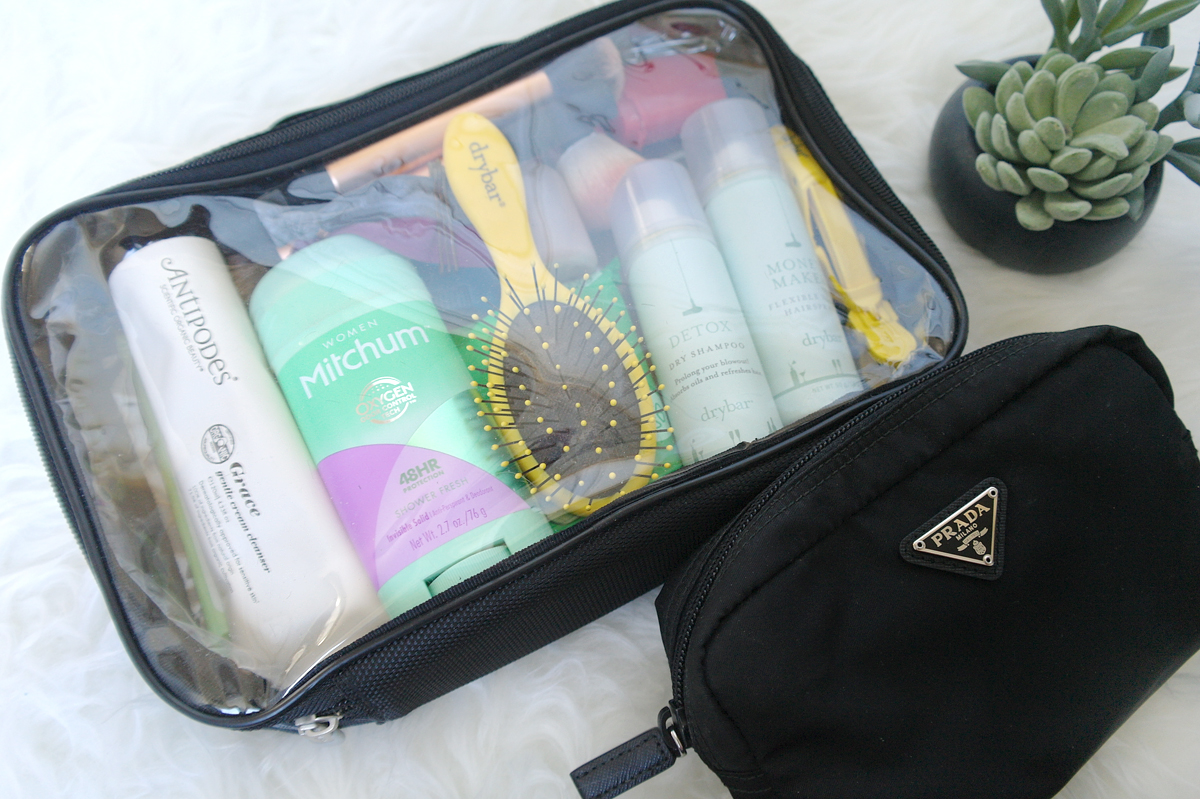 I am loving clear travel cases. This one above is from the brand Zuca (I received it in a swag bag). The black prada bag is reserved for makeup. I have a few different brands of travel cases now, that I have used on multiple weekend getaways, and IÂ often keep one or two of them in my purse at all times to contain the little things I always seem to need to carry with me (epi pen, hand sanitizer, gum, band-aids etc).
So, what's inside?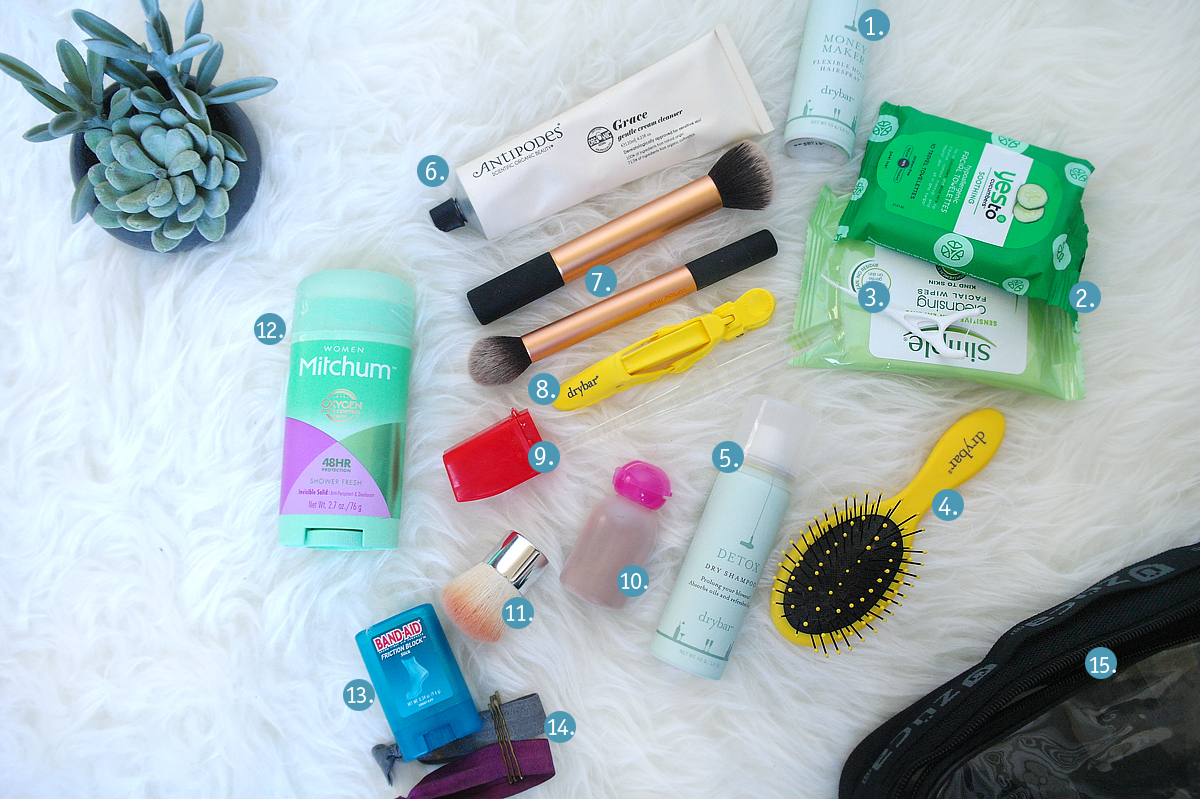 1. drybar Money Maker* // 2. Two travel-sized facial cleansing towlettes // 3. Floss
4. Travel-sized drybar Lemon Drop* // 5. drybar dry shampoo*
6. Antipodes gentle cream cleanser* // 7. Two Real Techniques makeup brushes
8. Drybar clip for wet hair or washing face //Â 9. Muji travel-sized toothbrush // 10. Principessa dry shampoo
11. Small Dior kabuki brush for blending or applying makeup //Â 12. Mitchum deodorant
13. Band-aid friction block // 14. Hair elastics + bobbi pins // 15. Züca travel case
I bring two types of dry shampoo and facial cleansers because I'm a little high maintenance like that. Let me explain.
Dry shampoo: The same day I wash + blow dry my hair I also apply drybar detox dry shampoo (spray) in it to give it texture and volume, or I skip that step and apply the spray in my roots before I go to bed so I don't wake up with a greasy head of hair. The powdered dry shampoo is for when you can see my scalp (I have two crowns at the back of my head and my hair separates, making me look BALD), so I used the powdered/coloured dry shampoo for that reason. It doesn't come in that cute container, I funnelled it into a squeeze tube I bought from Daiso.
Facial cleansers: I primarily use facial cleansing towlettes when I'm lazy and don't want to take my makeup off at the sink. I usually bring my purity by philosophy cleanser but I thought since I had been using that for 3+ years nonstop, it was due time to try something else. So I'll be bringing the antipodes grace cleanser with me this time.
What are some of your must haves while on the go, or travelling? 
Disclaimer: Items marked with an "*" were sent for review purposes.