Not by any stretch am I calling Aveda basic. But it was the first salon-grade shampoo I purchased, and kept purchasing for years on end until I moved out of Newfoundland. I guess when you're paying rent for the first time, priorities change. Like buying food, instead of fancy hair products. [Products shown: Aveda Brilliant Shampoo + Condtioner]. If I'm being completely honest I do love the shampoo, but would prefer a deep conditioning and hydrating conditioner. I probably wouldn't purchase the conditioner again, and I would go back to my ol' faves (which I'll talk about below).
Now that I've decluttered and eliminated a lot of the goodies in my bathroom cabinet (many shampoos, and hair products that didn't really do it for me anymore), I'm going back to basics.
Back in the day my hair was healthy and shiny, and lately changing up my shampoos with different brands every few months didn't help the situation. My hair needs to go back to wonderful Aveda products. And 2017 is the time. Doesn't that sound dramatic! Ha!
But honestly, trying new beauty products, hair care, or skincare is great and all, especially being a blogger who receives PR samples. But I think I need to start getting back to basics with regards to skincare, and especially hair care. For the past 6+ months I've been using a shampoo/conditioner combo (not a two-in-one, nevah!) that has been just okay. But ever since I got back from Canada, my scalp has not been the same. A little painful, with a bit of dandruff that never seemed to go away, and my hair was so incredibly greasy come day two. January I started going back to Aveda. And boom, it changed.
Aveda was a brand I had used for years before I knew what PR samples even were. I'm talking old school years ago, back in 2002 or 2003 is when I was introduced to the brand. My hair loved that stuff, ate it up! Plus, not to mention the scent of everything Aveda makes brings back so many awesome memories.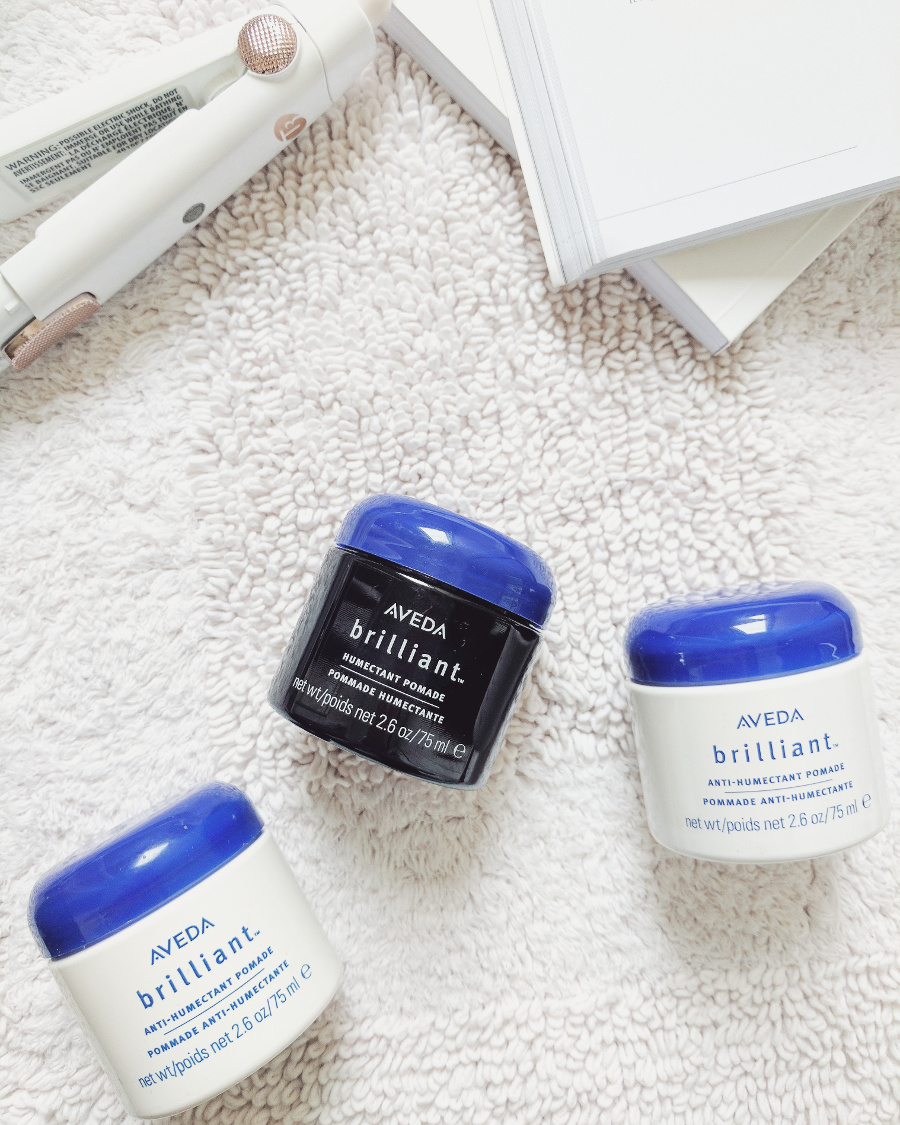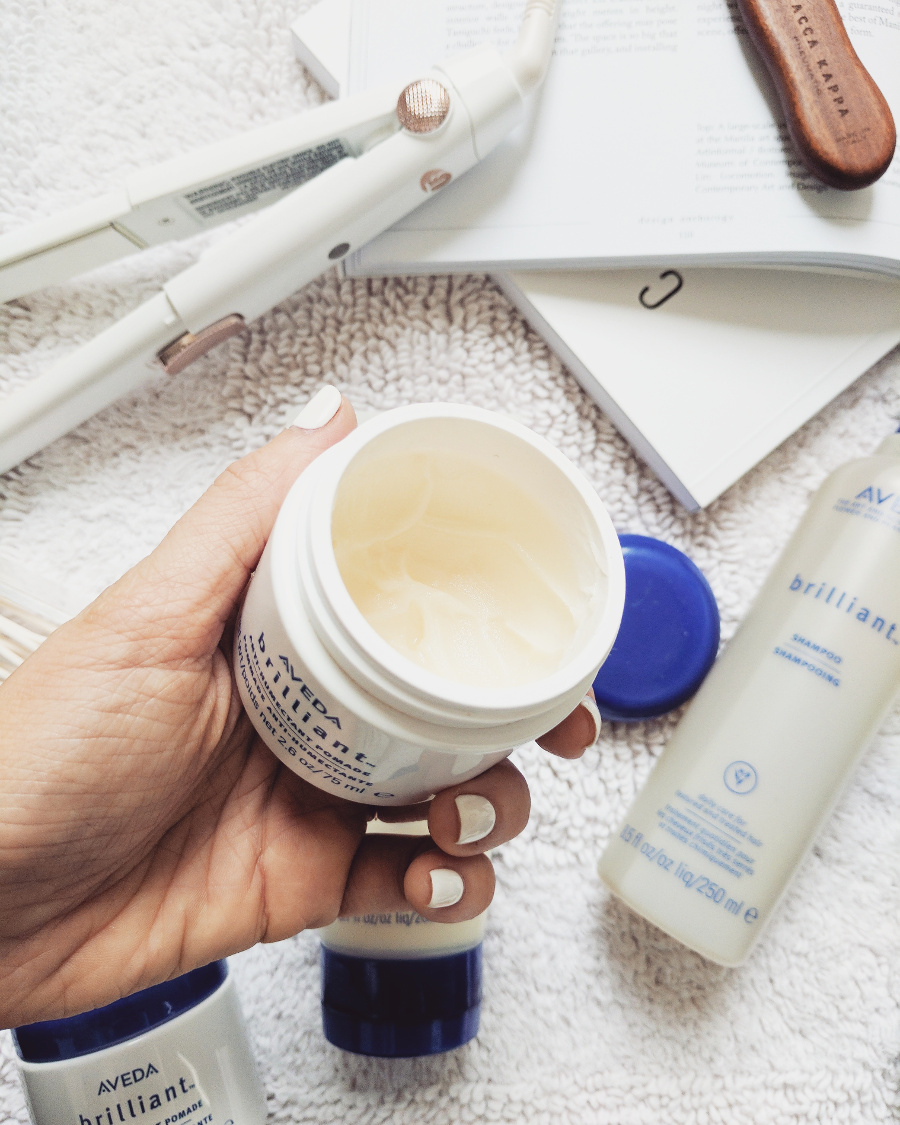 This pomade (Aveda Brilliant anti-humectant pomade) brings back a bit of a sad time in my life but I've decided to turn it into a positive. My Dad liked the scent of it and commented on it. Which for the past year made me sad when I smelled it, and as most of you all know he's no longer here with us. But I've decided to turn it around — wear it, think of the good times. Those memories only make me sad, because of the great relationship I've had with him. Right? He was the best. The bottle I'm showing you is ancient, but it's still good to use and smells just like the new one. I'm not telling you how old that jar I have is, though ;)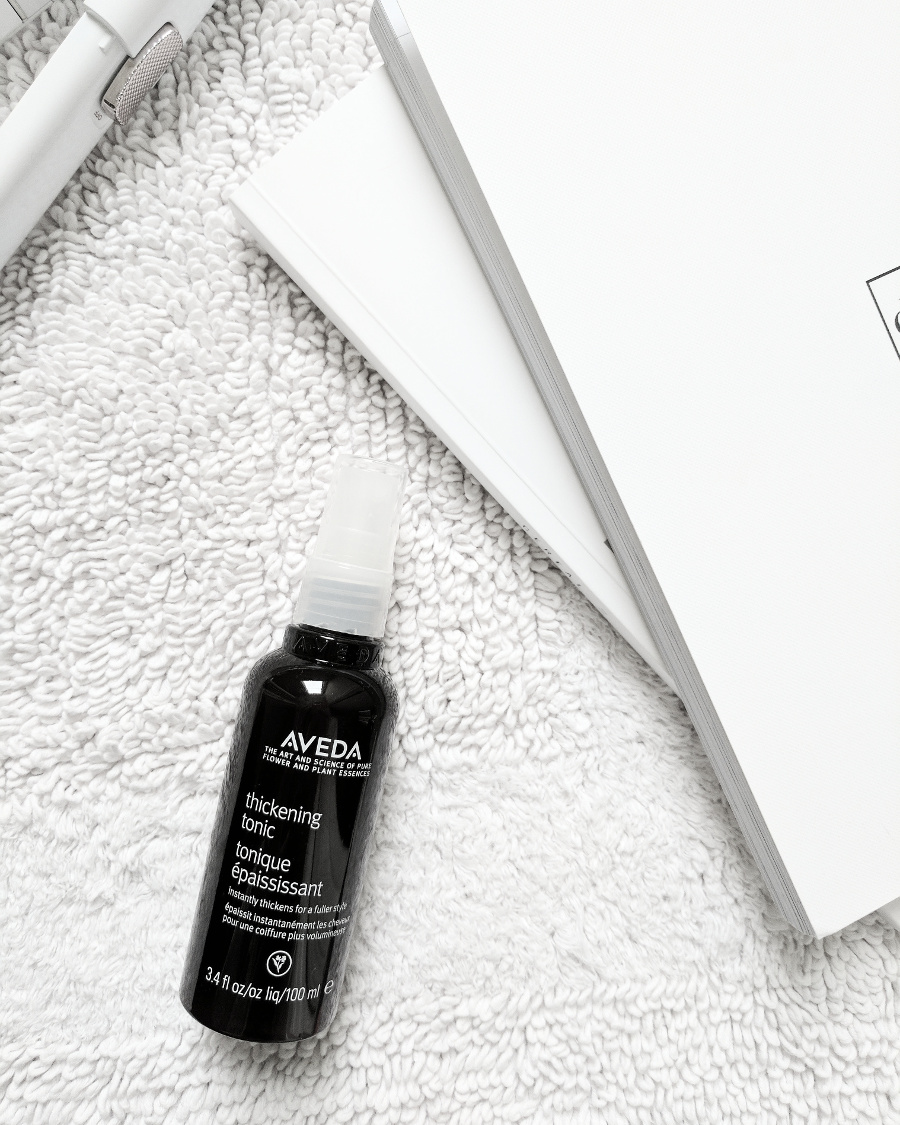 Aveda sent a few items over, and items that I recognized but never tried out. For instance I've been using the Brilliant line of pomade for 10+ years, but never used that line of shampoo/conditioner as I always reached for the ol' faves like Rosemary Mint shampoo, Colour Conserve, or the Shampure line. I don't love putting tons of product in my hair every time I wash it, but when I want fuller hair I grab the Thickening Tonic (first time using it, but I've used their Volumizing Tonic which used to come in a stubby glass bottle). When I dry my hair I separate it into three layers, and each layer before blow drying gets 2-3 spritzes of Thickening Tonic in it…my hair feels touchably thicker which is fantastic when you have such fine hair it you have to do 4 loops in your hair elastic to make my pony tail feel secure!
Clearly I can talk for days about Aveda, but I'm going to leave it here with a request for them.
I do want to ask Aveda to bring back their old school hair brushes. This is the oldest brush, and I use it every time I blow-dry my hair to get volume. I think the reason I love it so much is it has a freakin' pick at the bottom of the brush (you can pop it out, and place the pointy-pick inside the handle so it doesn't always stick out). I still have yet to find another brush that has that, and Aveda stopped making/carrying it as far as I understand. Bring it back! I desperately want a new one, the bristles are sunken right in! Lol
Disclaimer: This post although high praises, is not sponsored by Aveda, or anyone. Aveda sent me product, but as I stated above I've been a huge lover of Aveda for years, and regardless of working with them, I will continue to purchase their awesome products. Yay them!