My outfit of the work week will be posted on Monday rather than the usual Friday. Can you believe I forgot? I had a good excuse, it was an out of the ordinary day from the beginning and I had a meeting at another location other than my usual office. Right off schedule I was! ha!
Work hasn't stopped yet though. This morning I woke up bright and early to drive to the next city over and set up for an open house. It was a sketchy 45 minute drive for 8:30 in the morning since it was our first snow day in months. When I had to go through a few round-abouts I said out loud to my car… "please stop", as I was sliding sideways towards the curb. Eek!
It was Saturday morning, ie: a sleep in day. Thus the blurry quality photo. First and last shot I was going to do that morning, so this is what I wore.
Along with these Tahari heels from Winners. My socks don't match. Oh well. Not caring too much.
I love my job and I was so excited to decorate the office in a style I thought would fit. I sported this outfit below, as we had to dress the same as we would at work, along with a gorgeous hot pink lip stain from YSL. It even smells like champagne. Get out of town. I'm totally telling the truth. It's amazing.
I would've never picked this color out for myself but it was sent over to me by the L'Oréal Paris PR in Montreal. She described it as the perfect combination of gloss, lipstick and stain. If you're reading this Kristina, thanks a million!
When applied on the lips it just looks like a nice pink, and not overwhelmingly hot pink like I thought. Whewf, very wearable. Has great color payoff if you want to build it up and make it more bold. It's also quite hydrating being that it's a lip stain. Which by the way is a bit difficult to get off it you want to take it off. It's really long lasting. Here are my first swatches of it when I opened the packaging. It comes out as a vibrant hot pink but as you can see on my lips, it can blend out to be a nice wash of color.
By lunch time the roads were all clear and it was time to take the country roads back to my place. Look how clear the roads got in 4 hours! Jeesh. Some nice drive back I tell you.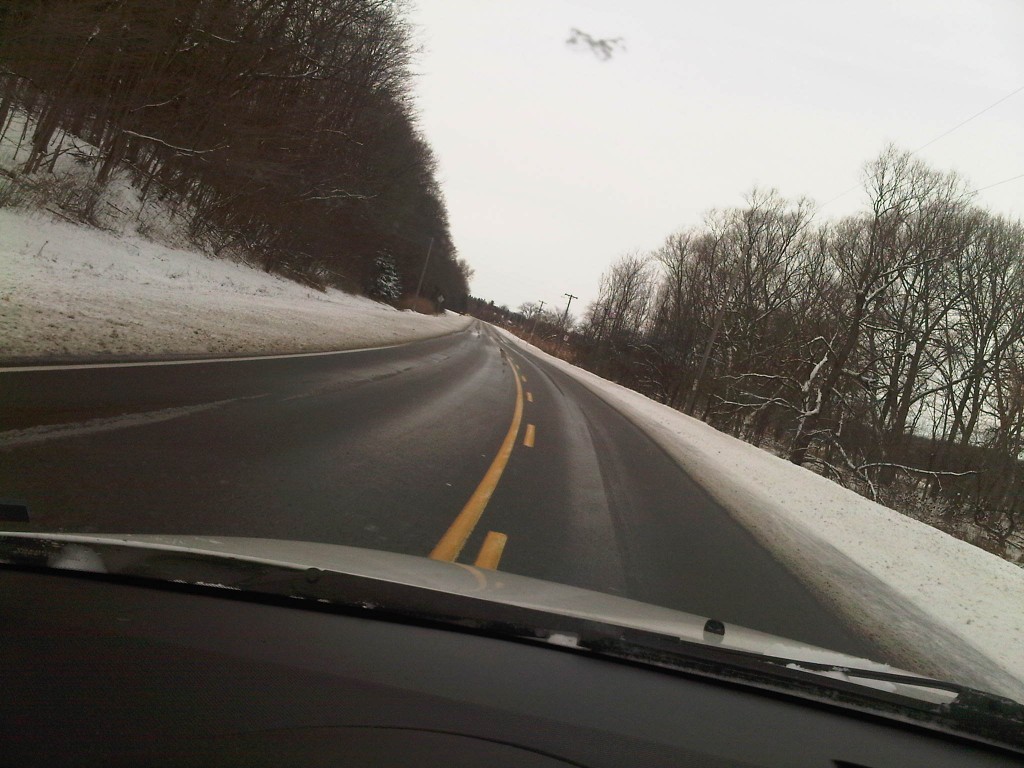 Well, after my 1.5 hour nap I'm off to enjoy the weekend with my Boyfriend, catcha all onMonday!
Psst, yes I received the YSL rouge pur couture glossy stain for free. But I didn't know it was sent to me. Nor was I obligated to blog about it. Just stating my love! ♥