Oh the Lancôme Juicy Shakers have taken storm and all the beauty lovers are raving about them, or wanting to get their hands on them!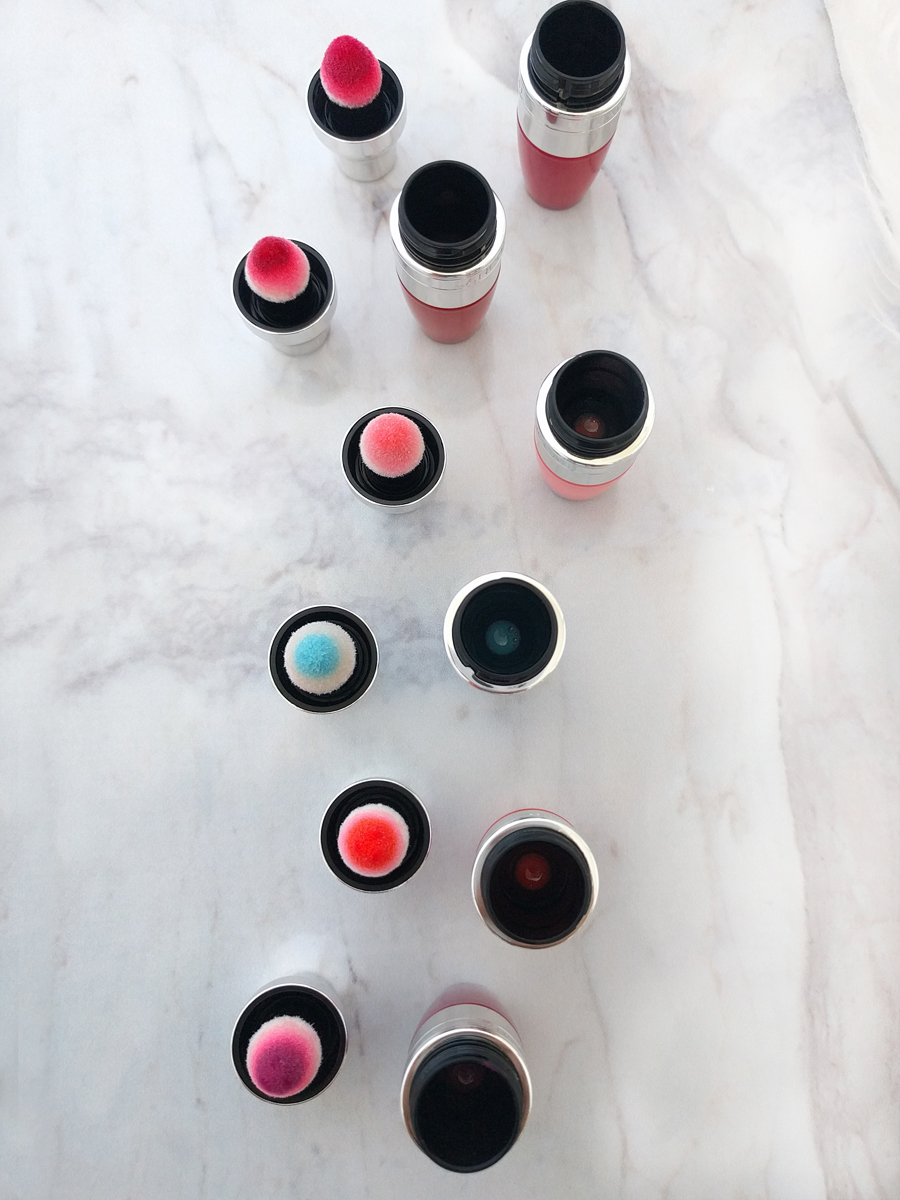 So pretty to photograph. In fact, this photo above it my new background on my cell phone!
The technical way to describe the Lancôme Juicy Shakers is that they're a bi-phased oil. It'll feel oily yet balmy on the lips, super comfortable application with the triangle shaped sponge. So because it has so many nourishing oils in it, you need to shake it each time, prior to applying it on the ol' kissy smoochers you got over there.
The Lancôme Juicy Shakers are definitely a low maintenance product. Apply them with ease on the go with or without a mirror, and they don't bleed off the lips, at least not the 6 of the 20 shades I had to try out.
How well do they last on the lips though? And what colours do I suggest you pick up? 
These Juicy Shakers are more aimed towards, well, people like me who prefer a natural look with a hint of colour. I love balms on the lips, and I don't mind reapplying throughout the day. The Lancôme Juicy Shakers aren't marketed for the colour pay-off, but how they make your lips feel.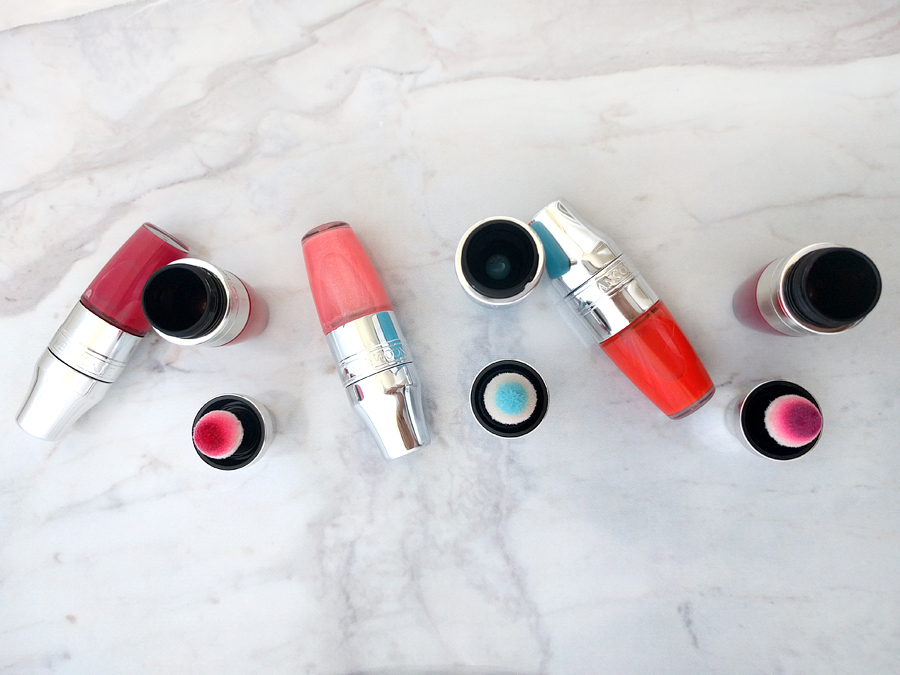 You must shake the cocktail shaped lip product in order to mix the pigment and oil together, since they separate (as they're supposed to). The sponge tip applicator then picks up the perfect amount of product from the cap, and it's such a spongey gummy worm like texture when you bounce it across your lips. It feels quite nice, really and different than any other lip product I've ever tried out.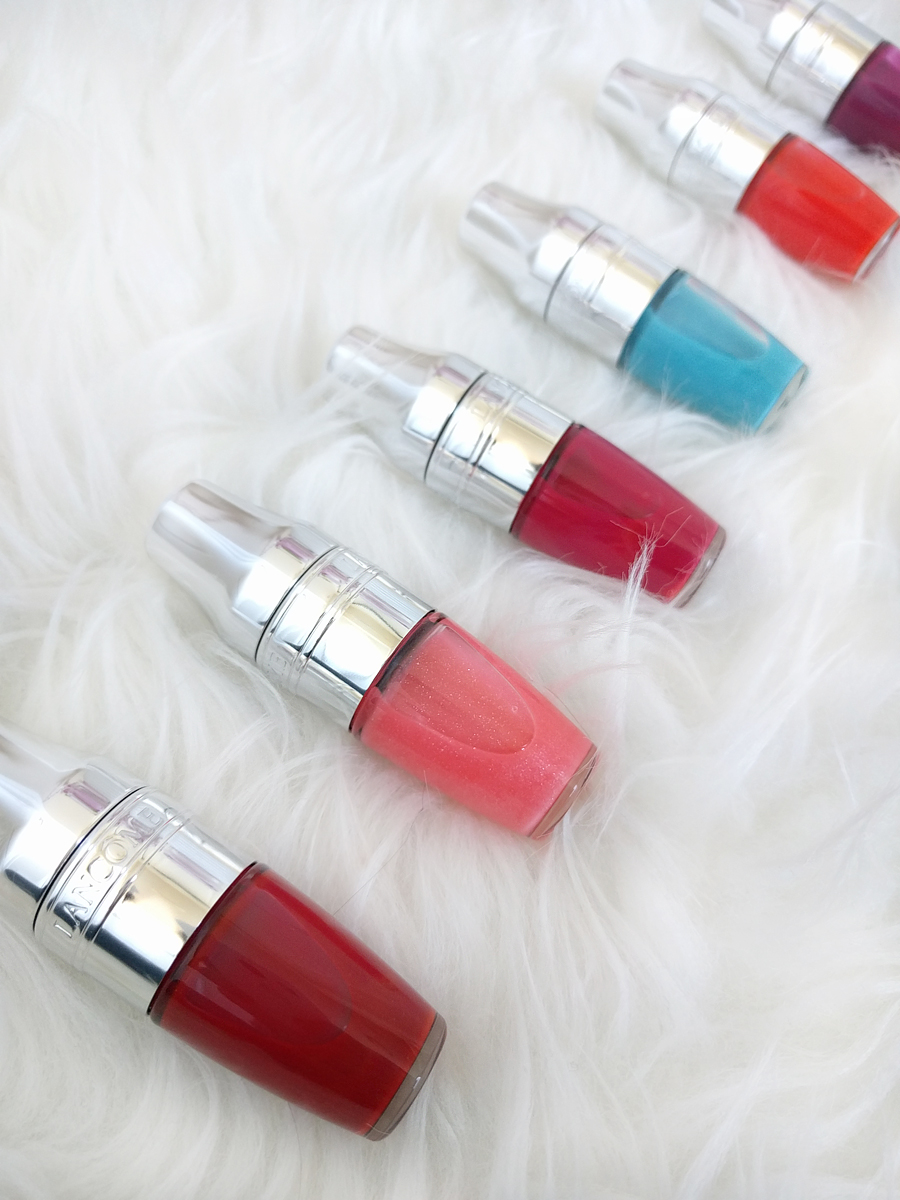 Be prepared to cart this little cocktail shaker around with you to reapply as the day goes by, or bring another colour with you if you want to switch out your shades depending on where you're going after work/class. There are no rules! YOLO. As for how long they last, expect no more than two hours of wear — as soon as you apply it, the product will look glossy on your lips then dry down a few minutes later to create a nice stain.
Each Juicy Shaker has their own unique scent coinciding with the colour. Some of the scents are fruity, while one I smelled at the Lancôme press event was of BIRTHDAY CAKE. Holy yum!

Top to bottom: Berry In Love | Apri-Cute | Mint To Be | Cherry Symphony | Lemon Explosion | Mangoes Wild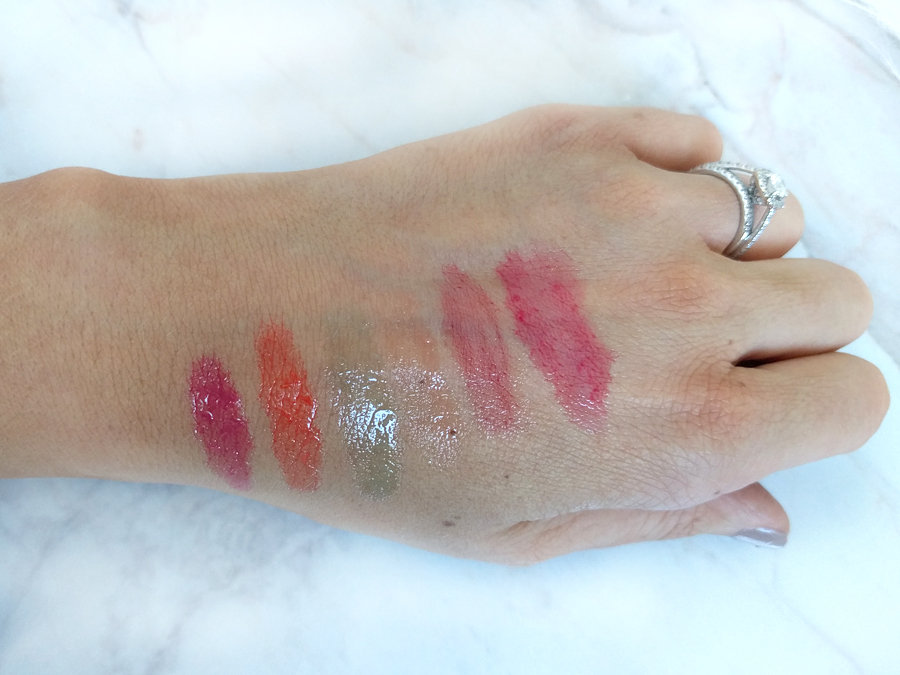 Left to right: Berry In Love | Apri-Cute | Mint To Be | Lemon Explosion | Cherry Symphony | Mangoes Wild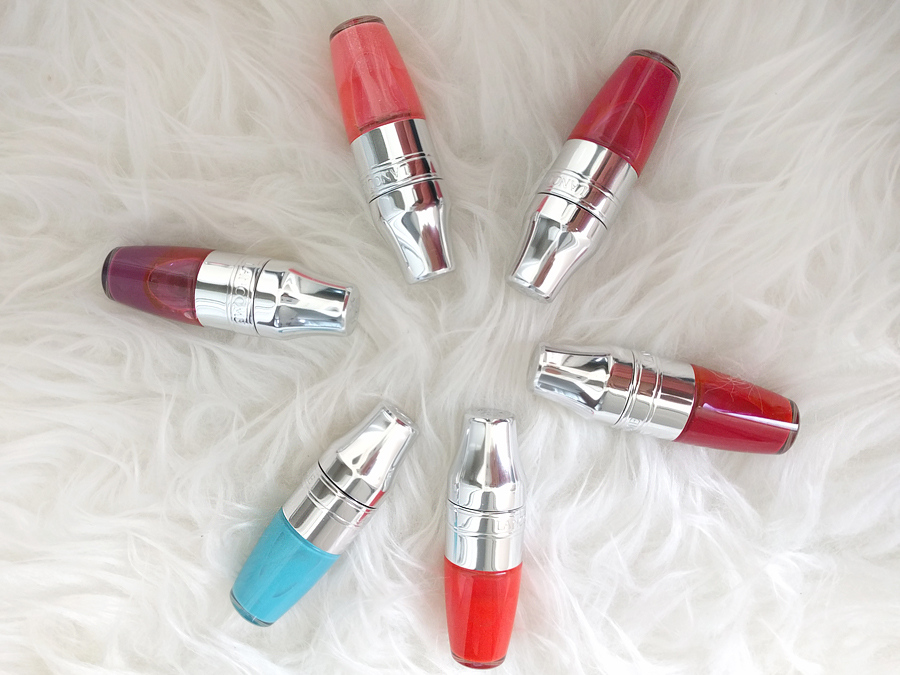 You'll notice the blue shade in the pile with all the other fun colours. Mint To Be is the limited edition shade that catches everyone's eyes. It's meant to be applied to the lips either directly with nothing on them, or layered over top of another lipstick and it can change the tone ever-so-slightly and help whiten your teeth.
None of the six shades are sticky on my lips, and are so comfortable to wear — the formula and the packaging is so innovative so all-in-all the Lancôme Juicy Shakers are a winner in my books and they're so reasonably priced too.
Are they worth the price? I think picking one of the colours up, and preferably one of the darker shades as you'll get both a bit of colour, and some hydration to the lips. Think you'll be picking one up?
Lancôme Juicy Shakers (20 shades) $28 CDN | $21 USD.
The Lancome Juicy Shakers were given to me when I attended a 1-on-1 private Lancôme event in San Francisco back in April.