Hey guys! My first guest post is from my blog-friend, Cindy! I'm still having an amazing time here in Newfoundland. I'll talk to you all later about it :)
———–
I want to thank Nancy for allowing me to do this little guest post on her blog today. I have been following Nancy's blog for quite some time and I have to stay I instantly knew she was an east coast girl from the way she spoke on her blog. Being from the east coast myself (New Brunswick) you can tell.
Every year when it comes to Christmas and New Year's I always tend to make the same foods such as the Peach Fruitcake (from a friend I had in Newfoundland), the sugar cookies, the mincemeat pillow cookies and a few other things that make the holidays feel like the holidays for us.
A few years ago I stumbled on this Cranberry Salsa/ Christmas Salsa on a friends facebook page and she was saying how good this was so I instantly asked for the recipe and make it that Christmas and I have to say it was delicious and since then I make it every year. I love that you can actually freeze it. It does make quite a bit.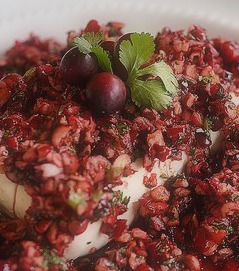 Here is the recipe:
12 oz package of cranberries (3 cups) [washed]
2 tablespoons minced jalapeno pepper
1/4 cup green onion minced
1/4 cup minced cilantro
2 tablespoons grated ginger
 tablespoons fresh lemon juice
1/2 cup sugar
Put the cranberries in a blender or food processor and set it to chop.
When you have chopped the cranberries put in a bowl and blend the rest of the ingredients in a bowl and refrigerate the mixture for a few hours.
Just before serving open up your block of cream cheese and pour the mixture over it. Serve with crackers or salsa chips.
This can actually be made a head of time and frozen.
I hope you enjoy this.