Well.
I've been hesitant on posting anything about spring or summer because of the gloomy weather we've been having because Mother Nature was having a hard time deciding which season she wanted to be in these days.
Last Monday was 18º and absolutely gorgeous out. I even drove to my favorite car wash place to have my car hand-washed and vacuumed while I watch, and longed for my spinach salad (still on paleo here folks).
In celebration of that wonderful warm day that I wish we'd have more of (let's just ignore the snow and rain that happened this weekend, shall we?) I whipped out my springy fresh fun colored clothes which brought a pep into my step, let me tell you that much.
Loved it when I was pumping gas with my (fake) leather jacket on in the morning and the sun was beaming down on my back.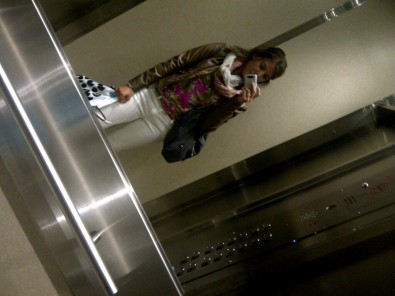 Felt SO warm, and made me SO happy. There you are, sunshine! Thought we broke up! Ha ha!
So in lieu of this beautiful weather — I've decided to finally share the Fossil Summer Collection sans blurred out images.
Remember when I visited the Toronto Fossil HQ's in February?  I showed you a sneak peek of what was to come this summer, but now I can show you! I got heads up a few weeks ago but the weather just wasn't cooperating and showing you gorgeous colors to lust (or buy!) after didn't seem right. ;)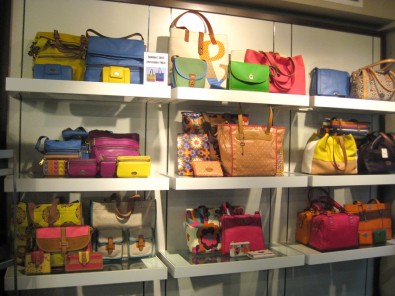 Badda bing, baddaboom. There you have it in all its glory. The beautiful fun, fresh colors of the season. Cobalt blue, fun magenta, grass green, sunny yellows and bright pink hues.
Any guesses as to what my favorite product is? Second shelf the furthest on the left. That cobalt blue purse peeking out from behind. It's a MINI explorer cross body.
This is the size of it in my hands.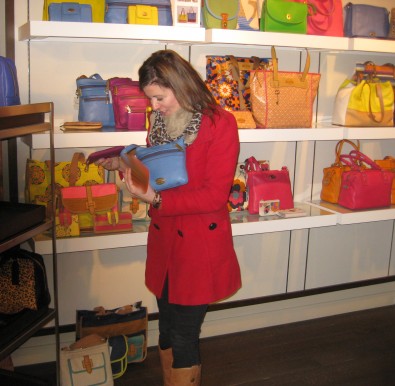 I'm definitely going to have to get my hands on that baby, somehow. Some way.
Another shot of it below. Isn't the color perfect for summer? Picture a pair of white capris, nude wedges, and a soft heathered fitted tee, and my brown stainless steel Stella with this purse. Perfection.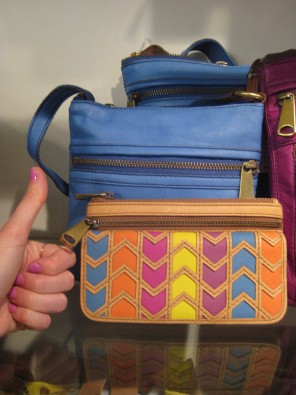 Other goodies from the collection (and a bad photo of me). I have another favorite from Fall, but it's blurred out below, since we can't really talk about that just yet. Secret stuff. But boy, I'll just have to give you a hint and tell you that the PRINT on something coming up, is just to die for. Literally, fall over and collapse due to its lustworthyness. I made up that word, you like?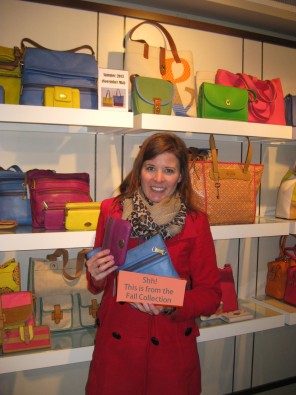 Summer 2013 Collection from Fossil. Which purses are your fav? What colors call out to you?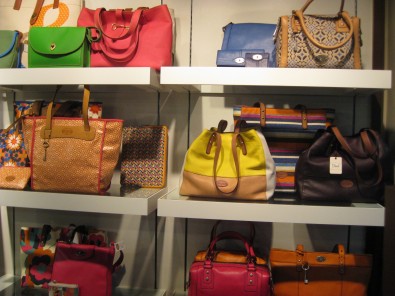 Until next visit, Fossil Canada!
Think you'll pop into a Fossil store, or shop online for any of the Summer 2013 collection? As always, this isn't a sponsored, or compensated post. Just sharing my love for Fossil to you guys.