A few co-workers who read my blog, commented on the fact that I didn't upload to my website in a few days (on Thursday and Friday) and questioned where the Christmas party photos was. So here I am doing one of these photo-posts, I mean I was due for one anyway :)Â 
The marketing team went out to lunch, my boss and her daughter who works with us (Hi Aimster!).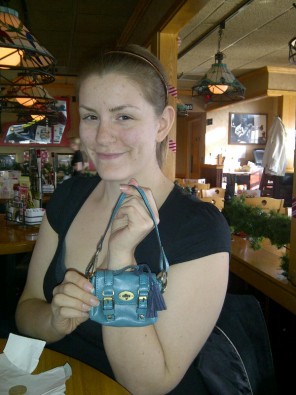 I gave Amy and her Mom/My Boss matching mini purses that I found on eBay during the summer. I'll be doing a full review on the items I've found on eBay throughout the year. I just couldn't do it earlier since they were saved for Christmas presents.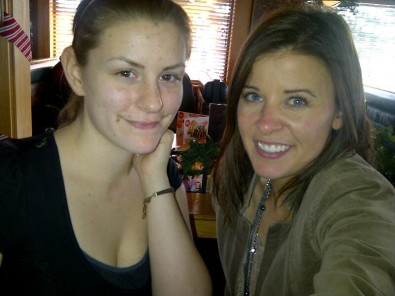 If you ever go to Applebee's, make sure you order the mozza sticks… and share them with someone. 8 of them in one appetizer. Oh my word, so filling, so cheesy, so good.
We love having photo shoots together. Just a little glimpse into our world… a few days ago I went to the other office to visit, and Amy & I were in the basement in this big empty storage room. I started to sing some silly song, and we danced to the tune of my off-beat singing. It was fun :) We clearly have tons of fun together.
Our Staff Christmas party was last Saturday evening, and the outfit I had planned on wearing didn't work out as well as I had hoped. Plus, the top I bought had ripped at the seams! Thankfully I still had the tags still on, so I returned it to H&M for a full refund.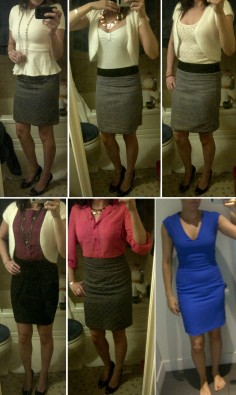 I tried on SO many outfits at home, and nothing seemed to be fun enough for me. Too business-like, not party-like enough for my liking. I ended up going back to the mall on Saturday morning, trying on eight freaking dresses at H&M with no luck – continued to browse around the mall for a bit until I found this fun and comfortable sparkly skirt at Costa Blanca, it was 40% off too, which prompted the impulse purchase. It was a good one. I looked similar to what I wore last year for Christmas, but hey — if it ain't broke don't fix it. I really wanted to wear the same entire outfit but I refrained…
Thankfully the weather cooperated on Saturday night. We were supposed to get some freezing rain, so I bought my boots just in case. The boyfriend came with me this year to our Staff Christmas party, which was good — he missed last years as he was out of town for work setting up peerless mounts. I didn't get a photo of us together, oops. But did manage to get a few photos of me and a few co-workers though!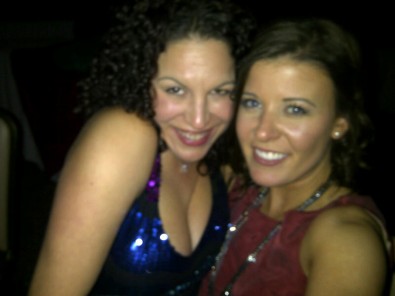 Julie and I :) I ended up going to Julie's house on Saturday night for a little Christmas get-together. Super fun :)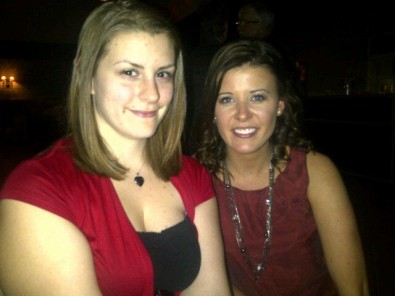 Aimster & I wearing red at the Christmas par-tay.
Yay Patrick and I!
Our summer co-op student (Patrick) ended up coming, which was SO nice. The venue was different this year than all of the previous years since I've worked there, which was a nice change — especially with the live band and not just a DJ. The music was a little retro with some swing music put into the mix. Patrick asked me if I knew how to swing, and I of course said no.  That's when he raced me to the dance floor and oh my word, that's where I learned how to swing dance for the first time. I had a perma-smile on my face, it was sooo fun!


Thanks for the snap-shots L!
I'm taking little Christmas break from blogging. Talk to you all very soon, enjoy your Christmas!