I don't order flowers very often for people, but when I do, I make sure that I do a bit of research. I want to get my moneys worth so they'll look good, and last a long time. The last time I sent flowers, was to my Boyfriends parents in Newfoundland last year. I placed a telephone order and asked for some exotic flowers to be sent to their home.
This is what they received. The exotic bird of paradise with a few other flowers along with it. Pretty neat looking, right?
I knew that the place back home was reliable for some stunning arrangements, because I've ordered from them in the past. So I thought I'd better do some research and scope out a place here in Ontario in case I wanted/needed to send someone a little special "thinking of you", or "get well" bouquet.
I'm not too far away from this spot in Etobicoke and found out that they have an etobicoke flower delivery. I personally haven't ordered from them yet, but there's tons of photos of what creations they've come up with. Plus, the prices aren't unreasonable. For instance, I looked under the Mother's Day link and immediately gravitated towards the Exotic Anthuriums and Orchids arrangement. It's just something completely different than just roses, daisies or tulips right?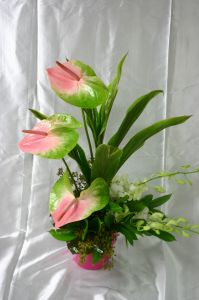 Here's the photo of it, that I grabbed from the site.
It's beautifully presented. I'm not hugely knowledgeable on plants and flowers, so I'm not entirely sure if this is just a flower that dies after a few weeks, or if it's something you can keep all year round. Either way, it's a stunner.
When is the last time that you received flowers? Me? I don't think I've ever gotten flowers for no reason. I think the last time I got a bouquet was from my boyfriend one Spring, when we went to the local Market. Before that though, it was probably a bunch of flowers I received for graduating High School. It wasn't even from a guy, not that it has to be. But get this. My Great Aunt (my Mom's Aunt) sent them to me. So sweet.