Thankfully I haven't had to go to my dermatologist this year to get any more treatments for eczema. A few weeks ago I talked about how dry my knuckles were and back in December about how my eczema moves each year. I had achingly dry skin in January/February — which lasted what seemed like months but it was a grueling few weeks where I didn't even want to do the dishes or even pat my hands dry with a towel. It wasn't bad to the point of them cracking and bleeding (but I knew it would be soon — if I didn't slather on all my creams on my desk).
It's now warming up around here and I can see that spring is just around the corner. I have hand cream everywhere, including the console of my car! (An aerie freebie — get yours monthly!)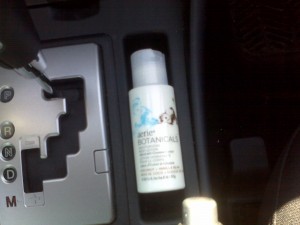 We've been above freezing this whole week and I think it's safe to say that my winter tires need to come off and put on those 17″ shiny tires with rims. After purchasing brand new winter tires in November, I now had to replace my summer tires (what a bummer) , since they're bald and haven't been replaced since the car was bought. I ended up posting on the Mazda forum where I joined when looking for my car, to get some opinions on the Falken summer tires I was about to purchase. Most of the reviews seem to think they were decent. Whewf.

Anyway, I called my mechanic earlier this week who is storing my summer's (which will probably end up in the dump) and I put new tires on my car Thursday afternoon. Ughhhh. Expensive. But that means I get to shine it up, wax it for the first time (Well. Paying someone to do that for me!), and taking some photos of it. I already have a couple of places around the tri-city area that I want to go. Beaten down old buildings with the sun setting. Oh! I can just see it now.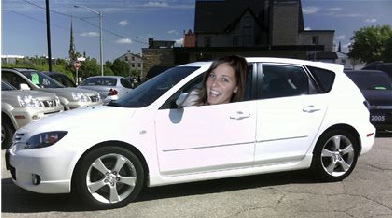 Remember when I was looking for cars and I posted this? I still laugh at it every time. :)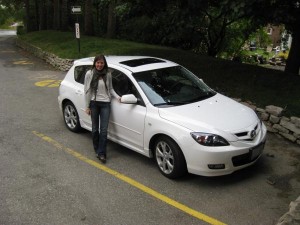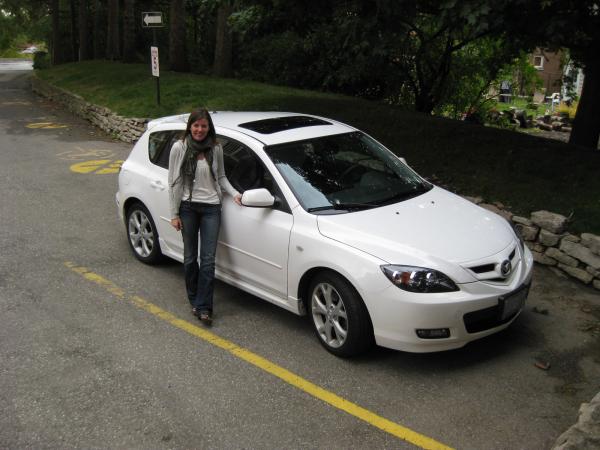 I was soo happy when I finally picked mine up (10.10.09 — hey, it's an easy date to remember, and a memorable one at that!).
(All photos below grabbed from Tm3)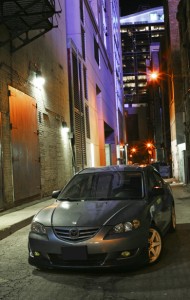 I remember looking at photos of Mazda 3's when I didn't have mine at the time. These are a couple of fav's and totally had me jealous of their setups especially on the TM3 forums (Toronto Mazda 3!). I plan on doing this too though now that I have my own! :)